Este site está parcialmente traduzido para o português do Brasil. Você pode encontrar algum conteúdo ainda em inglês.
The ultimate low-code development guide
Low-code has been growing in popularity, and its market is expected to reach $29 billion in revenue by 2025. But, what is low-code? What are its benefits, and what can you build with it?
Let's find out.
What is low-code?
Low-code is a software development approach that enables developers to create applications with minimal hand coding.
Unlike a traditional coding environment, where developers manually write lines of code to produce software, with low-code, developers use a model-driven, visual language with a drag-and-drop graphical interface.
Why is low-code popular?
Development teams are under a lot of pressure to respond to increasing customer expectations and to accelerate digital transformation efforts. And the demand to create new business solutions isn't expected to slow down any time soon.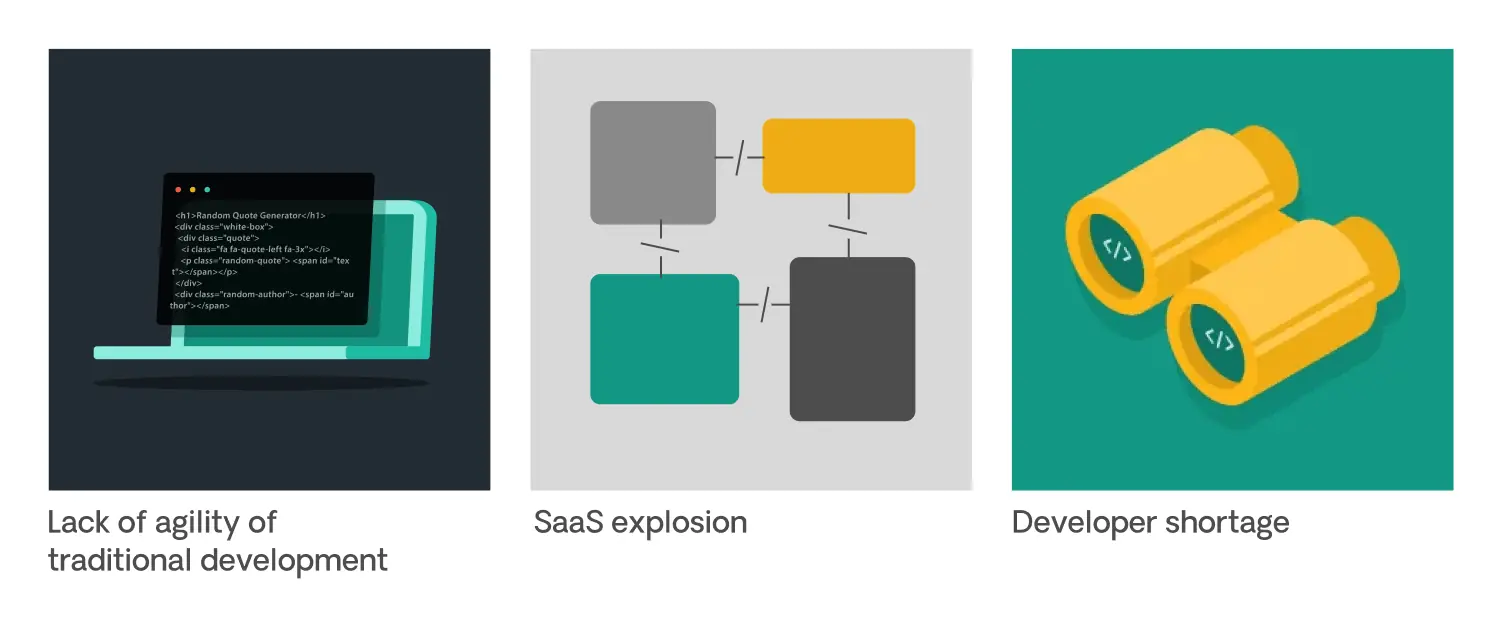 Traditional development was not designed to keep up with today's need for speed, and the explosive SaaS adoption created by free-wheeling business teams has reached the point where it is hindering productivity.
In addition, hiring developer talent is more difficult than ever. There just aren't enough engineers in the world to fulfill the current development needs.
This has led to the growing adoption of low-code.
Explore how low-code is transforming software development
Frequently Asked Questions
Low-code accelerates and removes the more tedious and complicated aspects of software development using visual development and automation. Thus, it helps organizations overcome many of the hurdles of traditional development.
From a use cases perspective, the most advanced low-code platforms can be used to create a variety of applications and use cases such as pixel-perfect B2X mobile apps, web portals, employee experience apps, event-driven, and APIs that can be exposed to legacy systems, just to give a few examples.
Learn more about the benefits of low-code and most common use cases.
Typically, low-code has a flat learning curve. But the difficulty level will vary from platform to platform. The ones targeting business users — often associated with no-code — are easier to use, but lack the capabilities to go beyond simple functionality. Those targeted at professional developers usually require some development knowledge and a technical background. Still, any low-code platform is easier to learn and use than traditional development tools and languages. Just keep in mind, when evaluating low-code platforms that it's important that the solution combines both personas and fosters business and IT cooperation.
It varies from platform to platform. With OutSystems, for instance, developers can become productive in as little time as one week, because OutSystems uses software development constructs that are familiar to developers who have used other technology. OutSystems also provides a set of training tracks, youtube videos, and a very active forum where developers, from the most junior to the more experienced, can learn and collaborate with the community.
Learn more in our Evaluation Guide.
It depends on the low-code platform. For simpler, no-code tools, you shouldn't need any development skill. For more advanced low-code platforms, a development background is advisable. With OutSystems, for instance, basic programming acumen and an understanding of relational database concepts are all that is required to master OutSystems out of the box.
The best way to learn low-code is by visiting the resources low-code providers offer. Most vendors offer extensive, free training to make developers proficient in their technology much faster.
Low-code mobile development is the use of low-code technology to build mobile apps. In the case of OutSystems, mobile apps delivered with the platform are ready to be installed and run on iOS and Android devices, and they adapt to different form-factors using a single code base. Applications can also be distributed as progressive web applications (PWAs) without additional effort.
Read all about it in the OutSystems Evaluation Guide.
The more advanced low-code platforms offer you the freedom to deploy applications on-premises or in the cloud (public, hybrid or private). Low-code can also support entire cloud journeys. According to a recent study by IDC, the higher the cloud maturity level, the higher the number of net-new apps created in low-code.
However, when thinking about cloud development, you need to consider a few more factors than just running apps on the cloud. And that's where different low-code platforms provide different capabilities.
OutSystems, for example, enables developers to use, mesh, and orchestrate a variety of cloud services, ensuring they spend their sprint coding the experiences and not connecting and managing cloud services.
Read more about it in the Cloud Application Development Guide.
No, low-code will not replace developers. Rather, low-code should be seen as a complement to traditional development.
Read more in this article about a low-code career.
Although the term "low-code" was first used by Forrester Research in 2014, the first low-code platform was created in 2001, with the launch of the first version of the OutSystems platform.
Why not give low-code a try?
OutSystems is a leading low-code platform. Users consistently rate it as one of the best.