Customer Self-Service Portals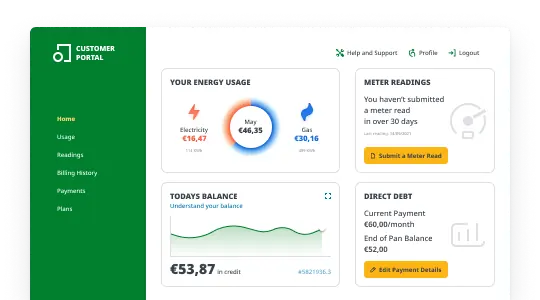 Improve customer satisfaction and retention with customer self-service portals
With OutSystems, you can create high-quality and personalized self-service portals that automate back office processes, in a fraction of the time of traditional development methods.
Keep your customers happy with immediate access to all the information they need through intuitive portals without increasing your cost-to-serve.

Provide Intuitive and Effective Self-Service Experiences
Create self-service portals quickly
Easily build high-quality reactive web portals along with companion apps that run on tablets and mobile phones. Leverage reusable and customizable UI patterns and screen templates for common scenarios. Meet all customers' needs with multi-language and accessibility support.
Automate and streamline processes
Integrate the back office with pre-built connectors to CRM and ERP. Quickly build reusable connectors to any system. Easily incorporate data from internal systems, external cloud providers and orchestrate everything with visual workflow and business logic.
Adapt to changing customer needs
Continuously update and improve customer portals with a platform that enhances the entire application lifecycle. Visual debugging, automated testing, built-in security and quality checks and one-click deployment with AI-powered dependency analysis enable continuous updating.
Customer Self-service Portals Success Stories
We can use Axa: See how AXA Simplifies Claims Tracking for 3000+ Brokers With Self-Service App
Read the AXA Story

See how Worcestershire County Council Powers Citizens' Digital Self-Service With OutSystems.
Read the WCC Story

See how American Integrity Insurance Launched a Self-Service Portal to Reduce Call Volume and Customer Response Time.
Read the AII Story