Webinar -

On-Demand
Funding and Executing the
Technology Operating Model of the Future
Strategies for Business and IT Leaders dealing with the next big disruption
Presented with: 
As the ongoing COVID-19 crisis painfully illustrated, the ability of organizations to respond to disruption, is determined by their ability to reconfigure their business and supporting technology operating models rapidly, successively and at scale.
In this exclusive webinar, Deloitte and OutSystems will discuss nine big shifts that are highly interlinked and that will determine the effectiveness of your future technology operating model.
What You'll Take Away
Two major shifts taking place: the necessity to better align the Tech Funding Model and the move from Digital Experience to Digital Reality.
Offer a framework to identify hidden conflicts and dilemmas that are keeping you from modernizing your technology stack and ways of working.
Cover different approaches to agile business value creation as well as lessons learned from multiple client projects around the world.
Speakers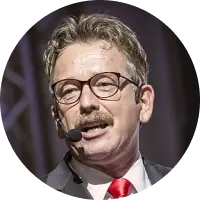 Hans Van Grieken
Senior Technology Researcher
Diogo Rafael Henriques
Outsystems CoE Practice and Alliance Lead
Deloitte

Mike Hughes
Senior Director, Product Marketing
OutSystems