Montepio Crédito's Digital Onboarding Delivers Faster Credit Approvals
48x
faster credit approvals
100%
digital credit application process
500+
channel partners served
Montepio Crédito launched its "Matrix" digital transformation program in January 2019. The mission—to provide customers with fast, convenient, and 100% digital ways to apply for credit agreements. The company chose OutSystems to build omnichannel solutions that serve direct customers and customers of their business partners.
Montepio Crédito is now innovating at pace, with groundbreaking digital experiences—often embedded into its intermediaries' sales processes—which will give the company an agility advantage for years to come.
Case Management

Customer Experience

Digital Core Systems

Legacy Modernization

Operational Efficiency

Web Apps & Portals
Challenge
How to Win Customers in the Face of Rampant Competition?
Founded in 1992, Montepio Crédito ("MC") is a specialized financial credit provider serving individuals and businesses across Portugal. The company provides consumer and business credit solutions directly via its parent bank Banco Montepio, and through a network of intermediaries, including new and used vehicle dealers, consumer goods retailers, and equipment suppliers.
Faced with growing competition from multinational banking groups, MC needed to differentiate.
"We launched our 'Matrix' digital transformation program in January 2019," says Pedro Alves, Chairman of Montepio Crédito. "We aimed to fully digitize the customer journey, so that customers could seamlessly enter into a credit agreement, either with or without the involvement of a credit intermediary."
These goals placed IT innovation at the center of its quest to win the hearts and minds of customers and business partners, as Ricardo Ribeiro, Chief Transformation Officer, Montepio Crédito explains.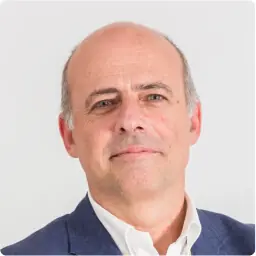 MC had been looking for an opportunity to work with OutSystems for a couple of years. This project ticked all the boxes, as Ricardo explains.
"Integration was a crucial decision factor. In a proof of concept, we were able to wrap our financial ERP system with an OutSystems middleware and then expose services from our OutSystems applications as an API ecosystem. The speed with which we could develop these integrations, together with the ease of creating brilliant user experiences for web and mobile devices, gave us the confidence that OutSystems was the right technology partner for the Matrix program."
Why Montepio Crédito chose OutSystems:
Powerful integration

Speed-up development and improve agility

Deliver omnichannel CX solutions
Solution
Enter the Matrix. "A World Without Borders or Boundaries, Where Anything Is Possible."
Having selected OutSystems to accelerate development, MC then partnered with Theros, an OutSystems delivery partner with a strong pedigree in the financial services industry.
Over twenty people joined the project team, including technical architects and information security experts from Banco Montepio, design specialists, UI/UX experts, and representatives from across MC including, IT, compliance, legal, marketing, sales, and operations. Representatives from channel partners and customers also participated in design thinking workshops.
The first phase of development involved a project team of ten focused on wrapping the existing financial ERP system with an agile services layer built on OutSystems. This would make it easy for the systems of engagement to hook into the ERP—which MC continued to use unchanged—as the system of record and calculation engine.
Integration with numerous third-party services was a high priority. Those services included OCR, credit check services, and Autenticação.gov, the Portuguese Government's identification, authentication, and digital signature system.
"Reliably identifying credit applicants is a necessary first step in the application process," explains Ricardo. "Autenticação.gov makes that easy, and we've designed every possible scenario into our approach, to ensure there are no barriers to consumers or business partners during the customer journey."
Those alternatives include:
Support for identity card readers with chip and pin
OCR of ID card from a smartphone app—for retailers and mobile salespeople who do not have a card reader
Electronic ID via web service
Document upload—for customers without smartphones
Qualified and advanced electronic signature.
Backend development took place between February 2019 and June 2019. UI development took place from July to December 2019.
We capitalize on more than 15 years of being an OutSystems Partner, with experience in high-end software solutions and products, successful international OutSystems (and other) project delivery, and...
Learn more about Theros
Results
"The Matrix is everywhere. It is all around us."
So far, Montepio Crédito's Matrix program involves two strategic platforms. One supports its direct channel, and the other will support its indirect sales channels.
mycreditech.com
mycreditech.com serves MC's direct customers. Available as a reactive web app mycreditech.com has accelerated the credit application and approval process to less than 30 minutes instead of a day or longer—at least 48 times faster.
The old process kept five or more customer service staff busy. Now, 90% of customers complete their application without needing any customer service staff intervention. Not only is this faster and more convenient for consumers, but it has also released customer service staff to focus their attention on customers that genuinely need their help.
"It's still early days for mycreditech.com," says Ricardo, "but already we can see that the faster approval process leads to fewer abandonments and higher conversions."
Lending volumes have increased as well. Digital self-service works throughout the customer's lifecycle. For example, during the 14-days cooling off period, customers can cancel their agreement without speaking to a customer service representative.
Creditech
Creditech—due for release in late 2020—will serve MC's indirect customers through the Banco Montepio branch network and their 500+ intermediaries such as vehicle dealers, retailers, and equipment suppliers.
The same benefits are expected—48 times faster credit approvals; over 90% of applications should require no customer service intervention, higher completions, and conversions.
Both Creditech and mycreditech.com share the same OutSystems middleware and much more besides. "Low-code should not mean low-architecture," says Ricardo. "One of the best benefits we see from adopting OutSystems is the way we have been able to reduce technical debt. So, maintaining and continuously enhancing these products will consume less IT effort. We will get to market much faster, responding in a more agile way to changing customer needs."
Groundbreaking Innovations
Creditech will provide MC the flexibility to innovate much more quickly. For example, embedding the Creditech simulation and approval process into its business partners' e-commerce experiences is easy via its APIs.
Innovations in large retailers and car showrooms will include QR codes on the price labels. Customers will be able to start the credit application process just by scanning a QR code. They can complete the transaction in-store or continue the process later from any location, on any device.
Different QR codes can trigger alternative quote options, including different loan terms and insurance options.
Outlook
The Matrix digital transformation program is a multi-year effort, and OutSystems is now firmly established at the heart of MC's software factory. Current developments include a new customer portal, which will make it easier for customers to manage their loan agreements and open up new up-sell and cross-sell opportunities for other Montepio Crédito products.
Not only is MC transforming its business, but it has also transformed its approach to the agile development of digital products. "We have a pipeline of improvements," says Ricardo. "And every two-week sprint, we deliver improvements on time. With OutSystems, we've become much more agile. That's making a difference to our company. And, it's making a difference to our customers and business partners."