Ce site Internet est partiellement traduit en français. Certains contenus sont susceptibles d'être encore en anglais
BT Keeps Engineers Safe with a Mobile App Built on OutSystems
2
months from idea to deployment
3x
faster than traditional development
BT Group plc is the UK's largest provider of fixed-line, broadband, and mobile services. COVID social distancing precautions meant the company urgently needed a way to keep engineers safe when visiting exchanges and other BT facilities.
In just two months, three developers and a tech lead delivered a mobile app and web app that help engineers stay apart when attending thousands of secure locations across the country. By their estimates, delivering the app with OutSystems was three times faster than their previous mobile app development approach.
Field Service Optimization

Legacy Modernization

Mobile Applications

Web Apps & Portals
Challenge
More Agile Application Development
BT Group plc is one of the world's biggest telecommunications companies, with operations in over 180 countries. It's also the UK's largest provider of fixed-line, broadband, and mobile services, and provides internet and IT services to boot. It's no surprise that mobile applications play a vital role in a company with such a wide reach.
The Mobile Centre of Excellence—within BT's technology division—is responsible for 22 mobile apps, many of which, like My BT, are customer-facing. In 2019, the technology division commenced a radical modernization program called Da Vinci. Its goal was to modernize and simplify its IT systems by re-engineering out of date processes, replacing legacy systems, and adopting more agile, human-centered approaches to development.
Compared to core technology areas, the mobile center of excellence had been an early adopter of agile development. Perryn Hodge, Senior Developer and Tech Lead for Mobile Development at BT, takes up the story.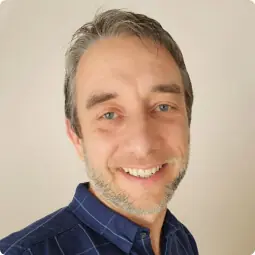 Why BT Group chose OutSystems:
Deliver web and mobile applications

Speed-up development and improve agility

Comprehensive free training and documentation
Solution
From POC to Protecting Engineers in the Field
With a team of three developers and one tech lead, Perryn launched a high-profile proof of concept that would showcase the benefits of OutSystems to senior managers across BT's technology division.
The opportunity was to deliver a mobile app for hundreds of managers attending the Da Vinci program kick-off conference in July 2019.
"We only had six weeks to deliver the conference application," says Perryn. "As this was the team's first serious project with OutSystems, we had some help from an OutSystems customer success consultant, which speeded our learning curve."
The pilot was a success. The application was ready ahead of time, which would not have been possible using traditional development. OutSystems was now definitely a hit in the eyes of developers and senior management.
With the proof of concept a success, the team could now look for opportunities to use OutSystems across the business. The COVID crisis presented that chance. BT needed an application that would enable engineers to book onsite visits to its thousands of exchanges across the country—while still maintaining social distancing and safe working procedures.
Traditionally, engineers used a legacy room booking system, called "BASOL," to pre-book visits to secure areas. However, engineers could only use this when connected to the BT LAN. Worse, the system could not warn engineers if new bookings caused a time-and-place conflict with colleagues or contractors.
By providing a mobile app to engineers that made it easy to book site visits, plus push notifications when those visits overlapped, BT could help its field workers plan safer working schedules. Also, by enabling engineers to record close contact occurrences, the app could help BT respond should a user develop symptoms.
Development started in June, with the team building a new REST API for the BASOL system. Then the developers would be able to integrate real-time data from BASOL into the mobile app. Along the way, restrictions with push notifications within iOS meant that the team had to switch from building a progressive web app to a native mobile app. Despite this setback, the application was still ready for deployment two months after its conception.
Results
Faster. More Collaborative. More Agile.
With OutSystems, the team developed a time-sensitive application integral to employee wellbeing three times faster than would have been possible before, so it should come as no surprise that BT plans to continue using the platform.
"OutSystems gives us two major benefits," says Perryn. "First is the speed of delivery, which is vital in current times. Second is that we can easily and quickly adapt the application when requirements change."
One big reason behind the development speed advantage is that the team can bypass static wireframing and go straight to working prototypes to share with stakeholders. This shortens the time taken to capture requirements and agree on design.
"With wireframes, we can show stakeholders what we have in mind, but it's never the same as having a working application," says Perryn. "With OutSystems, we create working apps quickly, put them in the hands of stakeholders, and get the feedback we need when we need it."
This approach simplifies how the team works with its customers and places OutSystems in the sweet-spot for human-centered design, which BT is so keen to adopt.
BT's experienced mobile app dev team has adapted quickly to using OutSystems. Although some developers were initially skeptical, the entire team was soon won over by the platform's speed and flexibility.
"The OutSystems online training is excellent, and a lot of our developers' JavaScript skills were directly transferable, so they engaged very quickly," says Perryn. "The platform streamlines the whole process around deployment and managing dependencies, which is where a lot of other development platforms fall short."
Overall, OutSystems has provided BT with the ability to conceive, develop, and update applications more quickly and successfully. In such unpredictable times, that will be a huge advantage.
"Overall, it's a massive benefit to our business to be able to deploy new applications so quickly," says Perryn. "OutSystems has given us exactly what we needed."