Islandwide Leads Puerto Rico's Logistics Market with Agile IT Strategy
Integrated
logistics system and mobile apps
>7,200
man-hours saved per month
3.5 million
packages delivered p.a.
Founded in 1969, Islandwide has grown to become Puerto Rico's leading third-party logistics operator. The company's business strategy is to diversify from transportation into a wide range of complementary logistics services that fully exploit the island's most effective hub-and-spoke express delivery network.
That strategy, and the need to integrate with multiple third-parties, is underpinned by an agile IT architecture, which since 2018, has been powered by OutSystems.
Customer Experience

Digital Core Systems

Field Service Optimization

Legacy Modernization

Mobile Applications

Operational Efficiency

Web Apps & Portals
Challenge
Aging Legacy Systems Put a Brake on Innovation
With a 51 plus year history of transportation and logistics services in Puerto Rico, Islandwide had become the leading express delivery company across the island. But with an IT team of four, and only one full-time application developer, the company was struggling to adapt its home-grown logistics system at the pace needed for a rapidly evolving logistics market.
The company's strategy was to exploit its express delivery network more fully. "There's a growing demand for third-party logistics services," explains Pedro Rosaly, CEO of Islandwide. "That growth is fueled by e-commerce adoption and new digitally-enabled business models. To seize a growing share of these opportunities, we needed to become much more agile as a business."
However, the business needed to significantly overhaul its IT systems to achieve this kind of agility. "In today's fast-changing logistics market, operations and IT are inseparable. You cannot change one without the other," explains Pedro.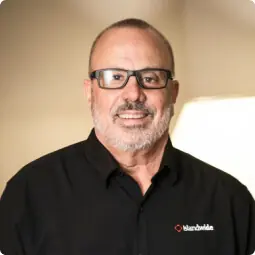 In early 2018 Jorge Ramirez joined Islandwide as CIO to lead the company's IT transformation. He had previously led process automation projects at Banco Popular de Puerto Rico, where OutSystems had been the bank's preferred application development system.
Why Islandwide chose OutSystems:
Speed-up development and improve agility

Full-stack visual development with no limits

Lifecycle management and security
Solution
Build vs. Buy Proves the Right Strategy for Islandwide
Jorge's first few weeks at Islandwide were a stock-taking exercise, to understand the scope of what the company had and what it needed. "Sadly, the legacy system was in pretty poor shape," admits Jorge. "Developed in house, poorly documented, endlessly customized with patches to meet specific customer requirements, and running on an aging server, it was something of a monster."
Jorge surveyed the market for an off-the-shelf logistics solution. "Islandwide doesn't just operate on standard logistics processes. In this market, there are different business practices, like cash payment on delivery," explains Jorge. "So, although an off-the-shelf logistics package came close, we decided that it would box us in. The freedom to innovate at pace was more important."
Jorge knew from his experience at Banco Popular, that OutSystems would give Islandwide an agility boost. "Considering our small development team and the challenge in front of us, development speed was a crucial factor," explains Jorge. "But, migrating to the cloud and knowing that our development would be visually-documented, and every aspect would have class-leading security were also important considerations."
Meanwhile, Pedro took-up a customer reference call with the Mexican logistics giant, Estafeta, to learn about their experience of using OutSystems.
Islandwide engaged OutSystems Elite Partner C2S Consulting, which Jorge had worked with before. A short proof of concept assignment demonstrated many of the features Islandwide needed, including logistics notifications—ETA and delivery confirmation by text and email—an Android mobile app for delivery drivers, and a web app.
Islandwide now had the confidence that they were headed in the right direction. "The proof of concept was a real eye-opener for me," says Pedro.
Development got underway in July 2018. The project team involved one project manager and three developers from C2S Consulting, and Islandwide provided a product owner, three subject matter experts from operations, sales and finance, a QA analyst, and a tester.
The development project was in three phases. C2S led the first phase leading to an initial go-live in April 2019. At that point, Islandwide took over development using its newly hired internal development team of two developers and a QA/Tester. By December 2019, the logistics solution went live. In the later stages of the project, a finance specialist joined the team, and the full system with finance integration went live in February 2020.
C2S is an U.S.-headquartered, "Full Service" partner who can assist with: OutSystems' Licensing; Strategy Alignment, Roadmap Creation & Adoption Planning; Business Analysis & Business Analyst...
Learn more about C2S Consulting
Results
18 Months to Re-Platform a Logistics Business
Islandwide's new logistics system went live in February 2020. "We've not just replaced our core system, we've redesigned our operating model," says Pedro. "The most important thing is we've achieved digital maturity. We can now create any public-facing or internal application that we need, at high speed and high quality, without the expense and delay of bringing in outside consultants.
Islandwide now has a new track and trace logistics system, integrated into its ERP finance system. Their 300 delivery drivers have a new mobile app that guides them on their routes and allows them to confirm delivery.
Communicating routes electronically saves drivers roughly one hour per day, totaling at least 7,200 man-hours per month, and eliminates the printing of 300 route manifests daily.
Moreover, customers have convenient self-service options on mobile and web, with useful track and trace alerts including ETAs and delivery confirmations.
During the project, Islandwide hired two in-house developers who continually update and enhance its OutSystems applications. "The free self-study training materials and support from OutSystems were a tremendous help to become self-sufficient," says Jorge.
Ready for Diversification and Disruption
Islandwide's new core system gives the company much-needed flexibility through the COVID crisis. Because the local government instituted a lockdown, Islandwide saw a drop in traditional whole-truck-load B2B transportation and a rapid rise in B2C express delivery, fueled by burgeoning demand for e-commerce.
"In the logistics business, you're only as good as your last delivery." Explains Pedro. "So, having our logistics system on a robust, secure cloud platform gives me great peace of mind, compared to where we were before. I feel like we can scale the operation with much more confidence, and compete effectively, even in highly regulated industries."
Meanwhile, Islandwide's third-party logistics business is rapidly ramping up. "In this disrupted market, we have a special responsibility," explains Pedro. "We're connecting hundreds of SME sellers with their socially-isolated buyers, keeping the wheels of commerce rolling."
Through this period, some of Islandwide's services were potentially life-saving. "We deliver medicines to patients sheltering at home for three of the island's largest pharmacy chains," explains Pedro.
As the business onboards multiple new clients for whom it delivers logistics services, the flexibility of Islandwide's new logistics system is coming into its own. "We're delivering all sorts of value-added logistics services from warehousing, inventory management, order processing, pick and pack, fulfillment, and more," says Jorge.
One example of Islandwide's ability to innovate fast is a prescription delivery service established with a pharmacy client. This enables delivery drivers to use a mobile app to verify the collection of RX prescription orders, electronically notify medical insurers, and execute urgent deliveries of medicines to old or vulnerable people who were sheltering at home.
iWide
Looking ahead, Islandwide is driving continued growth with the launch of a new consumer-app called "iWide," built on the OutSystems platform.
"iWide embodies our newfound agility," explains Pedro. "Today, consumers want immediacy, and with the iWide app, they can register and order their first express delivery in seconds, and have a package collected as fast as 15-minutes. A new customer used us just the other day to deliver spare car keys to their daughter, who was stranded on the other side of the island, turning a crisis into an almost instant solution."
The frictionless experience provided by iWide is driving new business to Islandwide, both from consumers and businesses. And the company expects to continuously innovate, adding new services to the app to penetrate new markets in the months ahead.