Field Services
Build a field services work tracking tool with realistic sample data
Publish your app with one click
Integrate directly with your company's data and systems
Go on to build a production field services work tracking tool for your organization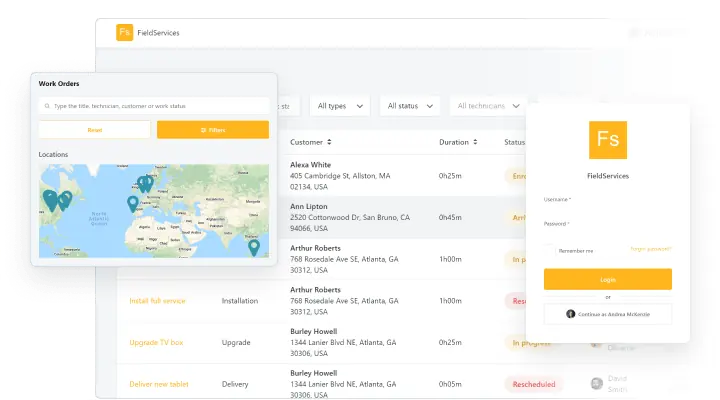 In this Field Services template
With OutSystems, you can develop and publish web and mobile apps fast and with minimal ongoing maintenance. Tailor each app to the precise needs of your field team and when something changes it's no big deal because OutSystems helps you build more in less time.
Built using these accelerators:
Log in with sample user
Check daily work orders
Modify schedules
Using this template
1
Once Service Studio loads, enter the username and password you chose at registration. Use these to log into your OutSystems personal development environment.
2
The field services tracking tool template will open, starting with a video overview of what you're about to do
3
Once the intro video is complete, an interactive tutorial will guide you through the first steps of creating your field service app.
4
The tutorial is just the beginning, giving you a glimpse of how OutSystems enables developers like you to build scalable, enterprise grade software fast. Now that you've tried OutSystems, it's time to dive deeper into what OutSystems has to offer.
What you'll do:
Build a simple field services work tracking tool
How long you need:
Around 5 minutes
What you'll need:
A free OutSystems account
The OutSystems IDE, Service Studio (requires Windows).
How to Get Started
First, register for a free OutSystems account. After registration:
You'll download the OutSystems IDE, Service Studio.
Your browser will redirect you to your Platform Home page, which is the dashboard for your OutSystems account.
NOTE: It can take a few minutes to set up your OutSystems cloud environment. Once ready, Platform Home will let you know and you can open Service Studio.