Van Iperen Develops Customer Engagement and Transportation Apps
4x
growth in self-service orders
2000+
customers now self-serving
8
months for new customer portal and mobile app
Van Iperen, a global supplier of specialty fertilizers headquartered in the Netherlands, established itself as an industry trailblazer a decade ago, by releasing a customer self-service mobile app for orders and delivery tracking. But as that app aged and legacy debt accumulated, the team needed a faster and more agile way to keep it fresh. With OutSystems, the company escaped their legacy debt and can now launch new apps and enhancements at a pace that delights customers and keeps Van Iperen ahead of the competition.
Customer Experience

Field Service Optimization

Legacy Modernization

Mobile Applications

Operational Efficiency

Web Apps & Portals
Challenge
An Aging App Due For a Refresh
Van Iperen—part of the Thesis Holding—is a Dutch producer of fertilizers and a distributor of crop protection products serving a global market, from factories in The Netherlands and Thesis subsidiaries in France, China, United States, Lebanon and Serbia.
In the late 2000s, Van Iperen became a technology leader in its industry by becoming the first to launch a native application for smartphones, allowing customers to submit orders and check the status of their products. However, over the years maintaining the app became a complex, time-consuming task—hampered by a lack of documentation, which meant detailed knowledge of the app's inner workings was fading fast.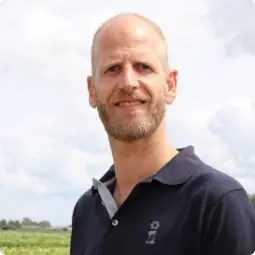 "In the end, no one really knew how the app had been built," says Vincent Hofland, Head of ICT at Van Iperen. "So something as simple as adding rounded corners to a menu box wasn't possible. And the work to make that possible would have cost a tremendous amount of money."
The app had once been a point of major differentiation in the industry. But with other companies innovating with digital platforms of their own, Van Iperen needed to find a much faster way to update their app and develop new digital services for its customers.
The team started to evaluate alternative development technologies suited for both web and mobile applications. Traditional development would take too long and off-the-shelf packages and ERP solutions lacked the rapid customization options it needed. Low-code appeared to offer the combination of rapid deployment and flexibility Van Iperen's system required.
"We shortlisted several vendors with the help of Gartner Research," says Vincent. "Following a thorough evaluation we decided OutSystems was the best fit for our requirements, and it became our main development platform for web and mobile applications."
Why Van Iperen chose OutSystems:
Modernize legacy systems

Deliver web and mobile applications

Speed-up development and improve agility
Solution
Expanded Digital Services
The first priority was to rebuild the MyIperen web and mobile application. Building on OutSystems allowed Van Iperen to add many new features in addition to the previous order submission and tracking functionality.
The web application has greatly expanded the scope of services Van Iperen offers its customers. For example, dashboards for order management now offer a detailed purchase history, which includes information about the nutrients in every Van Iperen product they've used, helping them monitor their long-term fertilizer use in line with each crop's specific requirements. It also introduced automated repeat orders, so customers don't have to submit individual orders every time they need more fertilizer—and Van Iperen's back office gets greater visibility of likely upcoming demand.
The app includes Google Maps integration, which gives farmers and growers a whole new way of tracking the health of their crops. By using GPS, customers (and Van Iperen advisors) can tag instances of plant diseases or pests at the appropriate location on their land, alongside pictures of the issue. That information is automatically shared with their advisor at Van Iperen.
"We call it the advice module," explains Sander Blok, Head of Innovation and Product Management at Van Iperen. "The advisors can help identify the best fertilizer or pesticides to use, and automatically add it to their account."
More recently, the team started developing completely new applications on OutSystems. They launched a new "Fertilized Program", based on a fertilizer calculation system built on the platform. Launched in December 2019, the application helps customers work out the exact requirements for fertilizers based on the type of crop, nutrient balance, and the amount of water needed to produce healthy yields.
"The system calculates the exact amount of nutrients a crop needs, whether that's magnesium, calcium, or potassium," says Sander. "It connects to a database of our products, so customers can select the fertilizer that matches their requirements."
With OutSystems, Van Iperen has also been able to quickly integrate IoT sensors that monitor liquid fertilizer levels at customers' sites. Customers can see tank levels on the MyIperen app and there's an option for automatic orders to ensure tanks don't run out. Forward visibility and improved logistics planning mean less rushed orders—reducing haulage costs and CO2 emissions.
In summary, the MyIperen app helps Iperen's customers keep on top of their fertilizer and crop protection requirements, so they can spend more time farming and less time on administration.
Results
Retaking the Lead as Innovators
Development and delivery of the MyIperen mobile app and web application took eight months and involved three developers. Approximately half of Van Iperen's customers already use the extended web portal—with many citing the improved look and usability of the platform as benefits in their feedback.
That feedback is reflected in the business numbers, too. In the first three months of 2020, Van Iperen processed more orders through the new system than in the entirety of 2019, demonstrating the popularity of the new app with customers.
The company's next release is a transport management system (TMS), which is available to Van Iperen drivers as well as third-party drivers that deliver its products and collect raw materials from suppliers. The new TMS provides a full itinerary, including routes, purchase orders, and information about hazardous loads. It also integrates with GPS navigation systems, giving drivers the best route and keeps planners back at Van Iperen in the loop. Customers then receive a two-hour delivery window, to help them plan their days, too.
The TMS also includes IoT integration providing major improvements to the company's distribution operations when delivering liquid fertilizer. Tank flow meters use IoT integration to send exact litres delivered details to the TMS, eliminating manual effort for drivers and the chance of errors.
Because Van Iperen's fertilizer tankers can have as many as seven different compartments—unlike the typical one to four in petrochemical deliveries, there wasn't an off-the-shelf solution that fit the company's needs without significant customization.
These new applications are helping Van Iperen stand out as an innovator in the industry once again, acting as a true partner to its customers and providing user-friendly tools that help them get the most from their crops.
Unlike traditional development practices, OutSystems is helping Van Iperen create innovative services rapidly and effectively—without extensive lead times. "Every time we finish a project, it's such a clean app—it's not just a minimum viable product," says Sander. "With OutSystems, we can deliver a completed product to our colleagues in months, rather than years and release updates and new features in a matter of days."