Maravilha Farms Enables Data-Driven Farming with Mobile Apps and Maximizes Crop Yield
+Speed
Processes up to three times faster
+Insights
Real-time instead of over two days
+Yield
Producing more from the same resources
Maravilha Farms is a major producer of berries, based in Portugal and Morocco. The company uses data to continuously improve its operations, but legacy processes and technology were leaving valuable insights trapped in disparate siloed systems.
Working with OutSystems partner OutFit, Maravilha created a new app for field teams, that makes their work easier and equips farm managers with the real-time insights they need to maximize crop yields. With OutSystems, the company has laid the foundation for seamlessly connected IT across the enterprise.
Legacy Modernization

Field Service Optimization

Operational Efficiency

Workplace Innovation
Challenge
How to Enable Productive, Data-Driven Farming?
Maravilha Farms—a subsidiary of Reiter Affiliated Companies—grows berries in farms across Portugal and in Morocco. The company exports more than 4,000 tons of fruit each year.
Like most other industries, connected technology has transformed the world of agriculture in recent years—and Maravilha is highly aware of the impact that well-targeted, well-implemented technology can have on the working lives of its people, and the operation of its business.
"Every year, we gather feedback to understand our company's technical needs," explains IT manager Bruno Guerreiro. "Unfortunately, the process we had in place to gather input was far easier for back-office teams to engage with than for teams out in the field, so those teams started to get left behind."
Teams in the field were using barcode-reading devices to assist with growing, packaging, and distribution. But those devices were offline, and data had to be manually collected from them each day. And in Morocco, the same processes were entirely paper-based.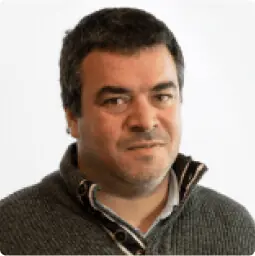 This created a lot of manual data management work for the Maravilha team, and data was ending up in dispersed silos where nobody could use it effectively—limiting visibility of staff allocation, output levels, and crop yield.
"Because the system wasn't working in real-time, the people gathering field data weren't getting any insights from it," explains Bruno. "It was informing the rest of the business, but the field teams weren't able to learn anything from their own activity, and take the right actions at the right time to maintain output and productivity levels."
This was indicative of a challenge right across the company. Data was being stored and analyzed in monolithic legacy systems that made it slow and difficult to process and share vital information. As Maravilha Farms devised a new company-wide digital transformation plan, it was clear this needed to change.
Why Maravilha Farms chose OutSystems:
Improve UX

Full-stack visual development

Enterprise-grade scalability and security
Solution
Build Rather Than Buy Proves a Fruitful Decision
Using feedback gathered from across the company over several years, Maravilha created a new vision of a stronger software layer that would connect all its systems and improve the flow of data across the organization. At the heart of this transformation would sit new apps designed to support Maravilha's field workers.
But, these new apps couldn't just be functional—they had to be intuitive enough for anyone to use, and deliver exceptional experiences that would keep employees at all levels engaged in their work. With its unique requirements mapped out, Maravilha began a rigorous selection process to find the ideal solution.
Initially, the team looked at numerous off-the-shelf agriculture solutions. "There are a lot of good tools out there for agriculture businesses, but they're all packages and couldn't meet all of our business needs," says Bruno. "The packages we looked at lacked off-line working, and the ability to use mobile devices to edit data on the fly. Worse, they would have added yet more disconnected silos to our architecture, which was precisely what we were trying to get away from."
It was clear that to get the perfect solution, Maravilha would need to develop it in-house. OutSystems quickly emerged as the ideal platform.
"With OutSystems, we know we can have a small team delivering complex, state-of-the-art applications—allowing us to focus on the broader needs of our business, like growth and improving operational efficiency," he adds. "We can leave the complex technical decisions from architecture to infrastructure on the OutSystems side, knowing that the scalability, performance, and security we need are guaranteed."
Using OutSystems, the Maravilha team created a new Field Data Collector App, designed to remove the data collection and analysis challenges that had left its field teams without valuable insights. "Great UX was crucial for us, so we made sure the field teams were involved in the development process," says Bruno. "Using a low-code approach enabled us to create something we knew they'd love before development even began."
The app gives field teams the ability to collect and edit critical information in the field. Management now has close-to-real-time visibility of crop conditions, according to location, crop variety, and horticultural regime. Support for barcode scanning speeds up many aspects of data entry. The app is tailored precisely to Maravilha's requirements, which wouldn't have been possible using the packaged solutions the team evaluated.
Results
Higher Productivity, Engagement, and Output
Employees love the app, those in the field are more engaged in their work and empowered with real-time data, and farm managers can make decisions that lead to higher output and better work experiences. Both have contributed to a significant fall in staff turnover rates, ensuring that Maravilha can hold onto valuable talent in a time of labor shortage.
The app has also had a significant impact on the company's productivity and revenue by improving crop yield. "We always want to produce more, but we want to do it through greater efficiency," says Bruno. "We don't want to have to double in size to double our output. So, all these new efficiencies will allow us to produce more from the same land and the same workforce."
Today, many of Maravilha's processes are running up to three times faster than previously. The data validation process that took two to three days now happens in real-time, enabling faster, better-informed decision-making across the business.
Beyond that, Maravilha uses OutSystems to establish a foundation for stronger interconnection across the company's IT environment. Now, if the team needs to buy an off-the-shelf solution or change any of its current software providers, they can use OutSystems to create new data connections and integrations, supporting the company's goal of complete enterprise-wide data sharing and interconnectivity.
Maravilha has implemented the app across Portugal and is rolling it out in Morocco. Looking ahead, the app has attracted the attention of Maravilha's US parent company. "The US team has been hugely impressed with what we've created here, and now plans to implement the solution itself," says Bruno. "They can't believe that we've been able to create such a tailored solution, yielding such significant results, with such a small team."