Diese Website ist zum Teil ins Deutsche übersetzt. Einige Inhalte sind weiterhin auf Englisch.
Cognomie Develops a Modern Mental Fitness Platform in 12 Weeks
50-80%
improvements in mental fitness scores
Cognomie is on a mission to help the world improve its mental fitness. The company provides assessments and one-on-one coaching designed to reduce stress and help people enjoy healthier, happier work and home lives.
Using OutSystems, Cognomie built an end-to-end mental fitness platform in just 12 weeks using only one developer. The platform currently serves over 50 businesses and more than a thousand people and has a Net Promoter Score of more than 97%.
Customer Experience

Digital Core Systems

Mobile Applications

Web Apps & Portals
Challenge
A Proactive Approach to Mental Fitness
Based in the UK, Cognomie delivers one-on-one and group mental fitness coaching for forward-thinking organizations and individuals. The company's goal is to transform lives, changing the way people work every day, being happy, healthy, mentally fit, and the most productive they can be.
The concept at the core of Cognomie's service is 'mental fitness,' a term designed to leave the negative connotations of 'mental health' behind and reframe the topic in a similar light to physical fitness.
"Everyone can take a step forward with mental fitness," says Tim Kneen, Founder and Director at Cognomie. "It's about helping people stay in good mental shape before problems develop and taking a positive, proactive approach."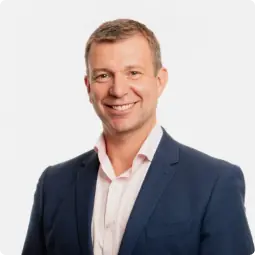 The company believes that by proactively managing mental fitness, everyone in the world can improve the way they deal with stress and anxiety and lead more confident, motivated, and balanced lives—both at home and at work.
The idea came from Tim's personal experience in his previous career: "I was functioning in a senior leadership role without realizing the stress I was operating under," he says. "It was only when I had the opportunity to talk to a coach that I was able to make some significant changes. I then wanted everyone to have access to the same resources."
Cognomie provides data-driven mental fitness assessments based on customer surveys and then personalized coaching based on these assessments. But to reach the global audience its owners envisioned, Cognomie would need to leverage technology to digitize and scale its services.
Why Cognomie chose OutSystems:
Speed up development and improve agility

Build core systems

Deliver public-facing web apps and portals
Solution
An Entire Business Platform Built in 12 Weeks
Cognomie was already delivering its offering to a small number of users, processing data behind the scenes to provide mental fitness reports and then manually uniting clients with coaches. But the effort involved was substantial.
"We were already testing the solution with people, but we were doing everything by hand," says Tim. "We wanted to automate and streamline our service so we could help more people more quickly."
The goal for Cognomie was to build a platform that would support every aspect of its operations—and to have that platform up and running as quickly as possible, which is why the company turned to OutSystems.
"Our goal was to build the platform in 12 weeks, which sounds ludicrous," adds Tim. "With just one OutSystems developer, we were able to meet that target, building the entire MVP, deploying it, and launching it to our clients."
Tom Ciullo, Delivery Lead at OutSystems partner Doddle Design, estimates that this 12-week, agile development cycle would have taken as long as six months via traditional coding. But the speed of development wasn't the only advantage of using the OutSystems platform, which exceeded expectations on multiple fronts.
"Typically, when I calculate time, cost, and scope, I tell people that you can pick two of those, and the other one will fall short," says Tom. "With OutSystems, we were able to develop faster, include all the functionality we needed, do everything with just one developer instead of five, and spend a lot less to get to MVP."
The platform built on OutSystems currently encapsulates Cognomie's complete mental fitness workflow, including management of clients, coaches, and community, matching algorithms, data collection, and feedback. And, with OutSystems powering rapid development and CI/CD, Cognomie can add new features and capabilities whenever it needs to.

Doddle was born out of a passion for innovation, creativity and technology. We've been working with OutSystems for over 12 years, and have developed innovative solutions for clients in Engineering,...
Learn more about Doddle Design
Results
The First Step Towards Helping the World
Cognomie is still in the early stages of its journey, but its ability to get to market as quickly as it did has already made a measurable impact.
"The market is moving and evolving fast," says Tim. "Using OutSystems meant we were able to help lots of people through a difficult winter and the worst of the COVID pandemic."
Within 12 months of launch, the Cognomie platform was serving over 50 organizations. Thousands of their employees have registered, been profiled, and paired with hundreds of mental fitness coaches.
And the response has been overwhelmingly positive. Some companies have reported 50-80 percent improvements in mental fitness scores, and Cognomie has received a Net Promoter Score of well over 95 percent. Tellingly, every company that Cognomie has started working with is still a customer today.
"We're still right at the start of our journey," says Tim. "Our purpose is to improve mental fitness across the globe, so there are a few billion people we still want to work with, but it's been a great start, and we've been able to help lots of people already."
Following on from this initial success, Cognomie fully expects the OutSystems platform to play a role in helping the company achieve its future ambitions, too.
"As the business grows, there's a lot more to come," says Tim. "We took such a leap forward with that initial release. Now we can add new features at the same rapid pace that we got to market."
This speed, Cognomie recognizes, has been integral to its success.
"I was used to a very different pace of development before," says Tim. "To experience the difference with OutSystems has been eye-opening. I can't believe how much we've achieved in a small space of time with the budget we had."