Hampered by unstable and complex legacy systems and increasing customer concerns, supply chain management software provider, Nimbi, developed a new, modernized core system and a full toolkit of user-friendly solutions with OutSystems. They improved development speed by five times over hand coding with Java, increased overall productivity by nine times, reduced costs and time-to-market, and gained governance and control over the entire process. The new solutions handle annual transactions amounting to over $11 billion.
$20 million in cost savings
24 developers, down from 40
"We truly only mastered DevOps after adopting OutSystems. The platform has been vital in enabling us to replace our legacy systems while helping us develop the skills and establish the processes necessary to become a world-class technology provider."
Kinks in the Supply Chain Development Process
Challenge - Nimbi offers supply chain solutions that help clients increase productivity and generate savings. But in 2011, their legacy systems started to crack under pressure. Instability and crashing were common due to increased transaction volumes, and the complexity within the Java-based code left them with no apparent answers.
"We had highly customized projects built into the same code, making regression testing impossible," explained Felipe Almeida, CEO at Nimbi. "Corporate clients were demanding additional developments to compensate for instability, which only furthered our problem. And on top of that, we were losing key developers due to the frustration and stress."
Given the legacy solution's instability, Nimbi opted to rebuild based on modern best practices and new technology. They chose OutSystems for a few key reasons:
Game-changing speed and velocity of the low-code platform
Simplified development and application maintenance
Professionalism of the OutSystems team
Ability to provide a low-cost solution to clients
"OutSystems was key in allowing us to address our problem head-on by reducing costs and time-to-market while guaranteeing governance and control over the entire process."
An Optimized Platform Helps Clients Optimize Business
Solution - Forty developers worked on the platform rebuild, which was completed within just 6 months. And with more agile development operations, Nimbi was able to launch new solutions that, when combined, have connected over 100,000 companies to its marketplace for over 100 corporate clients, with annual transactions amounting to over $11 billion.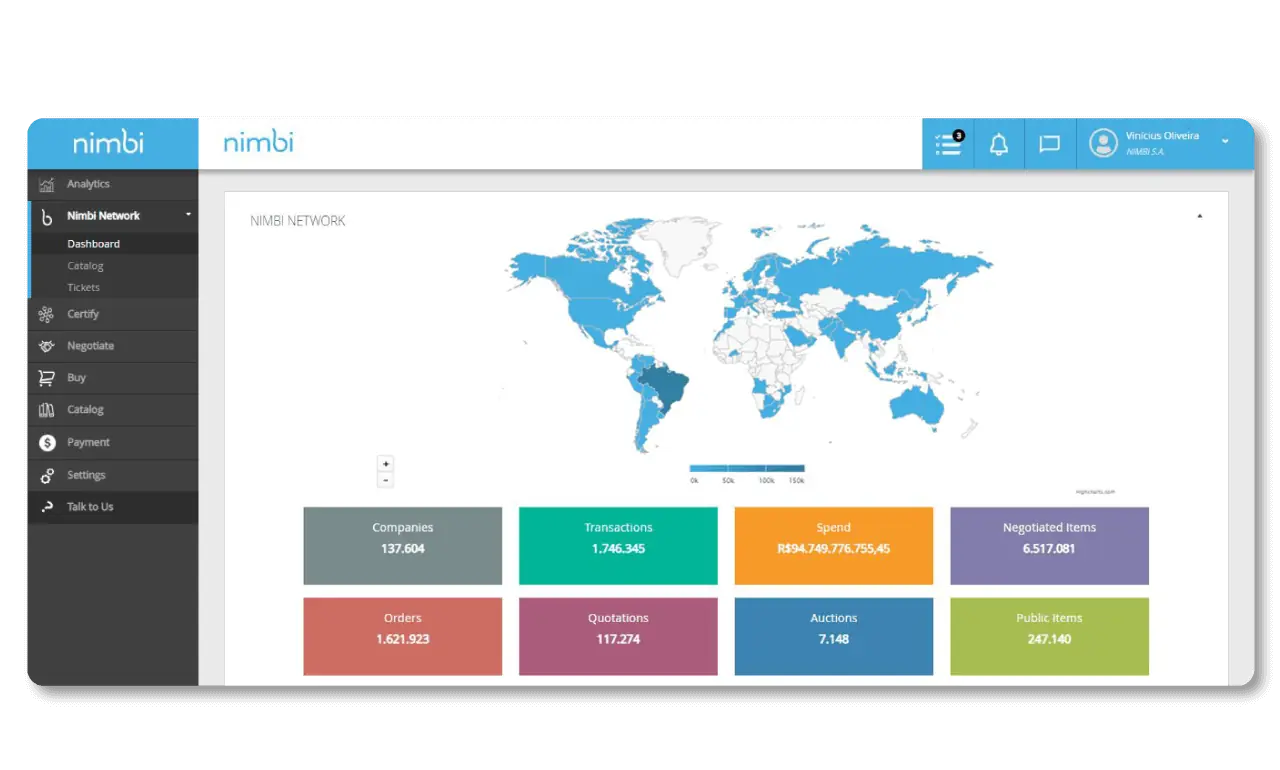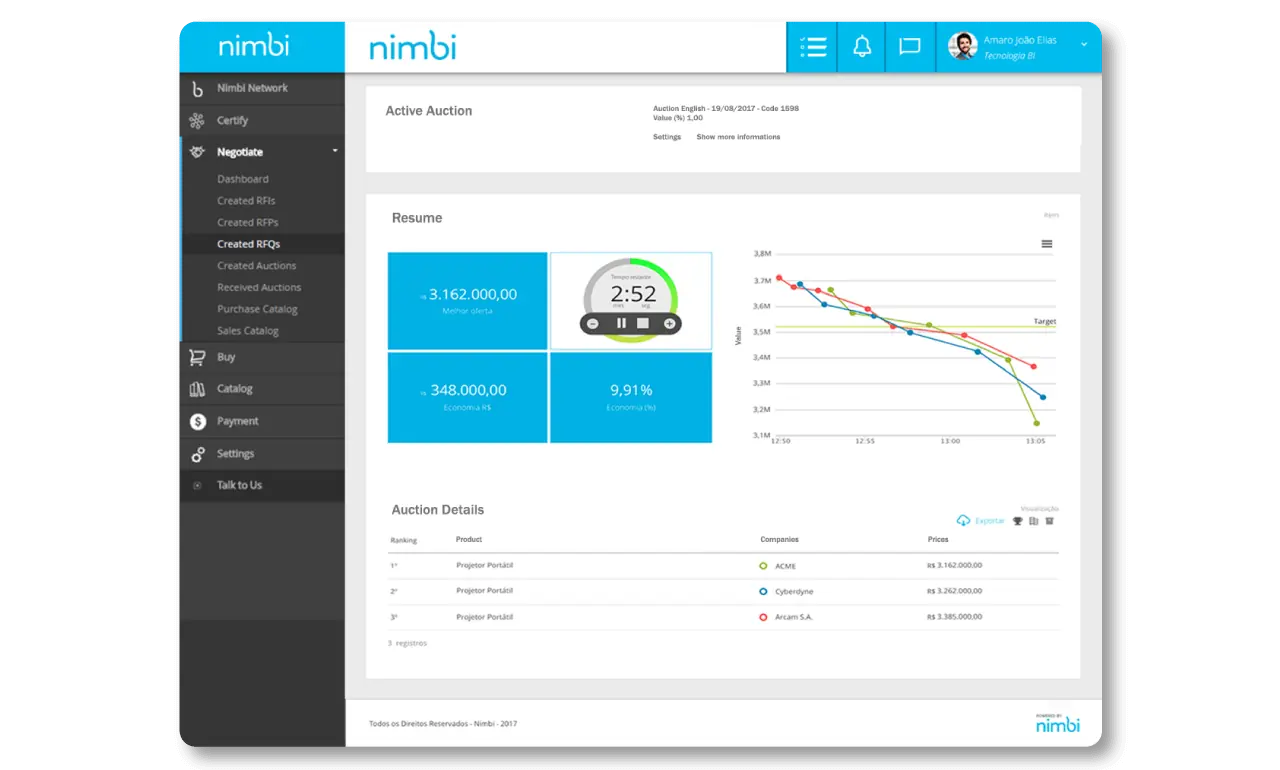 "Our app helps organizations of all sizes to optimize their supply chain management processes," said Almeida. "By adopting our solutions, companies are able to significantly reduce procurement costs while guaranteeing governance and compliance." The full toolkit of supply chain solutions includes:
Certify, a supplier onboarding solution that allows clients to create a private network of endorsed organizations, saving time on finding the right partners.
Buy, which gives clients greater agility and control in their purchasing processes to increase business productivity by up to 42 percent.
Negotiate, a solution that allows clients to cost-effectively perform various auction procedures and request information, quotations, and market proposals.
Analytics, which offers customizable reports for real-time monitoring of key indicators and results operated through the Nimbi platform.
With the platform transformation complete, Nimbi was able to reduce the number of OutSystems developers to a team of 24. They have developed more than 10 big applications and have five new projects in the pipeline.
ISVs
Market Winning Products
Bring products to market faster. ISVs partner with OutSystems to develop and update innovative products that satisfy demanding customers and evolving markets.
The Switch-Out Leads to Sweet Savings
Results - Nimbi's first app developed with OutSystems resulted in productivity of close to nine times greater than previously achieved with Java. Over five years later, Nimbi's new service-oriented architecture allows them to quickly release new solutions.
"If it were not for OutSystems, we would not have survived the time and resources necessary to switch out our old solution."
Besides a considerable gain in agility, Nimbi's deliveries are much more stable, and the team has been able to gain greater control over the development and deployment processes. "We truly only mastered DevOps after adopting OutSystems," said Almeida. "It led us to establish multi-faceted technical teams with far greater business acumen and technical skills."
And all of that was accomplished with considerable cost savings. Over the last five years, Nimbi has invested only $10 million using OutSystems, versus a conservative estimate of an additional $20 million without.