Global Wine Company Sogrape Digitalizes Viticulture and Manufacturing Processes
SAP Integration
Full integration with SAP finance and logistics systems
Real-time
Enabled real-time insight delivery
Leading Portuguese family-owned wine company Sogrape has provided award-winning wines for more than 75 years. But with many manual processes, and a legacy harvesting management system reaching end-of-life, Sogrape needed to find a digital way forward to continue to grow.
Using OutSystems, the company built an app for managing the entire winemaking process, from grape production to bottling. Now winemaking and viticulture teams have more efficient ways of working and real-time insights into every stage of production.
Legacy Modernization

Operational Efficiency

SAP Extension

BPM

Digital Core Systems
Challenge
Continuing a Tradition of Excellence
Founded in 1942, the Sogrape group produces wine in Portugal (Sogrape Vinhos Portugal), Spain (Bodegas LAN), Argentina (Finca Flichman), Chile (Viña Los Boldos), and New Zealand (Framingham). Sogrape owns more than 1,500 hectares of vineyards worldwide.
With distribution companies in Europe, America, Africa, and Asia, Sogrape delivers top-quality wines, including Mateus Rose and Barca-Velha, to more than 120 countries.
To continue its long history of innovation and growth, Sogrape needed to bring all of its wine production processes into the digital age.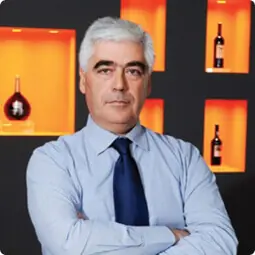 Many of Sogrape's processes were still highly manual, creating considerable inefficiencies for grape producers and winery workers managing large-scale wine production by phone and email. And the digitized part of the process—a 15-year-old harvesting application built on Oracle Forms—didn't integrate with Sogrape's core SAP systems, tying up the company's workers with duplicate data entry. Not only that, but the Oracle Forms app was about to reach end-of-life.
"Our wineries receive up to 40,000 tons of grapes each vintage, all of which must be handled carefully and quickly to avoid compromising the quality of our wines," says Carlos Alves, CIO at Sogrape. "But a lack of end-to-end visibility made it impossible to plan our resources effectively and optimize the reception of grapes. We needed a digital solution that would eliminate the inefficiencies and give us real-time insight and control over every part of our production process, from viticulture and harvesting to winemaking and bottling."
Why Sogrape chose OutSystems:
Speed-up development and improve agility

Powerful integration

Modernize legacy systems
Solution
Complex Integrations, Simplified
After evaluating off-the-shelf software solutions, Sogrape found none had all of the features needed to manage the entire production process from vineyard to bottling plant. Then, when it looked at how other wine producers around the world had approached similar challenges, Sogrape discovered the majority had developed their own custom systems.
Choosing to build rather than buy made sense, but building such an extensive end-to-end production system—with limited development resources—before Sogrape's harvesting app reached end-of-life, looked like a daunting challenge. Third-party development partners estimated 12 to 14 months to build the new system in .NET. But after technical consultations with OutSystems partner Deloitte, Sogrape decided that rapid application development would provide a faster, more self-sufficient way forward.
"OutSystems gives us more speed and agility, and the flexibility to build mobile apps, make rapid changes, and integrate with any system we need to," explains Carlos.
Using OutSystems, three Deloitte and two Sogrape developers took only seven months to build a new system, called Wine Connection (WICO), that supports planning, operations, costing, and control across the entire winemaking process. Importantly, to give Sogrape's employees access to real-time information, WICO incorporates vital integrations with numerous other systems, including:
Omron IoT sensors that monitor the temperature inside wine containers
A LabWare laboratory management system used to manage wine sample analysis
SAP finance and logistics systems used for planning and costing
Regulatory agencies' systems in multiple Portuguese wine regions
Deloitte provides audit, consulting, financial advisory, risk management, tax and related services to public and private clients spanning multiple industries. With a globally connected network of...
Learn more about Deloitte
Results
A Digital Future for Winemaking
By removing inefficiencies and digitizing manual processes to accelerate day-to-day operations, Sogrape has made significant efficiency gains. Now, real-time information allows viticulture teams and winemakers to respond effectively to conditions in the vineyards, plan winery operations with confidence and accuracy, and simplify compliance with different requirements in various Portuguese wine regions.
End-to-end visibility and control of every production process have made work easier for all concerned.
Paulo Prior, winemaker at Sogrape, agrees: "We now have real-time insight into what's going on at every stage of the process," he explains. "The combination of modern, efficient systems working in harmony with traditional production techniques is a good recipe to ensure our wines continue to delight customers."
WICO is a significant milestone for Sogrape as it begins its ambitious digital transformation program. "Previously, we'd always done waterfall development, but working on OutSystems has allowed us to use an agile methodology for the first time to accelerate development," says António Pereira, IT manager at Sogrape. "OutSystems has also given us the ability to do things we couldn't have done before. For example, we plan to create a mobile app for consumers that tells them more about what's in the bottle, such as grape variety, origin, harvest date, and much more."
With OutSystems, Sogrape has found a way to stay at the forefront of global wine production, while balancing tradition and innovation. "By building WICO on OutSystems, we rapidly created a solution for many of our most pressing operational challenges," says Carlos. "Now, our teams can work more efficiently, plan more effectively, and focus their efforts on delivering the next generation of world-class wines."
Content you can't miss
Maravilha Farms Enables Data-Driven Farming with Mobile Apps and Maximizes Crop Yield
Maravilha Farms used OutSystems to create a new app for field teams. It makes their work easier and equips farm managers with real-time insights that help maximize crop yields.
Delta Coffee Gets Piping-Hot Sales Information System Served by OutSystems Partner Truewind
Delta got a custom solution that saves 75% in campaign planning time and allows users to access campaign information anytime and on any device.