このWebサイトは日本語に翻訳されています。翻訳がないコンテンツは英語で提供されます。
Humana Powers Digital Channels with OutSystems to Gain 4x Agility Boost
6
months saved on first app
When Bruce Buttles joined Humana as Digital Channels Director in 2018, the team often struggled to deliver on time, on budget, and at the required quality. With three years prior experience with OutSystems, Bruce knew that a platform approach to app dev was the answer.
Humana's digital team completed its first OutSystems project in eight weeks instead of the eight-month estimate for hand-coding. With shackles removed, the digital team has since delivered numerous solutions—four times faster, at a quarter of the cost, while over-delivering on scope and quality.
Customer Experience

Operational Efficiency

Process Automation

Web Apps & Portals
Challenge
Our Top Three Digital Challenges? Time to Market. Period.
Humana Inc, a top-five U.S. healthcare company, provides integrated care with the mission to help its millions of members achieve lifelong wellbeing. The company has a successful history in care delivery since the 1960s and health plan administration since the 1980s.
"Before joining Humana, I'd spent three years as CTO of a couple of start-ups," explains Bruce Buttles, Digital Channels Director, Humana. "I'd experienced how a platform approach to application development could dramatically accelerate time to market. The exciting thing for me was to implement that same kind of approach in a huge organization like Humana."
However, Humana—ranked #41 on the Fortune 500 and with over 48,000 employees—faced several challenges when it came to fast-paced digital innovation. A complex architecture—including COTS and SaaS products, on-premises legacy systems, and multiple Cloud environments—meant IT had to tread carefully, particularly given the importance of safeguarding personal health information for millions of members.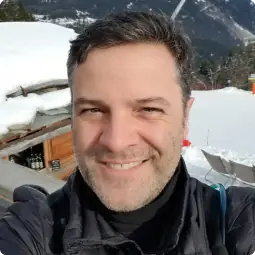 "It took me six months to get my head around the complexity," says Bruce. "We were looking to drive agile projects in one to three months, but delivery estimates were often 12 to 16-months."
A case in point was "Agent First Look," a sales enablement portal used by 40,000 sales agents to introduce upcoming annual health plans. "We needed to have this live in July of 2019, ahead of the fall open enrollment season," explains Bruce. "But our delivery estimate was eight months, which would push this way beyond that deadline. We needed a faster way, which provided the ideal opportunity to introduce OutSystems."
Why Humana chose OutSystems:
Speed-up development and improve agility

Deliver web and mobile applications

Enable continuous delivery
Solution
A Platform Approach and Co-delivery Unshackles Innovation
Given the urgency of this first project, Humana formed a co-delivery team with OutSystems Professional Services. OutSystems provided a scrum team, including an architect and three developers. Humana provided product owners, a project manager, UX designers, and copywriters.
Agent First Look was completed in eight weeks rather than the eight months estimated for traditional development. "There's more to this solution than meets the eye," says Bruce. "While Medicare is a federal program, we create a myriad of plans that are tailored to hundreds of regional markets. The role of Agent First Look is to simplify this complex product matrix so that each sales agent gets personalized access to the product and pricing information which applies to their territory."
From a sales enablement perspective, launching Agent First Look ahead of the open enrollment season was a huge hit. At launch, Humana saw 35,000 sessions from 40,000 nationwide agents in the first hour. "Agents sell what they're confident in, and investing in their expertise also improves customer experience, so it's a win-win," says Bruce.
Moreover, since federal and state health insurance regulations change annually, it's crucial to rapidly update Agent First Look in time for each year's enrollment season—which with OutSystems, the digital team now takes in its stride.
The co-delivery approach has proven such a success that Humana now regularly works with OutSystems delivery partner Cloud Development Resources (CDR). Typical project delivery teams involve six to ten people—CDR provides the scrum team, and Humana provides the product manager, product owners, designers, and copywriters.
"Humana provides the what, and CDR provides the how," explains Bruce. "The split is around 60:40, which compares favorably to traditional development, which in my experience normally involves more developers and higher delivery costs."
Partner
Cloud Development Resources - US
Cloud Development Resources is a software development and IT solutions provider that delivers OutSystems Applications Development, Software Project Development (Enterprise-grade Systems,...
Learn more about Cloud Development Resources - US
Results
Software Engineering is Fun Again—and Four Times Faster
Multiple other portals and microsites have followed, and delivery cost and effort continue to fall thanks to increasing levels of reuse. One such example is a portal called Annual Comprehensive Visit (ACV), which guides healthcare providers on promoting and executing annual wellness visits.
"The beauty of how we've designed this is the speed with which we can update the guidance, as federal and state health insurance regulations change each year," says Bruce.
By turning ACV into a reusable template, Humana now has an accelerator for any other portal or microsite, speeding delivery of sites such as Humana Foundation and Value-Based Care.
An impactful example of the Humana digital team's newfound agility was its ability to respond lightning fast to new and urgent requirements when the COVID crisis hit, as this video explains.
Finding a COVID testing center suddenly became the number-one ask for Humana's contact center. The customer service staff were struggling with a giant spreadsheet of test center details, but the information was constantly changing.
The digital team had recently delivered a pharmacy finder app using OutSystems. The architecture made it easy to turn this into a multi-purpose "healthcare provider finder." The team had the head start it needed to deliver a COVID test center finder in a matter of hours.
Over the course of a weekend, we built a web app that replaced the spreadsheet," explains Bruce. "Next, we expanded the app with full back-office functions, so a team of thirty users could constantly update the national testing locations database. Then working with CDR, we turned this into a mobile-friendly customer-facing app, helping members and call-center agents find test locations themselves through a Google-map-like search experience. I'd say, not too bad for only a month's work!"
Speed to Market Delivered
Regarding the top challenge for digital innovation at Humana, Bruce is emphatic, "Speed to market is number one, two, and three!" But with a platform approach to application development, Humana's digital innovation team is faster than ever.
"Delivering four times faster while at the same time improving quality is a game-changer—making a vast range of innovations viable that were previously risk or cost-prohibitive," says Bruce.
And just as importantly, Humana's digital team now has the agility to iterate at speed. "Enhancements which were an idea on Monday, can be live by Wednesday," explains Bruce. "We're delivering value every one-to-two days, rather than two-weekly. On some projects, we're even struggling to write user stories fast enough to maintain a backlog—which is why I say software engineering is fun again."