In six months, Lapis Software used OutSystems to create gemIntelligence™ - a mobile and web retail management application for U.S. state lotteries that increases sales productivity through more efficient sales calls, offers faster access to information like tasks and orders, and improves ease of use. gemIntelligence is now the rapidly growing alternative to a legacy retail management system that required sales reps to synchronize data every morning before going on the road and place orders in the evening when back at the office. With this new application, sales reps now have mobile online access to information needed to support retail customers even with no cellular network coverage.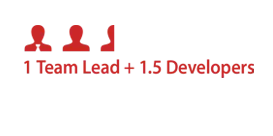 "Sales teams were being hindered by a lack of real-time information and order management. "
Challenge - Lapis Software is a U.S. software services company specializing in lottery back-office systems. They offer sales force automation solutions and retailer intelligence for some of the largest U.S. lotteries like Pennsylvania, Massachusetts and Florida.
With lottery sales reps continually on the road, making up-to-date retail information available on mobile devices is an easy decision to make. Unfortunately, the sales reps used an offline Windows application to plan their daily routes, know which stores to visit, and determine which products to sell.
The lack of immediate online access caused problems because:
Reps were unproductive for over an hour every morning during the time their app was syncing with the central database.
Orders taken along their route were often lost during the nightly sync process.
Besides the waste in productivity and efficiency, launching new lottery games and promotions was extremely difficult due to the cost of developing and rolling out updates to the existing Windows application.
Why OutSystems?
Making their application fully mobile was the best strategy for Lapis, and OutSystems was selected as the platform on which to custom build this solution because:
It was not possible to deliver mobile apps fast enough in Java.
OutSystems applications are responsive and work on all devices from a single code base.
OutSystems offers the ability to further enhance the new applications with capabilities like offline usage.
The flexibility of OutSystems allows Lapis to quickly adapt to lottery regulations in each U.S. state.
"We are excited about the gains in efficiencies and in retailer satisfaction that will result from our upgrading to gemIntelligence."

Intelligent, business-critical lottery solutions delivered in a SaaS model and available on all devices.
Solution - gemIntelligence, provides automation and productivity tools for lottery field representatives and a retail web-portal for direct access by all retailers and corporate users. It is a full-featured web application that increases productivity for all users on any device; a tablet, smartphone, laptop, or desktop.
"In record time, we used OutSystems to create a system, that supports Lottery operations, unlike anything that exists in the market."

The suite of web and mobile applications helps lotteries improve services to retailers and provides productivity tools for lottery employees who support them.
Solution Capabilities
Retail Account Management


Sales
Inventories
Tasks
History
Alerts
Product detail and images
Price point and instant product management

Customizable to Specific State Lottery Needs
User Experience


Support for any device
Off-line mode
Route planning on Google map

Software-as-a-Service


Roll out beta features only to selected users
Available for cloud or on-premises
Integrates with any supplier-operated system
"Our sales reps love gemIntelligence! It's easy to use. It's fast. It's always up-to-date."
Result - In six months, the first version of gemIntelligence™ was ready and running for Lapis' first customer - the Pennsylvania Lottery. Later it was tailored and deployed for the Massachusetts State Lottery Commission. That project took only two months.

ISVs
Market Winning Products
Bring products to market faster. ISVs partner with OutSystems to develop and update innovative products that satisfy demanding customers and evolving markets.
With the new application deployed, sales reps are saving one hour a day that was previously spent waiting for data synchronization, and they are no longer losing orders during the end-of-day synchronization processing. gemIntelligence™ presents the same look and operational functions in both mobile devices and on laptops making user adoption much easier.
Furthermore, because OutSystems ensures fast and secure change during the whole application lifecycle, lotteries are able to quickly and easily roll out new capabilities, sales programs, promotions, and new games with zero-error deployment.
Customizable in two months for any lottery
Works even when offline
Down to zero lost orders
220 hours per year saved by each sales rep
Lapis now has a disruptive offer in the market
Real-time inventory and prizes in the store
Real-time integration with lotteries and stores