Build Mobile Apps
Cut your mobile development time in half without compromising anything.
The OutSystems platform provides advanced mobile features: pixel-perfect UX, easy integration with any system, secure offline, one-click deployment, and more.
So whether it's an enterprise-grade, business-to-consumer app or a complex field service solution, you build it fast, right, and for the future.
World-Class Front-Ends
Need help getting started? Our design library includes more than 100 patterns and screen templates you can customize to fit your brand.
Already have your own front-end code? Great! You can use it too. OutSystems gives you the best of both worlds with our drag-and-drop visual editor. Either way, you'll build experiences users will love every time.
Managed Back-Ends
Control who gets access to your data by using OutSystems to build robust and secure back-ends for your mobile applications. Built-in governance that integrates with your corporate identity management systems ensures security. Notification frameworks, drag-and-drop business process workflow and connectivity to any system ensure your back-end supports all the needs of your front-end apps.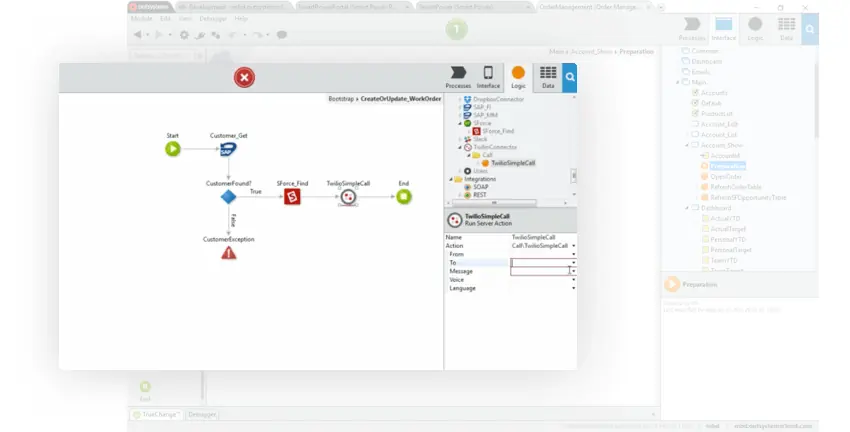 Sensors and More
Access any device-native capability with drag-and-drop simplicity. Leverage a complete set of intuitive native libraries or add new native sensors or capabilities by simply adding the URL for an open-source plug-in... OutSystems takes care of the rest, understanding dependencies, integrity, and updating the native component when needed.
Secure and Sophisticated Offline
Build sophisticated and secure offline experiences that support everything from simple data caching to complex offline data access and synchronization. OutSystems enables you to use on-device business logic without having to worry about the underlying plumbing.
One-Click Deployment
Simplify deployment with time-saving features. Test apps instantly on any device. Package them for the app store with one click. Update them automatically over the network. With a single code base that can be deployed on iOS and Android platforms, you can build once, run anywhere.