Neil Patel is one of the best known-names in internet marketing and also co-founder of two marketing-focused tech start-ups: Kissmetrics and Crazy Egg. Recently, I spoke to him about his experience with how the software industry has changed in recent years. In addition, he had some insights on what software development can learn from marketing.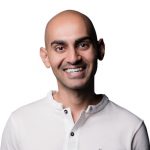 Serious Insights
In this podcast, Neil Patel reveals where marketing and software development overlap. He also compares agile and growth hacking. He then shares the challenges of enterprise app marketing and predicts what the future of internet marketing holds.
For additional details, read my blog about the interview.