Container Centralen Improves Supply Chain Efficiency and Visibility
6 months
to replace a legacy scanning app
4 million
RFID tagged inventory items
20,000
customers across Europe
Container Centralen (CC) is a European leader in Reusable Transport Items (RTIs) that enable over 20,000 horticultural growers and retailers to massively reduce the cost and environmental impact of plant and fresh produce transportation.
When the company's RFID scanner devices reached end-of-life, CC turned to OutSystems to build a customized scanner application used by hundreds of depot staff. The results—escape from a burning platform, faster and more reliable scanning, improved supply chain visibility, and a platform for future innovation.
Field Service Optimization

Legacy Modernization

Mobile Applications

Operational Efficiency
Challenge
Replace End-Of-Life Scanners with Future Proof Solution
Container Centralen (CC) is the owner and inventor of the CC Pool System, the largest Reusable Transport Item (RTI) pooling system in the European horticulture industry.
CC's RTIs are used by horticulture growers and fresh produce providers to transport goods to retailers. And many retailers use RTIs to put produce on display. By providing standardized containers, trolleys, and stackable shelving units with dimensions that fit perfectly on lorries, the whole logistics process can be optimized for maximum efficiency and minimized environmental impact.
The 20,000 members who use the CC Pool System can return RTIs to the most local CC depot, instead of shipping them back to their point of origin. This reduces environmental impact as well as lowering members' transportation costs. Efficient pool operation depends on accurate inventory management across CC's 70 depots, as Ben Brouwer, CC's international sales manager—and product owner for this project—explains. "We have over four million RFID tagged RTIs in the pool. We only know for certain where these are when they're at a depot. The RFID tags enable us to accurately identify RTIs as they enter or exit a depot, so we can manage the pool effectively and optimize availability to all members."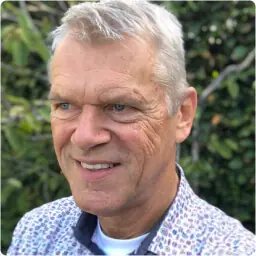 The scanner devices used across CC's depots used a version of Windows embedded handheld that was approaching end-of-life. CC's exacting requirements meant they needed to select a new scanning device and build and deploy custom-made scanning software. They had just over six months to escape their burning platform.
Why Container Centralen chose OutSystems:
Deliver web and mobile applications

Powerful integration

Decrease application maintenance cost
Solution
A Quest for Flexibility Brought CC to OutSystems
CC needed a custom-made scanner application for several reasons. Firstly, it needed to empower depot staff to perform a variety of actions in addition to scanning. For example, they needed to record differences between delivery notes and reality, as well as record damaged items.
Secondly, CC needed to record not just the quantity of goods received, but the configuration. For example, two sets of 30 stacked containers, versus one stack of 60 containers, the same materials, but different configurations, that get stored and shipped differently.
Lastly, CC wanted future-proof flexibility. They had yet to decide on the specific scanner device, and although most run on Android, CC might in future want to build similar apps for use on any smartphone or tablet. So, the ability to create both Android and iOS applications was also important.
From a shortlist of ten vendors, CC selected OutSystems partner Quatronic for a four-week proof of concept in June 2019. Starting with a two-day design thinking workshop, the joint team came up with the following evaluation criteria:
Deploy a working MVP onto the scanner device CC had shortlisted
Prove off-line working so that the scanner could be used even if out of network range
Integrate with CC's custom-made logistics system "LogLink"
Prove the speed of development
Ensure ease of maintenance
Deliver a brilliant user experience.
"Over and beyond the technical criteria, ensuring the cultural fit between Quatronic and CC was also critical," explains Ben. "Quatronic's consultants are experts in Agile Scrum, and helping CC adapt to a more iterative and experimental approach to product development was an important part of what made this project such a success."
Within four weeks, the team had developed a compelling MVP scanner app, and CC had the confidence to proceed with Quatronic, and so became an OutSystems customer.
Business Technology Consultants with a Low Code expertise. Founded by four experienced and enthusiastic business technology consultants, Quatronic seeks to become the number one company in Low Code...
Learn more about Quatronic
Results
From MVP to Production in Four Months
Following the successful MVP delivery, Quatronic assigned a three-developer scrum team to CC, and development continued in August. Throughout development, the team delivered two-weekly demonstrations, at the end of each sprint, to incorporate feedback from multiple stakeholders.
One of the most complicated parts of the development was building a custom-made Cordova plugin to integrate the RFID scanner. This was integrated into the OutSystems environment as a module, making it possible to include the plugin in OutSystems visual development flows and manage and deploy the code using standard OutSystems lifecycle management and DevOps capabilities.
The developer team used several prebuilt components from the OutSystems Forge, including camera integration and PDF printing, which ensured they never spent time reinventing the wheel.
By November, CC had a fully integrated prototype working in their Hazerswoude depot in the Netherlands. Through December, the team received feedback from users and made several usability improvements.
In January, the Hazerswoude depot went live, and CC started a Europe-wide training program that involved bringing staff from other depots to the facility for hands-on training on the shop floor.
"Thanks to some careful planning, we were able to go-live in a gradual way, with our previous scanners and the new scanner working in parallel," explains Ben. "Although we had a comprehensive multilingual training approach to cover the process change, the app itself was very user friendly and largely self-explanatory. A sign of success was that even during the first parallel running phase, none of the users chose to go back to the old scanner."
Rather than replace the old scanner on a like for like basis, the new app has delivered a vast array of improvements, including:
Faster scanning, because users can now scan standard RTI configurations instead of having to scan multiple components
The ability to record discrepancies between delivery notes and reality
Users can record damaged items and initiate repair orders
The scanner app can be used for stocktaking.
These changes contribute to improved efficiency and CC's bottom line. Capturing discrepancies and details of damaged items at the point of delivery makes a huge difference. It eliminates surprises and disputes later on, and enables CC to charge customers for missing items when necessary.
The repairs process works better as well, as CC immediately knows what work is needed as soon as a delivery is processed.
Looking ahead
Container Centralen is investigating numerous further innovations with Quatronic and OutSystems. These include a simplified scanning app for customers, depot operations, RFID tag quality monitoring, customer service portal, billing integration, repair shop operations, and spare parts inventory management. CC is even contemplating using OutSystems to create its next-generation logistics information system.
Commenting on his role as product owner, Ben says, "The speed and visual approach to development with OutSystems made it easier to collaborate closely with developers. We could discuss an understandable flow, which would not have been possible had they been writing code. And thanks to the high caliber of Quatronic's consultants, we've moved our agile maturity forward as a management team, which helps the company in all sorts of ways besides running better software projects."