Kent State University's Digital Factory Transforms User Experience
16,000
successful applications per year
Having used OutSystems for several years, Kent State University has set up a digital factory it calls the "Systems Development and Innovation Team" (SD&I).
This team of ten now delivers five releases per quarter, and productivity is on the rise thanks to increasing reuse of visual development assets.
The university currently benefits from over 40 OutSystems applications that improve the student experience and help students, faculty, and staff alike save time and work more efficiently.
Customer Experience

Operational Efficiency

Mobile Applications

Web Apps & Portals

Workplace Innovation
Challenge
A Single Direction for IT—a Wealth of Benefits for KSU
Kent State University (KSU) is laser-focused on putting its students first. That means not just increasing enrollment, but also ensuring students are supported and satisfied with their experience at KSU.
But pushing in one single direction is challenging for a multi-faceted organization like KSU. With multiple departments and priorities complicating the IT queue, Sameer Jaleel, KSU's interim Executive Director, Systems Development & Innovation, and his team had their work cut out for them, trying to meet the diverse demands of students and staff across the university.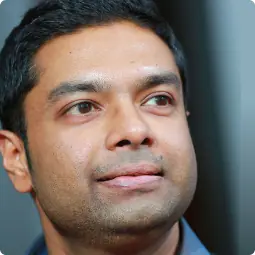 To help prioritize IT projects, KSU is establishing an enterprise governance body that will oversee IT delivery, effort prioritization, and enterprise architecture. For other university IT teams, having to predict and estimate delivery schedules for a governance body could be a challenge. Thankfully, the IT team at KSU has been developing in OutSystems for the past four years. And their experience with the platform is helping the team meet both enterprise governance requirements and the needs of students and staff at KSU.
Why Kent State University chose OutSystems:
Increase professional developer productivity

Architecture for improved reuse

Deliver web and mobile applications
Solution
A Digital Factory Powers the Student and Staff Experience
Four years ago, the SD&I department started developing on OutSystems. Since then, KSU has gone from strength to strength with the platform, setting up a digital factory that includes eight full-time developers, one UI specialist, one QA Analyst, two Platform Administrators, and anywhere between four and six part-time student developers.
The team has delivered over 40 applications used by students, staff, academics, and university administrators, and delivery speed is on the increase, thanks to a growing library of reusable visual code models, screen components, and business logic.
"Having used OutSystems for some time, our team has a maturity with the platform that has helped us develop new applications even faster," says Sameer. "We have robust training programs in place to quickly get people up to speed with OutSystems and ensure we have a consistent lean app dev process across all projects."
One example of this is the student-facing Manage My Program (MMP) application. Using the MMP app, students can manage their courses and make changes to their majors, minors and concentrations. As every academic unit has a different workflow for students making these changes, the app had to reflect all these different processes. This would be a significant challenge for traditional development, but with the OutSystem flexible rules engine, the KSU IT team was able to support workflows for every department in a single app, in a way that was quicker to develop, and will be easier to maintain.
Since going live, the Manage My Program app has handled around 16,000 successful applications per year—helping save a significant amount of time and effort across the student and academic advising body.
"The MMP app has been much easier for our students to use," Lynette Johnson, Associate Registrar at KSU, explains. "Students can get a lot more information about the programs available to them at the press of a button, and because MMP has built-in catalog validation, students only see programs that are relevant to them. Between this and the fact that MMP automatically re-catalogs programs, the app saves us a lot of time and significantly reduces the risk of errors."
Staff have also been provided numerous time-saving apps. For example, one app helps faculty members push grades from KSU's Learning Management System (LMS) into its ERP system in batches. Previously, teaching staff had to do this manually grade by grade. This was so time-consuming, many staff didn't even register grades in the LMS to avoid the laborious process of copying them over. Now, faculty can transfer all grades over in one batch, saving time that can be better spent helping students.
While several of KSU's OutSystems apps automate or accelerate a single process, others encompass all kinds of features to enhance multiple parts of the student and staff experience.
The KSUMobile app, for example, provides a wide range of benefits to students, including:
Interactive course timetable
Meal card balance management
GPS-tracking of campus buses, and automated alarms for when to set off for the bus stop.
The KSUMobile app includes a wealth of unique features and integrations that are made far easier by developing in OutSystems.
"Integration is always a challenge when developing solutions that pull data from different university systems," Sameer says. "But as we've built so many solutions in OutSystems now, it's easy to share data between different apps. That saves a lot of development time."
The KSU IT team's OutSystems experience has helped them deliver software faster, but it's also helped the team deliver more user-friendly apps that drive a superior student experience. In user surveys for the KSUMobile app, 84% said the app was easy or very easy to use, and 80% said they found information easy or very easy to find through the app. Both scores are a marked improvement from previous years.
The university's IT team uses survey feedback to continuously improve its solutions. Jason Dunfee, Lead Applications Developer at KSU, says, "We value our users' feedback and suggestions. OutSystems has allowed us to take that input and quickly adapt KSUMobile to better suit their needs."
Having used OutSystems for so long, Sameer and his team have found many ways to develop better solutions faster. "A big part of our Digital Factory approach has been finding ways to reuse components and code across multiple apps," Sameer explains.
"Two great examples are our authentication and load-testing solutions," Sameer says. "As users have the same credentials across all university applications, we're able to reuse the base code here and modify it to suit the needs of each app. As we strengthen our codebase to meet more stringent security standards, all our applications benefit across the board. Likewise, we reuse code to run load tests across a range of apps. Using OutSystems, we can quickly change the code to test different types of loads in different environments, but for the most part, the core of the test script can stay the same."
Results
Myriad Benefits for Staff, Students, and KSU IT
KSU's extensive use of OutSystems means that the platform has touched nearly every part of the university. And every part of KSU has benefited from significant time savings as a result.
For students, a range of mobile and web apps help them manage their studies, devices, dining plan, parking, and transport quickly and easily. All that time saved means more time for students to get the most out of their studies.
For staff, previously laborious, manual, paper-based processes have been digitized, simplified, and automated, releasing more time to devote to students.
And for Sameer and the other IT staff at KSU, OutSystems has helped them accelerate the development of all kinds of applications. For instance, in just one quarter KSU delivered five innovative digital projects, a speed it couldn't have achieved using a traditional development approach.
Michael Papania, Project Manager with KSU's IT team, explains, "With OutSystems, we can develop for iOS and Android in one platform, and after our initial release we can rapidly push out new features in 2-week sprints or faster."
But speed is only one of the benefits OutSystems delivers to KSU's IT team. With the enterprise governance body set to direct the IT queue in the future, a new benefit for Sameer is the ability to know precisely how long a project should take. Sameer says, "OutSystems has provided us with a faster way to develop applications. But, it's the predictability that's key. OutSystems has allowed us to be really sharp with our estimates, and to deliver exactly what we promise when we promise."
The accurate timelines that Sameer and his team now work to are appreciated throughout KSU, particularly by the university's central governing body for IT, as explains John Rathje, Vice President of Information Technology and CIO at KSU—