OutSystems, a leading technology supplier for the development of enterprise software, today announced it has opened a Singapore office to serve Southeast Asia, Australia and Japan. The company already has operations in the United States, Portugal, United Kingdom, and Netherlands with master resellers in Brazil and South Africa.
Carlos Alves, vice president of international operations for OutSystems, explains the company's interest in this new market. "The strong economic growth and maturity of the Asian market has led companies to consider the implementation of innovative business processes and differentiators using web and mobile technologies. OutSystems Platform allows them to quickly and effectively implement these solutions and gain a global competitive advantage. Because OutSystems has experienced success with our platform in APAC, it became an imperative for us to create a business center and be able to serve the region with more agility."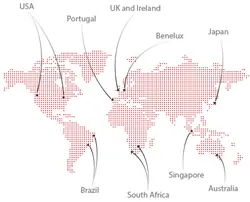 Initially, OutSystems will serve the entire market from a single office in Singapore, because OutSystems is also represented in Australia, Japan and the Philippines through local partners. In order to ensure effective management, adoption of the OutSystems corporate culture, and thorough knowledge of the local market, OutSystems will create a team comprised of local and existing OutSystems employees.
With the opening of this office, OutSystems expects to improve its distribution and customer support worldwide, especially in the APAC region through:
Expanded customer service hours, supporting the work schedule of the APAC region.
Availability of the Amazon Data Center in Australia (Sydney ) for the OutSystems PaaS offering.
Local phone support in all countries where the company has offices and distributors.
For additional information, please visit the Contacts page.
Content you can't miss
Consider Intelligent Automation from OutSystems and AWS
Get more from your business process automation efforts.
Forum & Community Discussions | OutSystems
Find solutions, share knowledge, and get answers from OutSystems MVPs, experts, and the developer community. Ask your question & get a response quickly!
BaseLinked | OutSystems
A new digital HR experience for a new way of working. With over 25 years of HR technology and systems integration experience, we've been where you are now. One of the biggest failure points we've seen in digital HR transformations is the disconnect between HR and IT. In a market saturated with HR technology solutions, our approach is simple. We combine cutting-edge technologies with extensive HR industry experience to provide agile HR solutions that support a connected and empowered workforce now and into the future.
Journalists and analysts can contact us directly at pr@outsystems.com