"It was the best of times, it was the worst of times, it was the age of wisdom, it was the age of foolishness, it was the epoch of belief, it was the epoch of incredulity, it was the season of light, it was the season of darkness, it was the spring of hope, it was the winter of despair." Dickens was obviously referring to the Covid pandemic.
So here we are, at the end of 2020's sequel, and while it sometimes feels we're stuck in limbo, OutSystemers had plenty of reasons to celebrate in 2021. Our team grew by leaps and bounds, we celebrated 20 years of this now grown-up company with a vibrant startup mindset, and we have exciting new projects ahead.
To keep the good vibes flowing into the new year, we asked eight OutSystemers about their best moments of 2021. Here's what they had to say.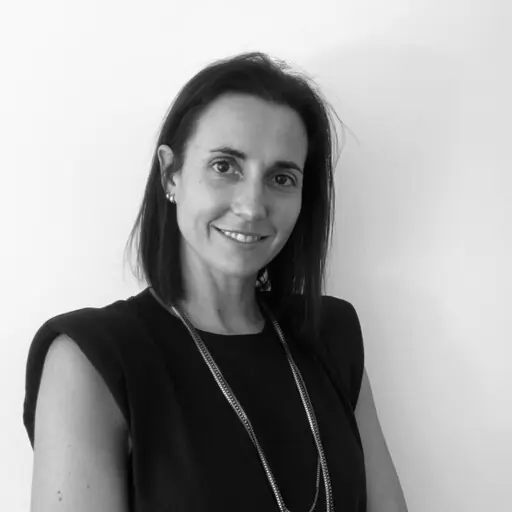 Cristiana Costa, Senior Agile Coach
For me, 2021 was both challenging and rewarding. OutSystems is a place where no two days are the same. I can guarantee you will never get bored!
I've been at OutSystems for the last six months; it seems like it was ages ago. When looking at all the work I've done and the feedback I received, the satisfaction is priceless. I am really proud to be part of this team where I had the opportunity to learn from the best—you do learn every single day.
Things at Outsystems happen at a fast pace, but it gets easier when you have a team that is always available, willing to support you, believes in you, and aims for the best. It is so fulfilling when your opinion and work matter.
I met such amazing people, and some have become my second family, my friends!
2021 was a year full of the best moments and I can't wait for 2022!
This is one of the happiest memories I will keep from this year: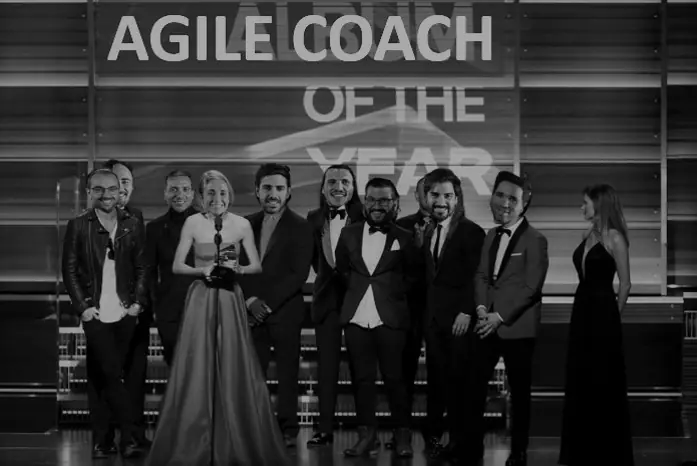 Cristiana receiving the award for Agile Coach of the Year. Well, sort of…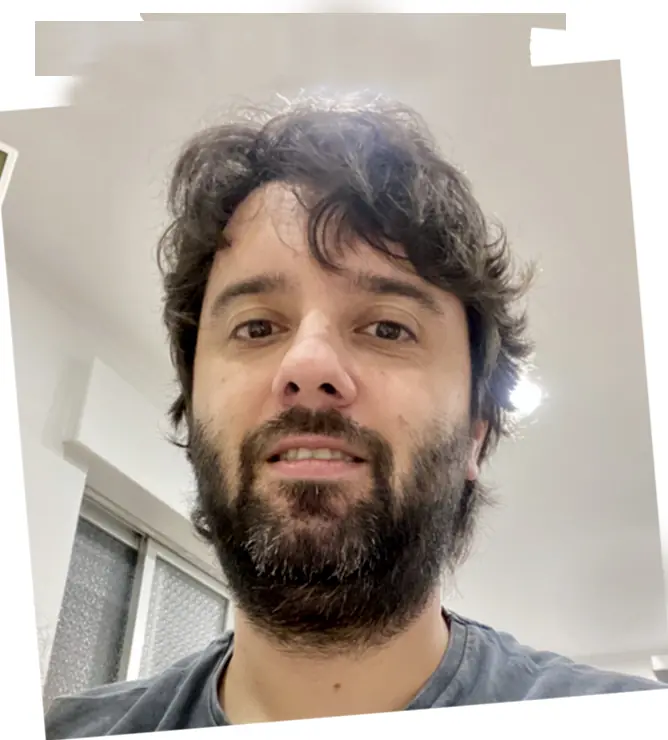 Hélio Dolores, Team Lead
I've been at OutSystems for more than a decade, and the ability this company has to adapt to every circumstance never ceases to amaze me. For most of us, 2021 was the year of the consolidation of remote work. We learned how to work as a group in a distributed way, and even expanded to new areas of the globe.
This year, my team implemented a solution to send Emails in Reactive Applications. It was a huge challenge from the start, as it was a highly requested feature in our community, and we had to redesign it from scratch. We just released it into general availability, and it's already in use in hundreds of applications. Wow! It's an absolutely fantastic feeling — I'm super proud of my team!
What was my biggest accomplishment? My beautiful daughter! Sofia was born in August, and she is amazing! The biggest challenge? Well, dealing with a newborn and a toddler with my arm in a cast. I do not recommend that! Please stay safe!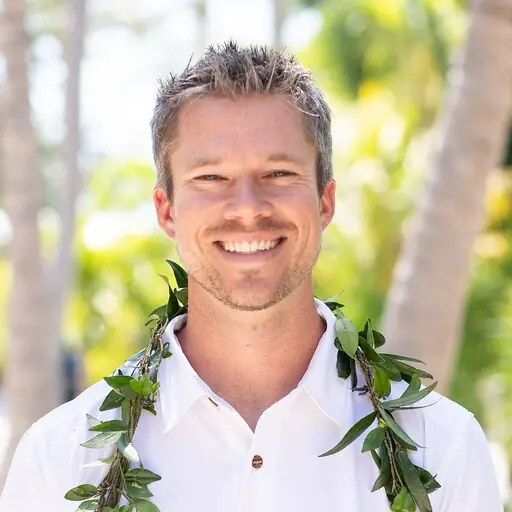 TJ Moore, Manager of Cloud Security Engineering
I joined OutSystems because I strongly believe in the impact that it will make on the market and world. We have a once-in-a-lifetime opportunity here.
The Security division is non-stop action, comparable to a "Mission Impossible" movie. We get to hunt down threats via Breeze and Wazuh, walk through cobblestone streets in Portugal, gain insights into what is running in the infrastructure that we have, and are starting to develop an actionable intelligence system to mitigate identified threats.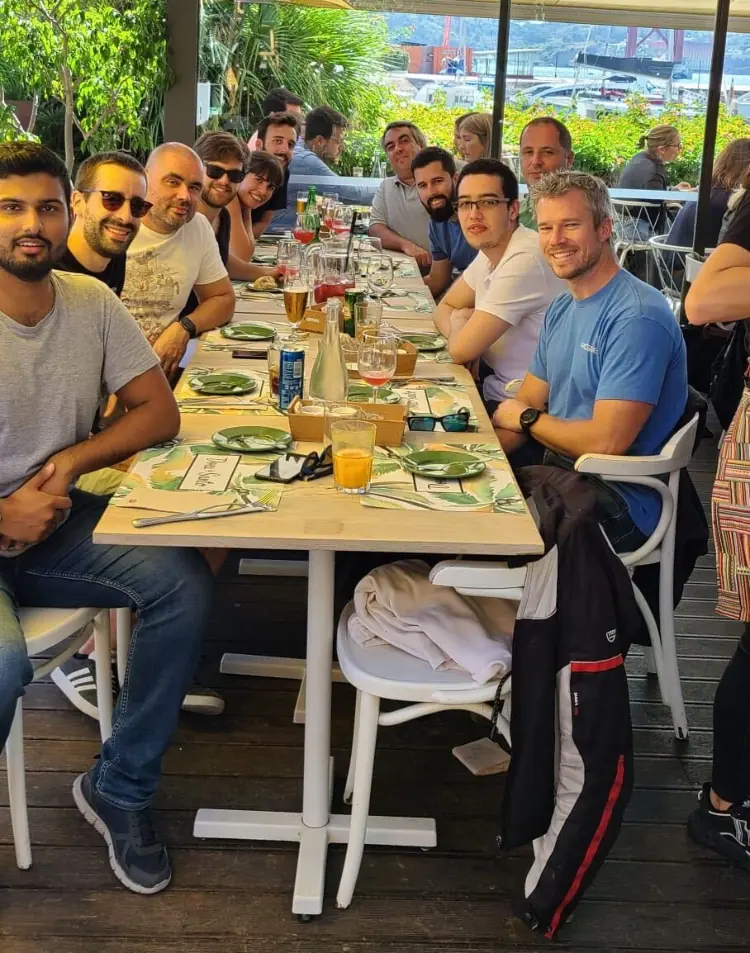 TJ enjoying lunch with his team in Lisbon
Sometimes, we even get to impersonate other individuals within the Individual and Account Management Teams. The company and division have a positive outlook and are performing with a sense of purpose. 2021 was a wild ride. We're all looking forward to what we get to see and bring to the company in 2022.

Nuno Ribeiro Batista, Head of Product Ownership R&D
After nine years at the OutSystems Customer Success team, in February 2021, I moved to OutSystems Engineering, where I found people full of drive, committed, with a true sense of pride over our Product and what it stands for, and a great leadership alignment!
I had the challenge of maturing the product ownership (PO) practice while growing the PO structure as the R&D Team expanded. After 10 months of tons of interviews to almost triple the PO structure in size, I'm very proud of what my team and I have achieved in 2021: a consolidated PO practice, product owners who are recognized as key in bridging strategy and execution, and playing a leading role in all key initiatives across the year, and a solid and collaborative structure that is well integrated into the Product groups.
It's been one hell of a ride, and I'm looking forward to what 2022 will hold!

Paulo Cardoso Ferreira, Manager, Technical Knowledge
2021 was a strange year for everyone but, at the same time, a great year for the team. At Technical Knowledge, not only did we onboard several new colleagues throughout the year, but we also continued to deliver the best technical content to our users. In between, we were recognized by it, which is always nice.
In 2021, I would highlight two major accomplishments:
We created and delivered "Project Facelift," in which we updated all the documentation and training visual assets to support the launch of Service Studio for macOS. That translated into roughly 4,500 updated visual assets, among images, screenshots, videos, etc. As part of this project, we also reviewed (literally) thousands of documentation articles and hundreds of videos to make sure the content was contextual and up to date with the new Service Studio. These were delivered on launch day, as we released Service Studio with a fully digital experience that takes macOS users to the right training and documentation.
Secondly, we've been delivering a fully updated Architecture Guided Path to help our OutSystems users, especially Tech Leads and Architects, access the latest and greatest best practices on architecture design for the OutSystems applications and factories.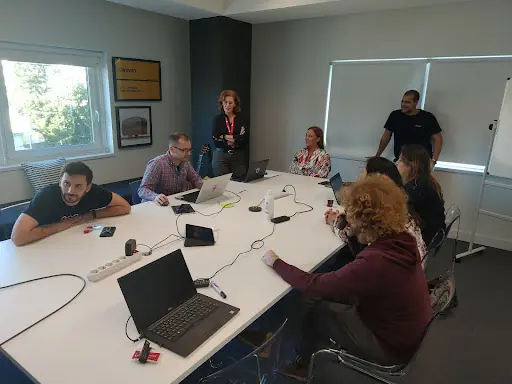 The Technical Knowledge Team in the OutSystems Lisbon office — it was the first time that some of the teammates met face to face
All this work and the things we do each day came with a good amount of recognition for the team, especially the two impact awards that we received at LavaCon, one of the world's leading content strategy conferences. These distinctions, one for our work automating online training creation and the other for our approach to documentation and training as technical knowledge, are the external recognition of our team as a leading team in this area of the software industry.
On a more personal note, another best moment — with the pandemic and everything going on — was having almost everyone on the team together in the same room!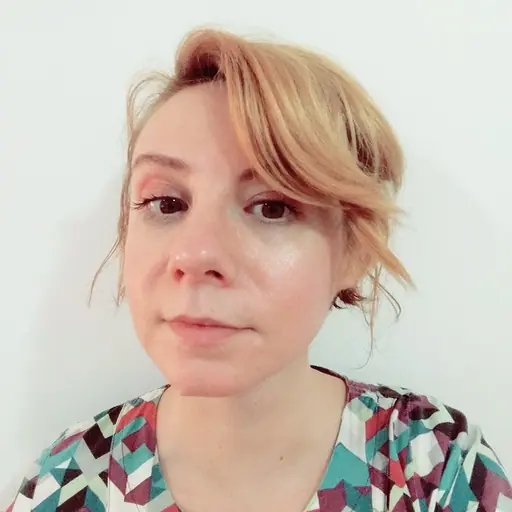 Michele Schell, UX Writer
It's quite difficult to list all the year's best moments because every day is a surprise, filled with great little moments. Thinking of the Product Content Team, something that comes to mind is that everyone really embraces what designing a product is about: collaboration, openness, and reflection. And we should never forget that writing is designing.
In 2021, our team grew globally. We've worked on evolving our practice, shaping our guidelines and processes. We started designing for OutSystems Developer Cloud (ODC) to help outline the best experience for our current and new users. For that, we decided to kick off a terminology initiative in which we've been running a lot of research and testing to choose the best words for our users.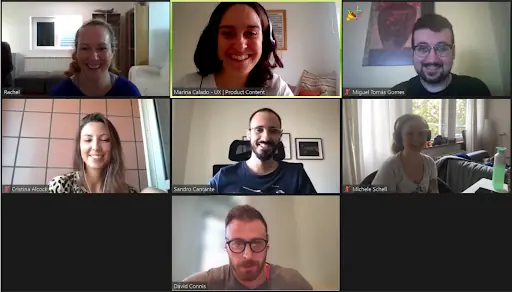 Michele (in the middle row, on the right) with her colleagues from the Product Content Team


Catarina Coelho, AI IDE Team
It's been about one year since I joined OutSystems, and I can say it has been a year full of great challenges!
This year, our team had the opportunity to work with two other teams, participated in different initiatives to enable our users to have a faster and better experience using Service Studio, and joined forces on Service Studio's release for macOS. Working alongside these teams and in these initiatives was a great learning experience full of surprises.
Besides learning about different projects, it was also an excellent opportunity to get to know other colleagues, especially at a time when we were all working remotely. It was great to know other people, which is not so easy when we all work apart.
Given all the time we spent working with different teams, I would say the best 2021 moment was when we could finally get the team back together! A second highlight for me was when we gathered in person and even got matching t-shirts!

The AI IDE Team wearing matching t-shirts (the t-shirt quote was courtesy of AI Product Owner Magda Pereira, on the left)
Even more exciting, we had new people joining the team and started working on a new AI-powered initiative full of surprises.
I look forward to seeing what next year will bring!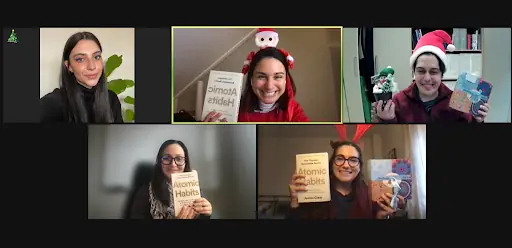 Marialaura Giova, R&D Employee Experience Manager (upper row, center), with her team on a special Christmas virtual gathering
I joined OutSystems in May 2021, and people aren't wrong when they say that OutSystems years are like dog years. Every day at OutSystems is so rich in experiences that I feel a little bit more grown-up each week.
It has been a journey that I would define as unique. Since my first day, a lot has changed, and I am sure there will be more changes ahead. Change is a constant at OutSystems, and our team is definitely not afraid of it. The group is incredibly adaptable and committed to the mission. You can feel it at any encounter, informal chat, or business meeting. Everybody is here to ensure we "Give Every Organization the Power to Innovate Through Software." [That's the OutSystems mission, by the way.]
Personally, I am grateful to OutSystems for my team. Together, we came a long way and built a strong team from the ground up. This year, we launched a new R&D Onboarding Program, among other milestones, and the team worked tirelessly to make this happen. It has been a success so far, and I could not be prouder of what we have accomplished, mainly being a newly formed team in a remote setup.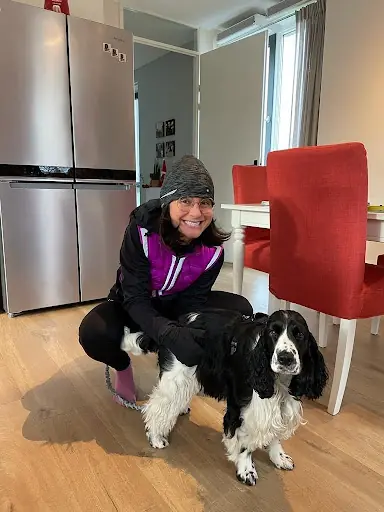 Marialaura with her dog, Pepper
Much like my team, high energy and drive are common denominators for all OutSystems employees. The company enables that by giving every individual the autonomy to expand horizons, the freedom to experiment, and plenty of opportunities to prove value.
Now, I look forward to the new amazing achievements we will be able to unlock in 2022!
Happy New Year from the OutSystems Engineering Team!