Diese Website ist zum Teil ins Deutsche übersetzt. Einige Inhalte sind weiterhin auf Englisch.
International Law Firm Vieira de Almeida Prepares for a Digital Future with OutSystems
20%
projected efficiency gains
1.5
FTE saving from first app
Leading Portuguese law firm Vieira de Almeida (VdA) wanted to improve the efficiency of key business processes and free-up its lawyers so they could focus more on adding value for their clients.
With OutSystems, the firm has designed and implemented case management and workflow tools that automate and accelerate critical legal processes. But more importantly, VdA is working with OutSystems as a platform to prototype and implement new digital initiatives that will help it thrive in a fast-evolving legal landscape.
Case Management

Operational Efficiency

BPM
Challenge
Breathing New Life into Old Processes
Running a fast-growing business can be exhilarating, but rapid growth doesn't come without challenges. VdA, one of Portugal's leading law firms, has experienced fast growth first-hand. With a 40-year track record of providing outstanding legal representation and advice, the firm's services are highly sought after. Just over the last three years, the firm has increased its headcount from 350 to 500, to handle the growing demand registered both domestically and through its overseas partnerships.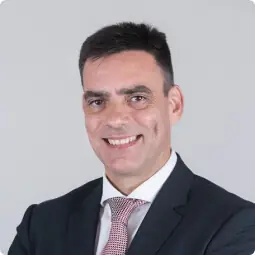 Although VdA's lawyers are experts in their respective areas of legal practice, they still need to carefully follow established legal procedures in meticulous detail.
The firm was burdened with processes that tied up lawyers with routine administrative tasks. For instance, every time one of VdA's clients had an interaction with the Portuguese courts, lawyers had to retrieve notifications published in Citius—the national online court management system—feed them into the firm's document management system, create workflow schedules, and assign tasks to individual lawyers.
This repetitive process was an obvious candidate for automation, but the firm's attempts to increase efficiency using a business process management (BPM) tool had not been very successful. "The BPM suite we had was very difficult to manage and was not user-friendly," explains Rui Alves, CIO at VdA. The firm needed to find a more viable solution. After an assessment of other BPM tools, interactions with OutSystems' partner askblue evidenced that rapid application development was a better way forward.
Why Vieira de Almeida chose OutSystems:
Full-stack visual development

Speed up development and improve agility

Deliver BPM/case management apps
Solution
Moving Beyond BPM, with OutSystems
The greater flexibility of the OutSystems platform was a critical factor in VdA's decision to switch to modern application development rather than continue its BPM project. The firm has ambitious plans to transform its business through digital technology, so the ability to build a wide range of applications and integrate with all kinds of systems would be vital.
"We don't want to have one tool for each process; we want one tool for all our processes, and for the new solutions we intend to build," says Rui.
Three askblue developers and a project manager took 16 weeks to deliver the process solution for VdA's litigation practice area, and subsequently built solutions for four other practice areas over the next three months. The new solutions integrate with robotic process automation (RPA) technology from UiPath to automate the manual effort of retrieving court notifications and setting up schedules and workflows. VdA's lawyers now have a clearer visibility of their pending tasks in each case and have more time to spend delivering value to clients.
This is an exciting step forward for VdA, positioning the firm in a digital leadership role in its market. "This is the first time a Portuguese law firm has successfully applied RPA to its litigation case management application," says Muriel Faden da Silva, Head of Quality & Innovation at VdA.
Just three months after go-live, 100 lawyers are already using the new system and the feedback has been very positive. "I've had a lot of comments about how much faster and easier to use it is compared to the old BPM tool," says Pedro Pires Fernandes, senior associate from the litigation practice area. "It's simpler for lawyers to see the deadlines for all the tasks they need to complete, and they no longer have to do any of that upfront data retrieval and input work."
askblue is a consulting company created in 2013 that provides specialized consultancy services in the Financial Market and IT. Our strengths and competitive advantages results from an ever increasing...
Learn more about Askblue
Results
A Platform for Efficiency and Transformation
As lawyers become accustomed to using the new solution, VdA expects to achieve very high efficiency gains.
Making existing processes more efficient is a critical goal for the firm, but Rui has his sights set on longer-term strategic objectives, too. "We're on a transformation journey—a gradual adoption of digital tools and new ways of working—so integration between applications and having the agility to change what's already been built is very important," he explains. "OutSystems gives us those capabilities, as well as the ability to deploy web and mobile apps, which will be essential as our transformation journey continues."
This digital transformation platform will be critical for VdA's future. Over the next few years, the Portuguese law sector will see competition from new players, such as consulting firms, offering many of the services traditionally provided solely by law firms.
To remain competitive, VdA will need to evolve, but Rui is confident the firm is ready for the challenge. "We have numerous initiatives that we have already implemented and several ones in the pipeline to help transform the way we do business," he reveals.
"OutSystems is set to play an important role in that transformation, giving us a platform to prototype and implement new ideas. This is bigger than just process improvement—with OutSystems we're now able to innovate more easily, and I'm excited about what we'll achieve in the future."