Diese Website ist zum Teil ins Deutsche übersetzt. Einige Inhalte sind weiterhin auf Englisch.
VÍS Launches Car Insurance Policy Priced Solely on Driver Behavior
#1
Iceland's most downloaded app on launch
"Prevention is better than cure" is a guiding ethos at VÍS, Iceland's leading insurance company. So, when the insurer wanted to encourage safe driving, especially amongst young drivers, its digital innovation team had the perfect proposition—a policy priced solely according to driver behavior.
Working with Deloitte and taking just four months of OutSystems development, VÍS launched the world's first policy that truly rewards safe drivers, immaterial of age, address, shoe size, or car model.
Case Management

Customer Experience

Mobile Applications
Innovation Awards
Winner 2021
Challenge
How to Price Car Insurance to Reward Safe Drivers?
Since 2018, VÍS, Iceland's leading insurance company, has been driving digital innovation with the help of Deloitte and OutSystems. That journey started in the high-stakes area of digital claims—a moment of truth for every insurer.
The company significantly streamlined the claims process with an OutSystems-powered customer portal and accompanying back-office automation. In addition to improving the customer experience, projects like this deliver significant cultural benefits, as Guðný Herbertsdóttir, Managing Director of Digital at VÍS explains.
Having completed the digital claims project in early 2020, VÍS's next digital innovation priority was a telematic car insurance product, which would significantly shake up Iceland's young driver insurance market.
With the belief that prevention is better than cure, the company's vision was to create a car insurance product that encouraged safe driving. Combining telematics with gamification would particularly appeal to young drivers, who would get lower premiums for safer driving.
This project gained even more impetus as the pandemic crisis hit. "Suddenly, people were driving much less," explains Guðný. "Some insurers started to offer partial refunds on premiums, but these offers were entirely arbitrary since no one knew how long this disruption would continue."
VÍS had the perfect proposition for a rapidly changing market—a car insurance policy that priced solely on driver behavior. This usage-based insurance model would mean careful, low-mileage drivers would pay proportionally less than high-mileage drivers with a more aggressive driving style. Crucially, VÍS wanted to remove industry-standard age risk tables from the premium calculation so that premium pricing was no longer unfairly stacked against careful young drivers—potentially a global first for the insurance industry.
To launch this new product as soon as possible, VÍS turned to Deloitte and OutSystems.
Why VÍS chose OutSystems:
Deliver public-facing web and mobile apps

Enterprise-grade scalability and security

Ability to incorporate custom code
Solution
Brave Innovation Deserves Visual Development Without Limits
Previous joint projects had involved consultants working onsite as well as from Deloitte's OutSystems Center of Excellence. But because of COVID travel restrictions, this project had to be remote.
"We thought the pandemic might be more of a challenge than it turned out," says Ricardo Martins, who leads the Deloitte OutSystems Center of Excellence. "We were able to deliver as one team, even though we were collaborating at a distance with so many different stakeholders. We worked in one-week sprints, and VÍS truly empowered the project team to make quick decisions."
In addition to the VÍS project team, other stakeholders included smartphone telematics partner, Cambridge Mobile Telematics (CMT), plus an Icelandic UI/UX creative design agency and gamification experts.
Integrating with CMT's technology required the development of a Cordova plugin to hook OutSystems into CMT's SDK. "This was complicated compared to a typical OutSystems project," explains Ricardo. "But once we'd developed the plugin, we incorporated it into the OutSystems project, so we could easily develop the desired experience using the standard visual development approach to integrate the mobile app with all the telematics features."
Development was made even faster by incorporating multiple prebuilt OutSystems Forge components, like Google Maps, analytics, and push notification. Plus, powerful integration capabilities ensured developers could easily connect to all required systems, including the TIA Insurance core system, CMT, GoPro, and Prismic.
Overall, the project involved up to 12 consultants from Deloitte Portugal and Iceland— not all full-time—including OutSystems backend and frontend developers, Cordova developers, TIA Insurance core system specialists, a telematics specialist, a technical project manager, an architect, and a scrum master.
The VÍS project team included product owners, a project manager, business subject matter experts, two OutSystems developers, and specialists responsible for the TIA insurance platform, infrastructure, legal, compliance, and testing.
Testing was an extensive and iterative process. "We used our Facebook page to recruit testers from our customer base," explains Guðný. "An undergraduate intern acted as community manager, driving high-quality daily feedback using Messenger and survey polls."
"Getting the MVP into the hands of potential customers was crucial," says Ricardo. "We needed the real telematics data from drivers, as well as their continuous feedback as we iterated the design. It was brave of VÍS to expose the early MVP to customers who were so active on social media. From October through to the end of December, we iterated at pace, and everyone is now really proud of the finished product, with a great UX which is unique to VÍS."
OutSystems development was four months, as most of July and August were spent integrating the SDK. "The speed of development was inspiring," says Guðný. "Especially as we were working remotely, dealing with the pandemic, and accommodating staff holidays during the summer."
Results
Ökuvísir, a First of its Kind Car Insurance Policy, Hits the Street
Ökuvísir—Icelandic for "Drive Indicator"—launched in March 2021 and immediately took first place for downloads on Iceland's app stores. "Development finished at the end of December," explains Guðný. "But it was crucial to design GDPR compliance into the product both technically and commercially, and the legal and compliance review took a little longer than we imagined. During this time, we extended the testing phase with staff, friends, and families."
It's easy for new potential customers to test-drive the app for two weeks, during which time the built-in gamification encourages safer driving, leading to lower premium offers.
Ökuvísir reviews each trip, showing points of concern on an interactive route map. The app evaluates five factors with five-star ratings:
Speed - Whether the driver was speeding and for how long.
Acceleration - How aggressively the driver accelerates.
Braking - How aggressively the driver brakes.
Turns - Whether the driver corners too fast.
Phone use - Whether the driver uses the mobile phone without a hands-free device.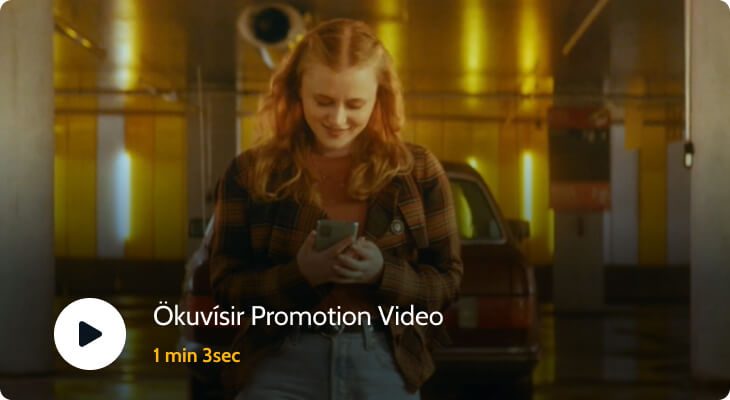 To minimize the processing of personal data and ensure GDPR compliance, the app stops recording driving behavior after two weeks unless the user signs up.
"The app includes a frictionless onboarding experience," says Guðný. "We perfected this along with all aspects of the user experience. The speed of development provided by OutSystems made it much easier to rapidly iterate and fine-tune the UX based on the testing community's feedback."
On sign-up, customers receive a small sensor block to keep in their car, which connects to the driver's smartphone. The block improves the measurement of acceleration, direction, and speed, making trip ratings even more accurate.
"I'm tremendously proud of the Digital VÍS team," says Guðný. "We're not just improving established products and processes; we're delivering disruptive innovations that break new ground and require fresh thinking. That's always challenging, especially when the pandemic forced us to work remotely. Deloitte and OutSystems give us the agility to be brave, which totally suits our approach to innovation."
Ökuvísir continues to evolve and improve, a process made easier by the application lifecycle management features baked into OutSystems.
Meanwhile, the Digital VÍS team has already launched its next disruptive innovation project, once again working with Deloitte and OutSystems, to rethink the life and health insurance market.