To seize the opportunities of Industry 4.0, manufacturers need to overcome a digital engineering skills drought. Could low-code and business-led application development be the keys that unlock Industry 4.0 for your business?
This Interview was originally published in TheManufacturer.com
Digital Innovation or Indigestion?
The definition of Industry 4.0—the harnessing of manufacturing technologies, digital systems, the internet of things and cognitive computing to revolutionize manufacturing business models—is quite a mouthful.
With so much for manufacturers' IT departments to chew on, it comes as no surprise to discover that many of the world's makers are suffering from a case of digital indigestion.
Recent research from OutSystems says that 57 percent of manufacturing businesses complain about their lengthy IT queues, and only 38 percent say the picture has improved since 2017.
The Squeezed-Middle
When it comes to digital innovation, mid-sized manufacturers seem to be squeezed from both sides. They have been around long enough to become burdened by legacy debt and probably look enviously at both larger and smaller, more youthful competitors:
Large multinationals have vast, internationally-spread resources that can keep innovation and agility to the fore. That's even though they've had years to amass complexity and legacy debt.
Small, youthful businesses are not yet burdened by the complexity of their larger industry counterparts. They find it easier and quicker to digitally innovate, as their IT departments aren't dragging the deadweight of old, hard-to-adapt technology behind them.
Fortune Favors the Brave
Wherever your business fits in this continuum, there's one undeniable factor when it comes to innovation: fortune favors the brave. Those who embrace innovation and steal a march on their industry peers can seize a competitive advantage.
Improved predictive maintenance is just one example, according to Visualizing the uses and potential impact of AI, a recent McKinsey report on the potential impact of artificial intelligence. McKinsey estimates that the global manufacturing and supply chain sector could reap a $4–6 billion annual benefit from such initiatives.
That said, innovation is hard. Things that are genuinely innovative have not been tried before. That requires tolerance of failure and an appetite for uncertainty. This places digital innovation on the opposite end of the certainty spectrum compared to long-established continuous improvement practices.
The makers who seize Industry 4.0 innovation opportunities will overhaul their whole approach to IT program management. Overcoming the digital engineering skills drought is not merely a matter of hiring or upskilling dozens of IT developers and managing them as before.
Instead, successful manufacturers will embrace fast, iterative experiments. It's "out with the old and in with the new," as summarized here. 
| | |
| --- | --- |
| Out With The Old  | In With The New  |
| - Twelve-Month ERP Implementations | - Design Thinking |
| - Lean and Six-Sigma Programs | - Lean Start-up |
| - Waterfall Project Management | - Agile Product Management |
What then for the 57 percent of manufacturers who complain of IT backlogs and the 62 percent of companies that say IT is no more responsive today than a year ago? They risk becoming digitally disrupted by more agile competitors while their Industry 4.0 initiatives sit in a 6–12 month IT queue, waiting for attention.
It's Time to Fight Back
If the picture painted above resembles reality for your business, 2019 is a good time to start fighting back. This is not an exercise in criticizing overstretched IT departments, but it is worth understanding the four common barriers that lead to a digital innovation deficit. Then we can prescribe a remedy, which can help even the squeezed middle rediscover their experimentation mojo.
The Four Barriers to Digital Innovation
Four barriers contribute to the digital innovation shortfall:
Complex, slow-to-change ERP systems especially those that have been overly customized: What was originally implemented years ago as the steady, reliable, integrated suite now takes too long to adapt and slows innovation.
The scarcity of web and mobile development skills: According to the OutSystems State of Application Development report, 82 percent of manufacturing businesses complain that modern application development talent is scarce. Hiring and retaining developers takes longer, and costs more.
A collaboration shortfall between IT, engineering, and business staff: Traditional IT development tools and practices come up short when the business needs fast, iterative, co-creative experiments.
Risk-averse IT sourcing practices: When IT management has a lengthy backlog, it's inevitable that they safeguard their precious resources. In that climate, getting buy-in for risky experiments is hard.
The Keys to Unlock Industry 4.0
Which brings us back to the initial question:-
Could low-code and business-led application development be the keys that unlock Industry 4.0 for your business?
To answer that question, first, let's quickly review the definition of "low-code application development" from Forrester.
"Low-code platforms enable rapid delivery of business applications with a minimum of hand-coding and minimal upfront investment in setup, training, and deployment."
Practically speaking, developing with low-code means that you can create applications using visual modeling and design instead of writing code.
More importantly, this simpler approach to building applications is up to 10 times faster than traditional coding and makes it possible for a much wider range of employees to collaborate with IT in jointly-staffed development projects.
Thinking specifically about the barriers mentioned before, consider this comparison:
Typical project durations of 6–12 weeks instead of multi-month or multi-year ERP projects.
Quickly train engineers, business analysts, and process specialists to help with application development, instead of competing for increasingly expensive hard-to-hire coding talent.
Bridge the collaboration gap between business and IT by forming co-creative teams that blend IT, engineering, and business folk, who all use a fast, visual, and understandable approach to application development.
Significantly increase your firm's appetite for digital experiments. When development is up to ten times faster and no-longer solely dependent on scarce developers stuck behind lengthy backlogs, the risk/reward dynamic completely changes.
Explaining Low-Code to Your IT Team
If you're a manufacturing manager wondering how to launch some Industry 4.0 experiments without sitting in a 6–12 month IT queue, you might be tempted to give low-code a try yourself. And, indeed you can. You can fire up your own personal instance of OutSystems on the cloud today, for free. Then use our extensive 40+ hour online training curriculum to master the platform. Oh, by the way, that training is free as well.
However, rather than going behind IT's back, why not first have a word with your IT director? See if you can evaluate this together. Shadow IT—the kind that is out of sight, and out of control of IT's governance—often comes to a sticky end. The real low-code advantage for your business would be making this a common approach rather than a heroic secret project.
Your IT director should already be investigating low-code development, in which case they will probably already have heard of OutSystems. By reading the State of Application Development Report (Manufacturing Edition), they'll get a quick insight into the advantages that low-code provides to your industry.
You've got the keys. Now start experimenting!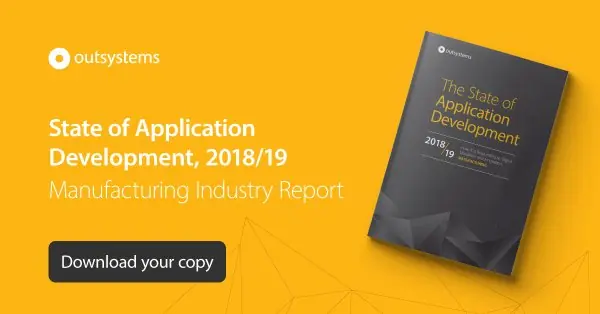 The State of Application Development, 2018/19- Manufacturing Edition
According to our research, manufacturing businesses face numerous challenges that slow or delay digital innovation.
If your IoT, digital manufacturing, or other transformation efforts seem to be stuck in lengthening IT queues, you are not alone: 57% of manufacturing businesses have application development backlogs, and only 38% say they're improving.
Want to find out more about how manufacturers are performing on a wide number of app dev performance measures?
Download your free copy of our manufacturing industry report