Energy Portal
Build a simple customer energy portal
Deploy your app to production with just one click
Later, integrate directly with your company's data and systems
Go on to build a production ready energy portal for your organization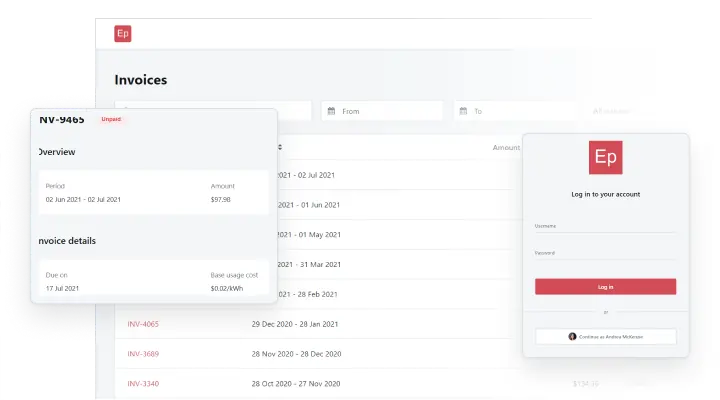 In this Energy Customer Portal template
Customer self-service is essential in the energy industry.
With OutSystems, you can create world class digital customer experiences in a fraction of the time it would take with other software development tools, all while integrating with your existing platforms and APIs.
Built using these accelerators:
Invoices List
Invoices Detail
Payments (add credit card)
Map with Branches
Contact Form
User Profile
Using this template
1
Once Service Studio loads, enter the username and password you chose at registration. Use these to log into your OutSystems personal development environment.
2
The Energy Portal template will open, starting with a video overview of what you're about to do.
3
Once the intro video is complete, an interactive tutorial will guide you through the first steps of creating your energy portal.
4
The tutorial is just the beginning, giving you a glimpse of how OutSystems enables developers like you to build scalable, enterprise grade software fast. Now that you've tried OutSystems, it's time to dive deeper into what OutSystems has to offer.
What you'll do:
Build a simple customer portal for the energy industry
How long you need:
Around 5 minutes
What you'll need:
A free OutSystems account
The OutSystems IDE, Service Studio (requires Windows).
How to Get Started
First, register for a free OutSystems account. After registration:
You'll download the OutSystems IDE, Service Studio.
Your browser will redirect you to your Platform Home page, which is the dashboard for your OutSystems account.
NOTE: It can take a few minutes to set up your OutSystems cloud environment. Once ready, Platform Home will let you know and you can open Service Studio.