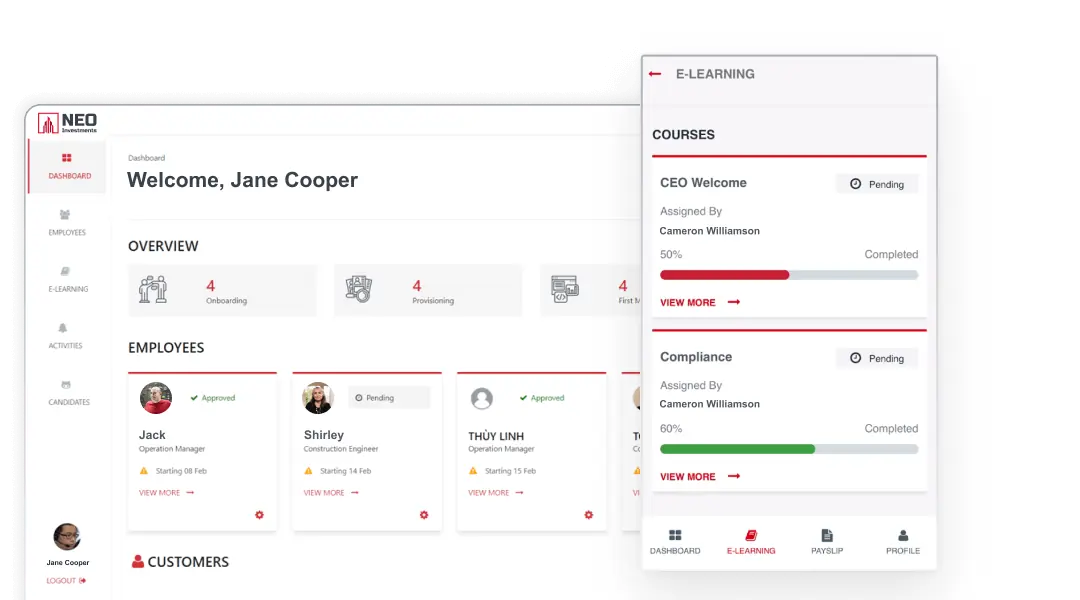 Streamline new employee onboarding with guided digital experiences
Build personalized digital onboarding experiences that focus on people. Set new hires up for success with employee-centric apps that reduce new employee ramp-up time and increase retention, while automating HR tasks and processes.
Creating Onboarding Journeys with OutSystems
Personalize onboarding experiences
Create intuitive and personalized digital onboarding experiences that guide new employees through the tasks and processes they need to complete. Leverage 100+ pre-built components that cover common digital interaction patterns.
Make onboarding simple and easy
Easily model, automate and digitize processes to simplify and automate key onboarding tasks. Save time with automated identity verification, user authentication and document signature, by connecting to third party services and APIs through pre-built connectors.
Adapt to changing work conditions
Keep onboarding journeys flexible for any scenario (virtual or in-person) and adapt quickly to changes in legal and safety requirements. Use our visual development approach to manage workflow logic, UI,  data access, and full application lifecycle support, to easily keep pace with change.
Employee Onboarding Success Stories
Learn how Kent State University built an orientation mobile app in just 9 days to provide students with a fully digital onboarding experience.
Read the Kent State Story
Learn how Monadelphous built "MonaWork", a mobile app that streamlined employee engagement and improved experiences for over 2,000 employees.
Read the Monadelphous Story
Start creating your employee onboarding experiences today