A successful employee onboarding process must be personalized, effortless, and make new hires feel engaged and get productive quickly. But how can you hope to achieve these criteria at an enterprise scale? The answer lies in automation.
Automating onboarding tasks results in a 16% higher retention rate for new hires. Yet, 36% of companies have insufficient technology to automate and streamline their employee onboarding process.
Many hope to achieve it by using off-the-shelf solutions — either components of enterprise human capital management (HCM) solutions or point solutions that handle one or two steps of the onboarding process. The results however, typically fall short of business requirements and lead to a disjointed experience.
In a modern, fully digitized enterprise, onboarding should be an automated, end-to-end journey that focuses on giving the employee an optimal experience and gets your company past the hurdles of siloed systems and manual processes.
Challenges of a Manual Onboarding Process 
Manually creating a personalized onboarding experience might be relatively simple in smaller companies that hire for a handful of positions and onboard a few new employees per week. But for large organizations that hire tens to hundreds of people each week for many different roles, manual processes are simply too time consuming and inefficient.
Even straightforward tasks done repetitively — for example, manually filling in forms, uploading and signing documentation, arranging for IT equipment and access, and setting up meetings with new co-workers — drain valuable time and resources and ultimately lead to a poor, cumbersome experience that hinders time to productivity for the new employee.
Benefits of Onboarding Process Automation
Automation allows HR teams to create an onboarding journey that is tailored to the new employee's role and needs. For HR managers, the process could be as simple as choosing a role to onboard from a menu, and further refining the journey and tasks with a series of pre-configured role-specific options.
A custom-built onboarding application can help automate processes by exchanging information and orchestrating tasks with the company's existing systems, such as HCM solutions, sending service tickets to the appropriate departments, routing documents for signature and approval, and automatically scheduling introductory meetings.
The more rote work is automated, the more the human element comes to the fore. For example, your onboarding application might automatically remind team members to send a welcome email or nudge the new employee to take role-specific e-learning or classroom courses.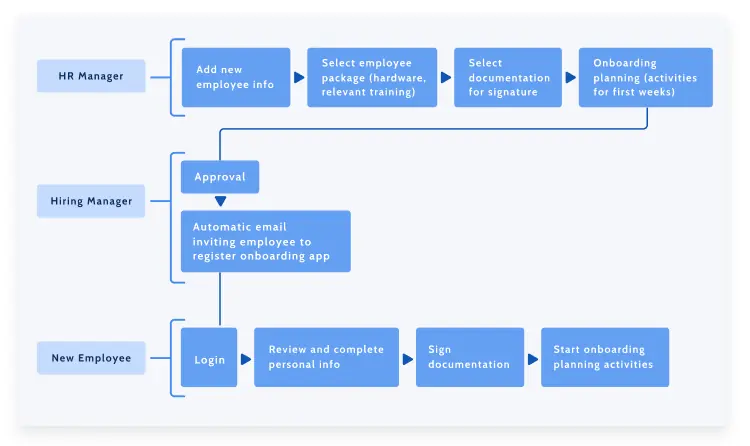 Automation truly shines in its ability to make the onboarding process easier and more pleasant for employees and HR professionals alike. New employees work through a single user interface, proceeding along the onboarding journey in the appropriate order of steps.
They don't have to open up multiple browser windows or applications to get the information and services they need. Rather, that complexity is handled automatically in the background.
These same benefits accrue to HR professionals as well. For example, powering the onboarding journey using automations almost completely removes the burden of manual tasks for the HR manager and hiring manager, with journeys tailored to an employee's department, role, location, or other key criteria. Once an HR manager creates an onboarding journey for a specific employee, the system could alert the hiring manager to review and approve it, or simply use the application to quickly make any adjustments needed.
How to Automate Your Onboarding Processes
In my previous blog post, I explained the do's and don'ts of an employee onboarding strategy. Now, I'd like to dive deeper into how a high-performance low-code development platform can help you.   
With low-code, you can quickly build delightful apps that guide employees through a personalized onboarding process from any of their devices. Developers can leverage a library of pre-built UX/UI components to assemble interfaces for new hires to easily access their critical documentation, learning assignments, activities to complete, and more.
Instead of having to shape the onboarding process according to the requirements of an off-the-shelf enterprise solution, visual development helps your development team flip the script, creating an application that is perfectly tailored to your organization and its people, values, and culture.
This way, you're able to accelerate the process of building these behind-the-scenes automations, giving your development team the ability to connect to hundreds of different systems. Creating these automated touchpoints and flows then can be repeated at scale to respond effortlessly to high volume recruiting and onboarding needs.
A modern application development platform can also help your HR team break free from manual tasks and scattered data by unifying the onboarding experience in a single application that's fully integrated with any internal database or document repository.
The application can connect with multiple third-party services such as appointment scheduling or e-signature to automate scheduling introductions or requesting digital signatures, all while ensuring strict regulatory compliance. Not only does your HR team become free from manual tasks, but your company escapes the proliferation of spreadsheets and paper-based processes.
How Automation Makes HR More Agile
Among the benefits of using a modern application development platform is the flexibility and agility it provides. Here, the value of automation is within the platform itself, by making development more efficient with built-in error detection and data governance and accelerating updates and modifications.
This helps keep onboarding journeys flexible for any scenario —  virtual or in person. Instead of taking weeks or months to meet new regulatory requirements or adjust to shifts in the labor market, you can harness the speed of the OutSystems visual development platform with 100+ pre-built, customizable components covering common digital interaction patterns and respond quickly — all with full application lifecycle support, from the development environment to test, and from test to production.
Automation can make the onboarding process more efficient, and agile, while also providing users with an experience that is welcoming, personalized, and effortless. Companies can build intuitive employee onboarding experiences that bridge the gap between systems and processes, ensuring short ramp-up times and enhancing high employee retention.
See what you can achieve by watching our employee onboarding application demo video, showcasing an end-to-end employee onboarding solution built with OutSystems.
To learn more, visit our Employee Onboarding page or speak with one of our experts.