What are the top trends and issues facing IT leaders today? Our research took us around the world, connecting us with more than 3,500 IT professionals from over 116 countries.
Research on the State of Application Development
In this year's survey, five themes stood out:
Application development demands are at an all-time high
In this article series, we will share what survey responders had to say about each of these critical issues. So, let's take a look at the first one: application development demand Is at an all-time high.
According to Our Research on the Demand for Application Development, These Were the Top Issues
The need for digital transformation dominates business strategy today, and there are two obvious consequences for IT. Demand for application development is at an all-time high, and speed and agility are more important than ever before.
As aptly put by Forrester Research,
"Today, every company is in the software business."
Every company is in the software business because innovation and differentiation don't come from neatly packaged off-the-shelf solutions. And, if you want to get to market first, you need the courage for high-speed experimentation. This is no place for glacial, multi-month ERP-style projects.
The Relentless Demand for Custom Applications
Fueled by digital innovation and differentiation initiatives, demand for application development seems higher than ever. Focusing on organizations with 500 or more employees, we found 42% have 10 or more apps planned for delivery in 2018. Twenty-one percent have 25 or more apps planned in 2018.
Larger companies tended to have even more ambitious targets. Thirteen percent of companies with over 10,000 employees said they planned to develop 100 or more apps in 2018, compared to just 8% of companies with between 500 and 5,000 employees.
Most App Dev Projects Are Maintenance Rather Than Innovation
As shown in Table 1, of all these apps slated for development, the majority are replacements for or updates to applications that already exist rather than innovative (net new) apps.
The overall split is estimated to be about 37% innovation and 63% maintenance. This estimate serves as a useful reminder that mature IT departments typically have to devote as much as 75% of their resources to "keeping the lights on" and not innovation.

Types of Apps to be Delivered in 2018
We asked respondents to describe the two most important types of application that they would develop in 2018. In first place came apps that are used directly by customers or business partners (66%). Apps that support internal processes and operations, including analytics, came second (52%). Additional responses are also shown in the chart that follows. Responses for "Other" varied considerably. Blockchain, security, and apps that would be sold to customers were among them.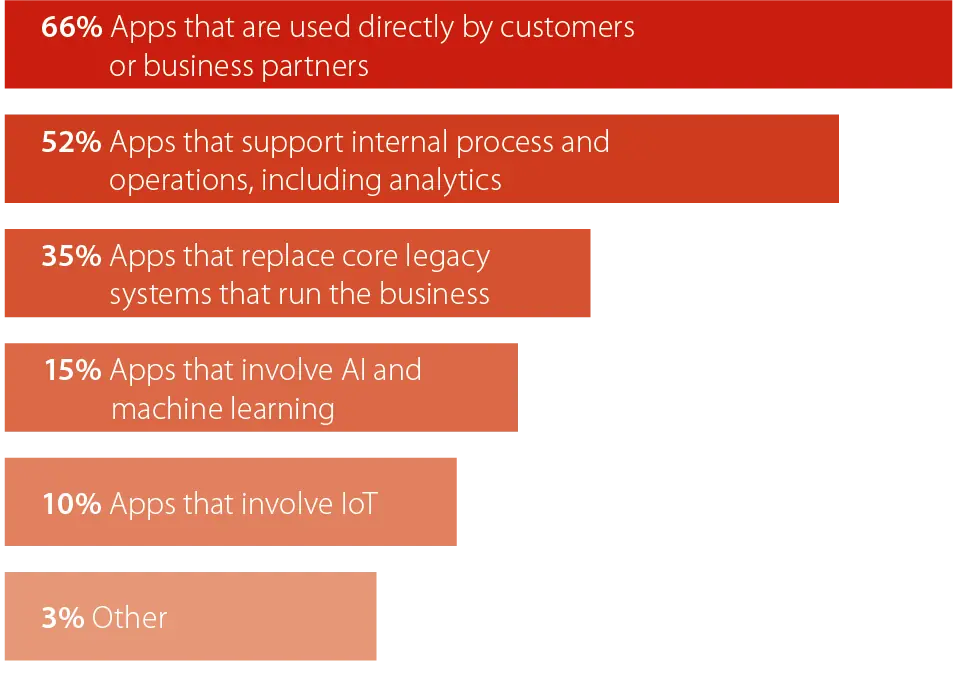 Participants could select one or two options. Not all selected two, which is why the total is 181% rather than 200%.
Meeting The Relentless Demand For App Dev
If you're under pressure to deliver more applications in your organization, perhaps these statistics confirm that you are not alone in this challenge. The better news is, our research went much further than quantifying the problem.
Respondents told us what they are doing to fight back and meet demand.
And, they told us what approaches and technology they are using to increase capacity and speed up the delivery of new software applications. So, we analyzed which strategies are working best.
Moreover, our analysis went deep on whether new approaches like low-code and citizen-led development are making a difference. For the full low-down, we hope you'll read the report, or grab the next post in this series.
Next article: Part 2 - The Developer Talent Shortage and The Rise of Citizen Development