"Citizen development is happening, and IT needs to be more engaged," says Gartner. Our recent research reveals the role played by citizen developers and how some organizations govern their efforts much more effectively. Read on to discover the secret sauce that makes citizen development a manageable success.
Defining Citizen Development
The term "citizen development" is often misused or misunderstood and can easily get maligned as "shadow IT." So, before we dig into either Gartner's recent report or our own research findings, let's start with a definition to make sure we're all on the same page.
"A citizen developer is a non-professional developer who builds applications for use by other people. Although they do not report directly to IT, they use tools such as low-code platforms that are sanctioned by IT. This oversight by IT distinguishes citizen development from so-called "shadow-IT," which takes place without the knowledge or control of IT."
Citizen Development Is Often in the Shadows
Gartner's report "Survey Analysis: Citizen Development Is Happening and IT Needs to Be More Engaged" was gleaned from a survey of 228 Research Circle Members in September 2017. I have a word of caution, though: Nearly all of the analysis charts are based on just 66 responses or fewer. In part, these low response rates are because only 50 percent of responders thought they had active citizen development activities in their organization.
The main thrust of the report was as follows:
Only 16% of respondents said that IT was fully involved with citizen development.
Thirty-six percent said IT mainly provided back-end support for such development.
For the majority of respondents, therefore, IT oversight and governance of citizen development are lacking.
IT needs to embrace, govern, and measure citizen development if it is to be a force for good.
Given that governance appears so lacking amongst these respondents, this report is perhaps as much about shadow IT as citizen development. Our more extensive research adds more clarity to this picture.
The State of Application Development 2018 Survey
Conducted in March 2018, more than 3,500 IT professionals took part in our fifth annual State of Application Development Survey. The results enabled our comprehensive analysis of the challenges, priorities, and innovations faced by IT teams.
Approximately 84% of respondents answered our questions about citizen development, which were towards the end of the 36-question survey. This is what we found out.
The Role of Citizen Developers in Organizations
Forty-eight percent of all respondents said, "We don't have citizen developers in our organization," which was very similar to the 50% reported by Gartner. However, with respect to both these surveys, I can't help but wonder if some respondents are blind to business-led development that's going on in their organizations? From my perspective I'd guess these respondents fall into three camps:
Some work in organizations where IT meets all business requirements fast enough, so business-led development hasn't become an issue.
Some work in organizations where IT, security, and HR policies have eliminated business-led development.
Some may be living in denial or are just unaware of non-professional developers.
Having never met a company that achieved (A) or (B), may I suggest at least some of the 48 percent have a mild case of myopia or wishful thinking when it comes to business-led development?
Governance of Citizen Development
Our survey did not merely ask if citizen developers existed but inquired as to how well they were governed. Here's what we learned overall: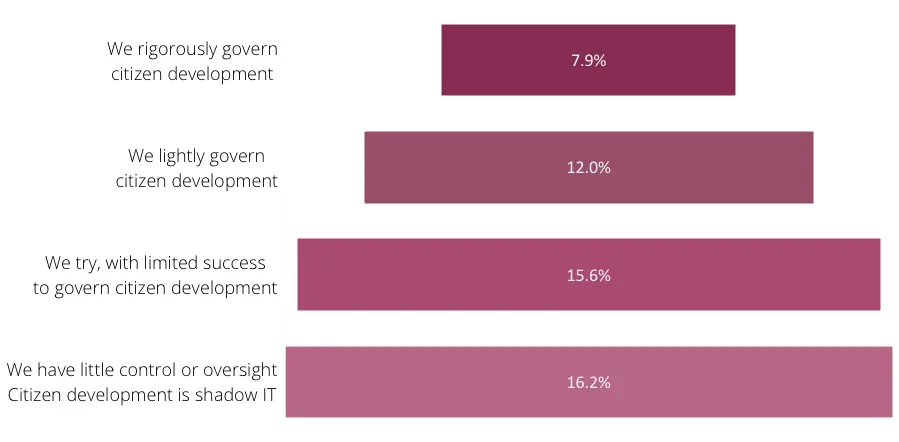 The exact response text is a little more descriptive, so I've included that in the table below: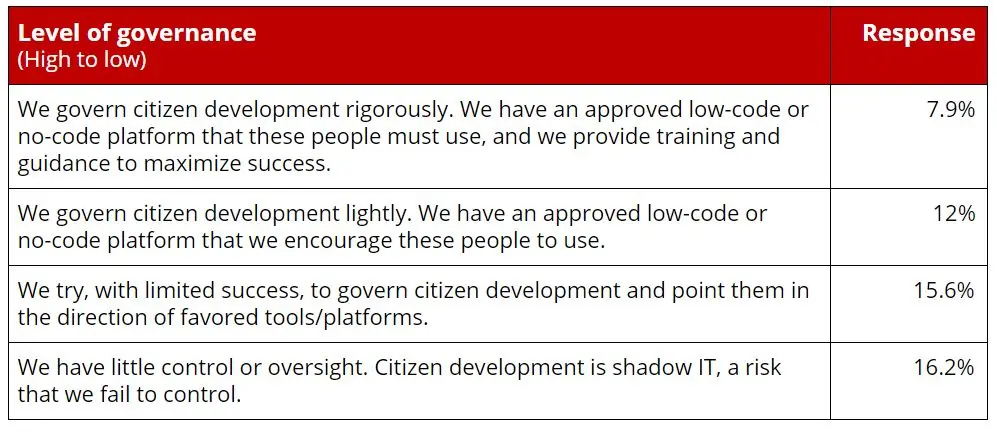 The 48% of respondents that said "We don't have citizen developers in our organization" are not included in the above table and chart.
What's the Right Level of Governance for Citizen Development?
Although Forrester has long recommended that IT leaders should use a light touch to govern low-code development, it is my view that the most rigorous governance approach described above is hardly going over the top. Having a single approved platform and providing training and guidance to maximize success will not stifle innovation—it is just plain good sense.
Does the Adoption of Low-Code Make Governance of Citizen Developers More Likely?
When we dug into the detail of our survey responses, we found that the reported level of governance of citizen developers varied markedly, depending on whether or not low-code was in use by an organization.

The side-by-side comparisons provided by the chart suggest that organizations using low-code have citizen developers under much better control. Compared to organizations that did not use low-code, users of low- code were:
Thirteen percent less likely to state that they had no citizen developers
Six percent less likely to describe governance of citizen development as absent or limited
Twice as likely to say that they "lightly governed" citizen development
Nearly three times as likely to state that they "rigorously governed" citizen development
How Are Citizen Developers Working With Low-Code?
We asked respondents whose organizations were already using low-code to describe the role that citizen developers were playing with such tools. As can be seen below, 40% of organizations have had citizen developers prototype or mock-up applications. Although, most commonly, citizen developers are involved in creating departmental or employee-facing apps, an impressive number of respondents said that citizen developers played a role in creating customer-facing apps (24%) and enterprise apps (22%).
Of the 22% who said that citizen developers had failed to produce working apps, these responses include organizations where IT rather than business users are the developers, so I don't take that statistic as being a sign of failure. Lesson learned: I'll improve the question structure for next year's survey.
A common misconception about low-code platforms is that they are used just by business users to build small departmental apps. However, what these findings reveal is that the use of low-code transcends IT and business-led development.
"The use of low-code for small departmental apps is outnumbered almost three to one by more strategic employee-facing, customer-facing, and enterprise-scale apps."
Using Low-Code Where It Matters
As mentioned in my recent article "What Can You Build With Low-Code?" we asked the 34% of respondents who were already using low-code what kinds of projects they were delivering with low-code. The answers were as follows:

Adding customer/partner facing portals and web apps (50%) to mobile apps that serve the same users (32%) clearly emphasizes that low-code is pulling its weight when it comes to serving customers and business partners.
"50% of low-code users are serving customers or partners with web applications, and 32% are serving them with mobile apps."
Respondents told us that their most important applications slated for delivery in 2018 were those serving customers and partners. Hence, for those who have adopted it, low-code is being used where it matters most.
Combating the Digital Skills Drought With Low-Code
Last week in the fourth article of my series "Why IT Struggles with Digital Transformation (and What to Do About It?)", I described how low-code can help IT departments re-skill, recruit, and retain developers.
If you'd like a more in-depth perspective on the role that low-code should play, not just to professionalize citizen development, but to also improve productivity across the wider development team, the article is recommended reading.
And, just in case you suspect that my views on citizen development are naïve and seen through rose-tinted spectacles, may I submit in my defense: "Who's Left Holding the Reins?"
Making a Success of Citizen Development
It's clear that citizen development is happening. If adequately governed, these efforts can significantly expand the overall capacity for application development across an enterprise. Here are a few case studies from the OutSystems website that describe, in more detail, the benefits that such an approach can deliver.
| | |
| --- | --- |
| | Learn how IOOF Australia's leading wealth management company paired off business analysts and QA staff with more experienced developers to form a new low-code development team. |
| Wodify – Gym Management Platform | Learn how entrepreneur Ameet Shah, a novice programmer, created a CrossFit performance tracking application within a month of attending an OutSystems training class. |
| BPL Global – Lotus Notes Migration | Learn how two Lotus Notes developers at this specialist insurance broker cross-trained on OutSystems to develop multiple web-based insurance administration systems. |
| Allan Bros. – Mobile App Development | Learn how Allan Bros., a Washington State-based fruit growing, packing, and shipping company, turned a handful of warehouse employees into mobile app developers |