Maxtel Software's Windows-based software products were in danger of falling behind the curve. So to keep growing, it needed new mobile and web development capabilities—fast. Now, Maxtel is innovating with OutSystems and moving all its product modules onto the platform to provide mobile, browser-based apps for hundreds of franchisees and thousands of employees at the world's largest fast-food chain.
4 full-time and 2 part-time developers
10 weeks to a working prototype built by interns
"OutSystems gives us access to mobile and web app development capabilities we didn't have before—helping us modernize our product offering and stay relevant. And that's opened up new opportunities for us to continue growing our business."
Time to Modernize
Challenge - Maxtel Software has been providing back-office software for New Zealand's largest fast-food chain for more than 30 years, enabling franchises and corporate sites to manage most of their internal processes and records. Maxtel's solutions are used at the chain's 168 New Zealand sites and at 120 sites in Australia.
The software is created by a small team of four full-time and two part-time developers. The team size is a deliberate strategy. Max Telford, the company's founder, explains: "I prefer a small, productive team working on business problems rather than a large team doing loads of technical drudge work."
Maxtel's developers are no strangers to low-code, having used various platforms over the years for rapid application development in Windows. But Max and the team could see that the world was moving on. They needed new capabilities to create mobile and native web apps and to keep up with modern demands.
"We'd reached the limit of what we could do with our Windows products," says Max. "OutSystems gives us a fast development platform for mobile and web apps—the best we've found."
Low-Code Veterans Put OutSystems to the Test
Solution - To test the effectiveness of OutSystems, Maxtel created a mobile sales app for franchisees that replicates functionality available in its Windows-based web portal. The app gets a feed from restaurant point-of-sales systems every 15 minutes, giving franchisees visibility into near real-time sales data and letting them drill down into trends using personalized dashboards.
After this initial success, Maxtel used OutSystems to create an entirely new mobile app for restaurant employees to see schedules, find available shifts, request shift changes, book leave, and view payslips. It's an important solution for employees because these processes are now much faster and more convenient.
Plus, it's vital for franchisees. A new collective employment agreement for the chain's New Zealand employees and an environment of greater scrutiny of employers have put a big emphasis on transparency and compliance. Through the new app, employees can now see their recorded work times and contest any errors in their timecard stamps or amount of pay before payroll is processed. This transparency is essential because if franchisees don't pay their staff correctly, they could breach their franchise agreement as well as their compliance responsibilities.
Maxtel's developers were excited that their first experiences with OutSystems showed they could enter the new world of mobile and web development without having to learn new coding skills. "I've got a team of seasoned low-code pros, but OutSystems is incredibly easy to learn, even with no low-code experience," Max says. "I'm very impressed with the online learning resources. Our summer intern taught himself how to use OutSystems and produced a good prototype app in just 10 weeks."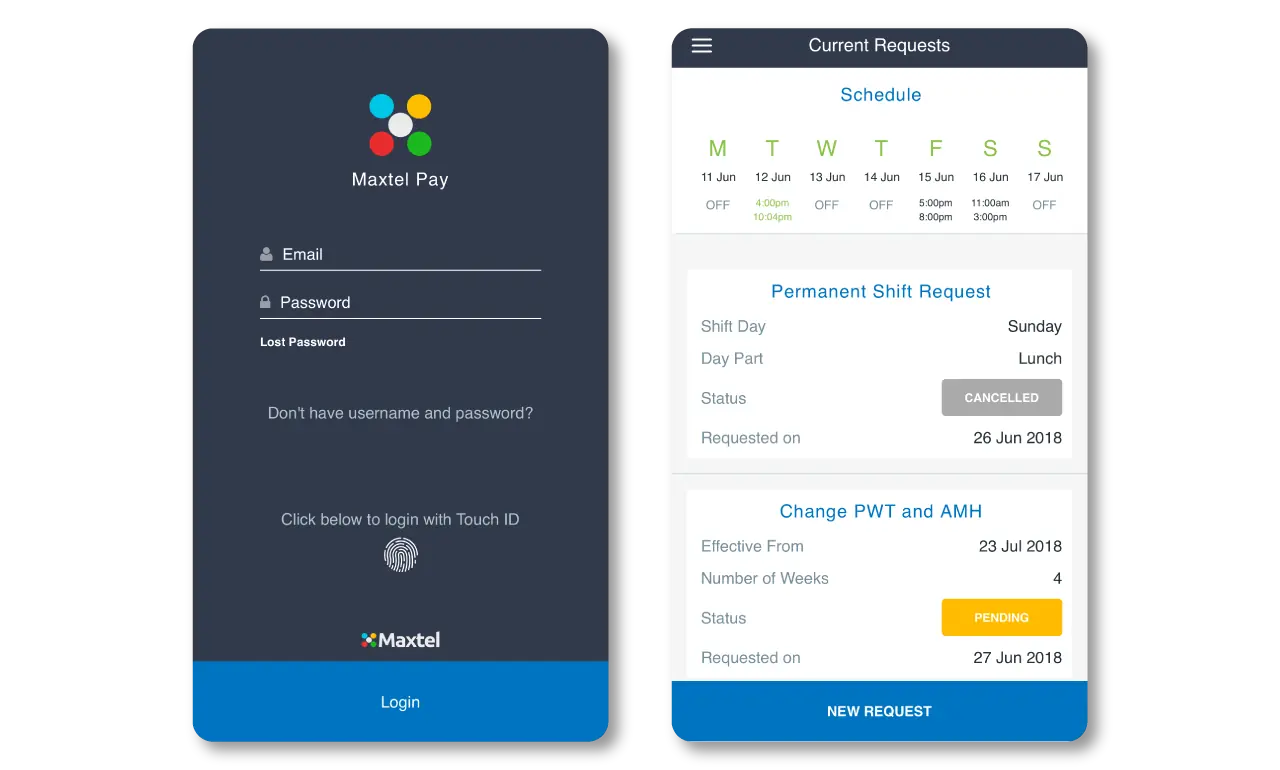 ISVs
Market Winning Products
Bring products to market faster. ISVs partner with OutSystems to develop and update innovative products that satisfy demanding customers and evolving markets.
A New Lease on Life for the Business
Results - Along with giving Maxtel's developers new mobile and web development capabilities, OutSystems also saves them a lot of time and headaches.
For example, the original, Windows-based sales app was difficult to integrate, and versions were often out of sync, slowing down deployment. Now, one-click deployment in OutSystems saves Maxtel from having one member of the team doing nothing but work on deployments.
As for the fast-food chain's staff, they now have a faster, easier way to interact with the business. And with more than 7,000 active users submitting 18,000 requests (and growing) each month, there's a big reduction in admin time for franchisees. A conservative estimate of the time savings is around five hours per restaurant per month. What's more, it's now much easier for franchisees to fulfill their employee relations responsibilities, reducing the risk of non-compliance.
Next up, Maxtel plans to move all its core product modules onto OutSystems, starting with the enterprise payroll module.
But Maxtel's ambitious plans don't stop there. While moving all its core systems onto OutSystems (and a new multi-tenant infrastructure that will increase scalability), Maxtel will also be creating new apps to add functionality. For example, an electronic crew files app for tracking HR info will be prototyped by Maxtel's next group of interns.
It's clear to Max that OutSystems has given his business a new lease on life: "There was a time when we were ahead of the curve, but we realized we'd begun to fall behind it. OutSystems has given us a chance to be relevant again, and enter the next phase of our business growth. We've now got a shot at the mobile market that we wouldn't have got otherwise."