Prosegur Powers Digitally-Enhanced Security to its Customers
50%
faster time to market
120,000
users across 14 countries
In a digitally-connected world, technology is at the heart of physical security and guarding. But the relentless pace of technological change posed a significant challenge to multinational security provider Prosegur Seguridad. How could they launch new digitally-enhanced security services fast, and keep them constantly updated?
By adopting OutSystems, Prosegur escaped its technical debt and started innovating at speed to provide its customers world-class, connected and responsive security services.
Legacy Modernization

Field Service Optimization

Operational Efficiency

Mobile Applications

Challenge
Customer-Centric Security Demands a New Approach to AppDev
International security firm Prosegur provides state of the art security services to 100,000+ business customers through three business lines: alarms, security, and cash.
Increasingly technology underpins every advance and innovation in security, with alarms, sensors, and CCTV providing a continuous feed into Prosegur's control centers. The challenge is how to turn this constant data feed into actionable insights that improve security?
With a commitment to trust, innovation, and customer-centricity coming from the board, in Prosegur's security division, these challenges fell on the shoulders of Andrew Buch Sampaio, Prosegur's Director of Systems Engineering.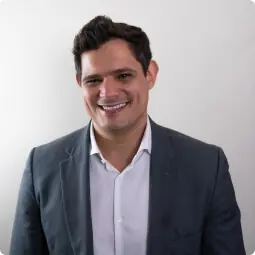 Prosegur had high ambitions to digitally-enrich its security service and improve customer engagement. Their wish list included:
Derive actionable insight from security data feeds
Connect field-based security guards and eliminate paper-based recording
Make security more predictive and responsive
Improve customer experience by providing access to relevant information and the means to engage with Prosegur.
Above all else, Prosegur needed the agility to launch such services quickly and adapt them quicker still. "Being able to respond quickly to customer feedback is essential if these customer-facing apps are to flourish," says Andrew. "In the past, we'd often relied on external consultants to help implement or make changes to our systems of record. We decided that for these new systems of engagement, we had to be much faster and self-sufficient to be truly agile. It was time to completely rethink our AppDev approach."
Why Prosegur chose OutSystems:
Empower professional developers

Enterprise-grade scalability and security

Powerful integration
Solution
An Agile Transformation Powered by OutSystems
Andrew and the Prosegur team decided to adopt a modern application development approach using the OutSystems platform. With OutSystems, Prosegur now has the flexibility, agility, and integrations it needs for fast-paced, customer-centric innovation.
"OutSystems immediately stood out to us because it offered a simple learning curve. My team was used to developing in Visual Basic, and I didn't have time to retrain them. I needed a platform where my team could get hands-on and re-skill while working directly on a project," Andrew says. "The platform also offers DevOps functionality out of the box, making the whole development and delivery process faster. The strong security credentials of the OutSystems platform was also a major plus for us—as a security firm, we take cybersecurity very seriously."
"We needed a platform that could scale to meet the needs of our vast userbase. We also needed technology that was cloud-friendly and could integrate with lots of other systems. And, lastly, we needed to develop native mobile, web, and backend systems. OutSystems ticked all these boxes for us."
POPS - Prosegur's Operations Platform for Security
One of the first systems Prosegur developed on OutSystems was POPS: an operations platform that delivers meaningful security insights to customers and security personnel—helping provide a more predictive security service.
"We use thousands of sensors in our line of work," says Andrew. "We wanted a way to aggregate important information that we get from sensors, like IoT devices, meta-data from cameras, and any other relevant signal we can get from field devices, and provide that together with observations from security guards, in a way that is meaningful and easy to consume for customers as well as security personnel."
"POPS connects sensor data to our guards out in the field, giving them and our customers a complete security view for the office or facility in question. This gives customers and guards alike the relevant, real-time data they need to stay ahead of any security threats. It also helps customers save money. With all this data on-hand, they can move guards around to different sites based on predicted risk. This predictive and adaptive approach to security is a competitive advantage, helping Prosegur and its clients adjust protection, putting people, and resources where they'll provide the most value."
OutSystems helped Prosegur develop POPS in half the time compared to an earlier traditional development estimate. And thanks to the powerful integrations enabled by OutSystems, POPS can collect data from IoT sensors, cameras, alarms, temperature sensors, and other devices to deliver deep insights to users.
A significant additional benefit has been the simplification of their IT architecture. "By developing a consistent backend with OutSystems, we've been able to turn-off 16 legacy systems that we had distributed across the world," says Andrew.
Prosegur is in the process of rolling-out POPS to 120,000 users across 14 countries. "With POPS, we're analyzing a variety of data from different sensors and offering meaningful security predictions through intuitive dashboards," says Andrew. "We believe that this is the future of security. Prosegur is transforming from being a very traditional guarding service company to a data-driven security firm."
Mobile App Connects Guards to the Operations Center
Prosegur also used OutSystems to rapidly build and deploy "POPS Mobile", a mobile app that connects security guards to their operations center. Using the app, guards can quickly send alerts if they identify a security breach and communicate back and forth with colleagues at the operations center. It also supports video calls.
POPS also helps the command center better support guards in the field. Command center staff often use social listening to get ahead of protests, mass gatherings, and any other public events that could increase security risks. With POPS, command center teams can instantly send out mass alerts to help guards quickly react to these kinds of situations.
"We saw a need for this kind of solution just the other day. Our command centers saw a surge in baseball bat and hockey mask sales, and lots of social media activity about planned riots in Barcelona. They put two and two together to predict where riots were likely to break out, and were able to send a group message to all guards to secure premises and be prepared."
Results
Faster Development, Rapid Response
The Prosegur IT team was able to develop the first release of POPS and POPS Mobile in just three months—half the time estimated for traditional development. "The development of release one was done in just ten weeks. We've cut time to market by 50%, and seen a 20% reduction in development costs," Andrew explains. According to Andrew, Prosegur got a return on investment in just 18 months for the whole project-scope, a full year ahead of traditional projections.
Faster application development is helping Prosegur get IT innovation on the front foot. "We used to spend about 40% of our development time just trying to manage our technical debt," says Andrew. "OutSystems helped us cut this in half, so we can now spend more of our time delivering value to the business—and our customers."
Prosegur hasn't just transformed its efficiency with OutSystems; it has also generated more revenue and improved customer satisfaction. Since releasing POPS, Prosegur has seen an increase in sales and a higher contract renewal rate.
Beyond the significant reduction in costs and time, the move to OutSystems has helped IT improve its relationship with the business as well.
"In the past, IT always had to be the bad guys; the people saying 'no' to new ideas. With OutSystems, we're now recognized as a partner by the rest of the business and working more closely with other departments to serve our customers faster."

And, of course, the new approach to development has also transformed the way Prosegur responds to customer requests and feedback. "Our rigid IT systems used to make it hard to deliver all the features our customers were requesting," says Andrew. "Now, we can demonstrate significant progress at the end of each three-week sprint."
While OutSystems delivered rapid results for Prosegur, the long term benefits also look promising. "We have a huge backlog of ideas for POPS," says Andrew. "For example, we're excited to integrate POPS with geo-tagging. By linking data from GPS tracking devices to POPS, we'll be able to see where guards are and better direct them to improve safety and security."
Prosegur also plans to expand the functionality of its airport management tool. Integration with airport monitoring and security systems will help airport security teams respond rapidly to any threats or incidents.
Thanks to regular updates, improved customer-facing applications, and Prosegur's rapid, responsive approach to application development, the security provider has never been closer to its customers. "We've made big strides over the last eight months with OutSystems," says Andrew. "But the biggest benefit for us is how we're improving the customer experience. That's what it's all about."