The Complete Guide to Low-Code Development
Low-code describes a family of tools used to create complete applications using a visual drag-and-drop interface rather than writing thousands of lines of complex code. With low-code, IT can collaborate with business users to build modern business applications in record time.
What Can You Build With Low-Code?
Internal Applications
With low-code application development platforms you can create modern, beautiful business applications that employees will actually enjoy. Contemporary design templates, coupled with an intuitive low-code visual design interface, make application development easy for professional and citizen developers alike. You can unlock additional value from existing systems and data through new mobile and web interfaces that help enforce business processes and improve efficiency across the enterprise.
Digital Customer and Field Applications
With a low-code platform, you can design immersive front end UIs that reinforce your brand while incorporating best practices for accessibility and usability, on and offline availability, responsive design, scalability, and security. For IT teams, a low-code application development platform can simplify testing, make integration with device capabilities or third-party APIs a snap, and significantly improve iterative feedback and testing to support continuous software delivery.
Legacy Replacement and Modernization
Low-code application development platforms give IT the in-house capabilities to modernize legacy ERP, CRM, and other core systems without impacting day-to-day business. Incorporating the latest technology for microservices-based architecture and containers and harnessing team-based DevOps approaches to digital service delivery, IT can replace or modernize legacy systems as necessary, without sacrificing availability, scalability, or functionality.
Types of Low-Code Platforms
Enterprise Low-Code: In a Class by Itself
Enterprise low-code application platforms have no limitations. They make it simple to deploy enterprise-class applications and systems and integrate them with cloud services. It's possible to build operational systems for departments, core digital systems, or digital experiences that serve millions of users. Enterprise low-code also delivers high performance, scalability, high availability, disaster recovery, security, and much more.
Enterprise Low-Code vs. Niche Platforms
Niche platforms are designed to satisfy a strict business need, such as business process management (BPM), case management, and even customer relations management (CRM). For these offerings, low-code is a feature, not a strategic offer. These platforms offer a scaled-down visual development IDE allowing for the creation of apps that work within the software's own framework and architecture. These platforms are purpose-built for a narrow use case and are good at what they were built for - but they won't satisfy the full enterprise suite of use-cases for digital transformation.
Enterprise Low-Code vs. No-Code 
No-code platforms are designed entirely for citizen developers - technically-minded personnel not classically trained as professional developers, but who have access to tools to develop new applications, usually for internal use. No-code platforms are usually simpler to use but are extremely limited when it's time to develop enterprise grade applications. Many organization that invest in no-code platforms get pushback from professional developers due to the inherent customization limitations enforced by no-code architectures.
Enterprise Low-Code vs. Bi-Modal
Innovation-focused tools are better suited for organizations operating in a bi-modal environment. Bi-modal teams' innovation projects are focused almost exclusively on the front-end, hoping to layer new functionality on top of existing systems rather than modernizing core systems. While bi-modal IT tools may satisfy short-term innovation goals, as the organization grows and needs change and scale, these solutions fall short in keeping up with the enterprise's growing digital delivery requirements.
The Low-Code Market
Industry analysts Gartner and Forrester offer the most complete coverage of the low-code market. See what they say about low-code platform vendors in these complimentary reports.
Enterprise Low-Code Application Platforms (LCAP)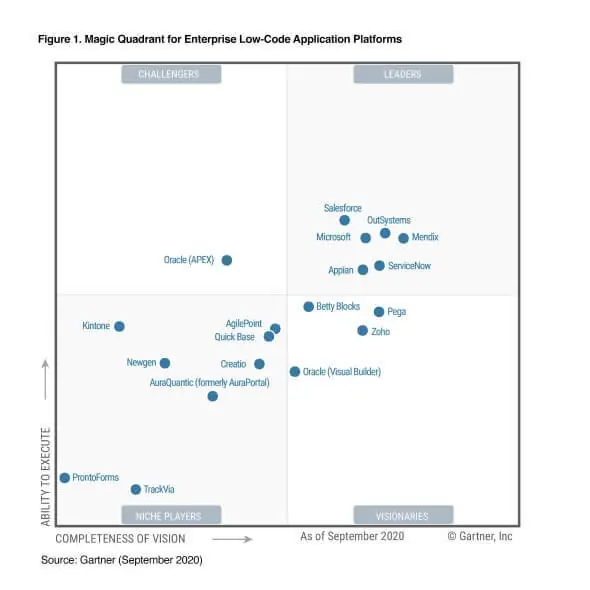 Multiexperience Development Platforms (MXDP)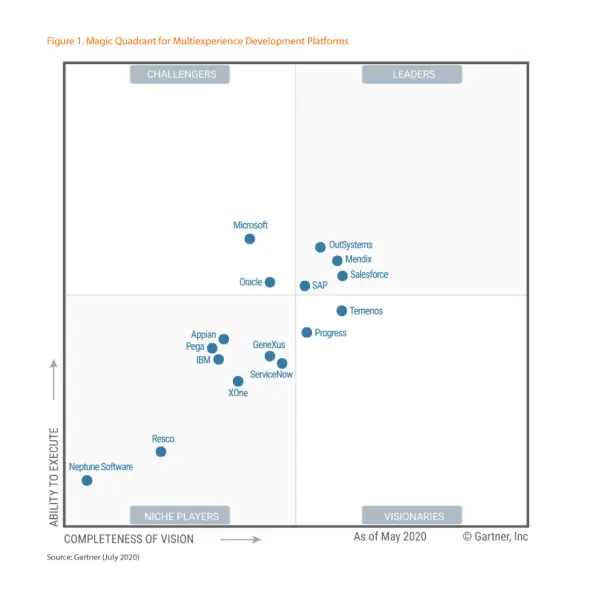 Low-Code Development Platforms For AD&D Pros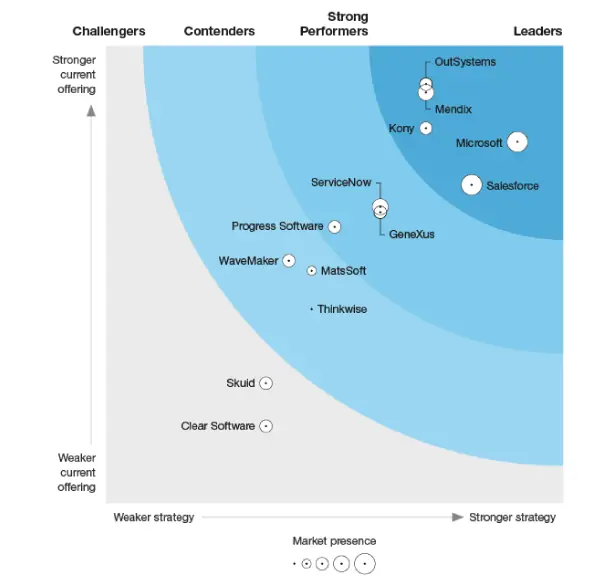 Benefits of Low-Code Development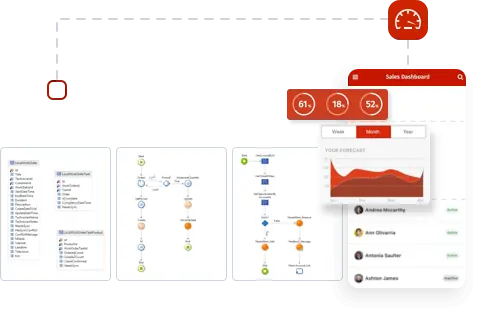 Unbeatable Speed
Visual-based, full-stack development bridges the chasm between traditional SDLC processes and modern DevOps. Dramatically increase IT collaboration, resulting in faster time to market and significantly shortened iterative update cycles.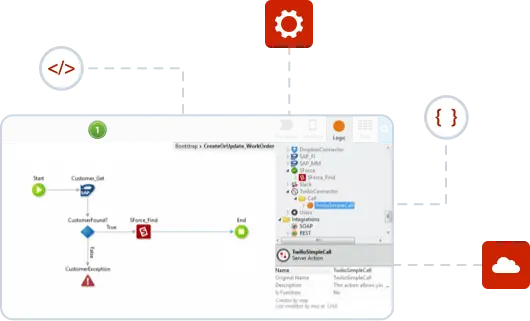 Integrate With Everything
Enterprise-class applications and systems development made simple. Integrate with industry-standard protocols, API implementation using REST and SOAP web services, and third-party business tools like SAP and SFDC. BYO tools and templates or use OutSystems. Either way, developers can build amazing things.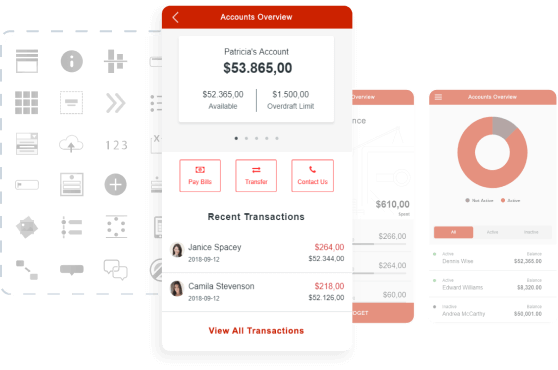 Great CX by Default
Deliver consistently impressive user experiences—regardless of platform or channel—for brilliant overall customer experiences (CX). Professional and citizen developers can design from scratch, customize a pre-built design template, or import an existing design, all without compromising performance or functionality.
Modern Architecture
Advanced design and architecture that takes advantage of microservices and containers provide the flexibility to start small and scale up and across without impacting performance or forcing compromises on governance and transparency.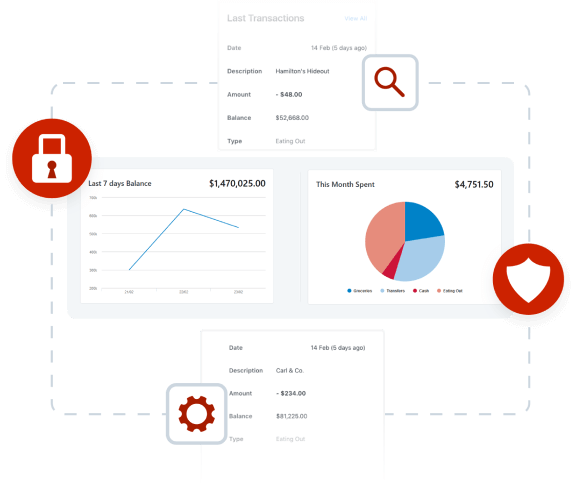 Bullet-Proof Security
More than just "recommended" precautions, enforced security technologies, processes, and audit trails exceed the strict requirements for public and private-sector security regardless of the hosting solution.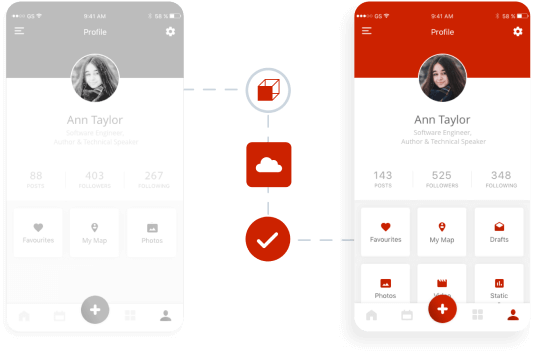 Unbreakable Deployment
Rest easy with pre-deployment impact assessments that account for the entire portfolio of applications, along with simplified staging across environments. Should something not work as expected, easily roll back changes with a single click.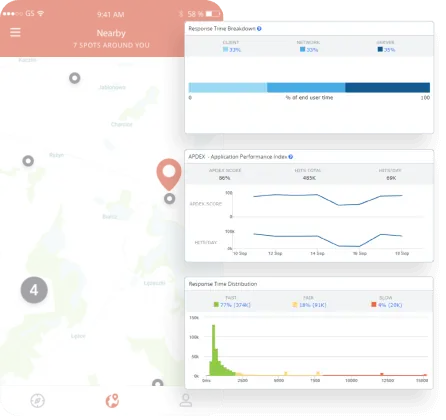 Data-Driven Decisions
Intuitive dashboards offer real-time insights into the health and usage of every deployed application, giving teams the feedback necessary to make strategic decisions about resources and availability.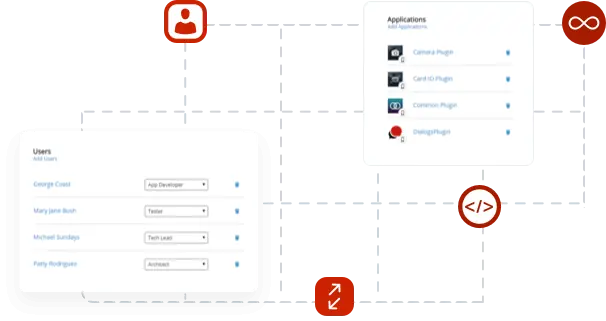 Sensible Governance
Multi-team development initiatives require constant communication and open, but controlled, access to systems and resources. Implement agile, continuous integration and development without sacrificing visibility or control.
Low-code enables CIOs, enterprise architects and developers to tackle tough business challenges delivering digital solutions that drive competitive advantage fast.
Developers
Justin James, Sr. Director (and a developer) at FICO, talks about his early experience with a low-code application development platform.
IT and Business Leaders
When the CIO/CTO of the City of Oakland left the private sector to work in local government, he knew he needed to address challenges around the way applications were developed and turned to low-code 
Business Users and Partners
Americares uses the speed of low-code to get life-saving medical supplies around the world when and wherever it's needed.