OutSystems
on Microsoft
OutSystems and Microsoft give you the power to innovate by building apps, fast, right, and for the future.
Why choose OutSystems with Microsoft?
OutSystems delivers solutions and integrations for the Microsoft Intelligent Cloud, as well as Productivity and Business Processes tools. Customers can enhance and extend their existing investments in Microsoft Azure, Dynamics 365 and Microsoft 365 using the OutSystems Modern Application Development Platform.
At the heart of the OutSystems platform are integrated tools and automation services that ensure modern, enterprise-grade, cloud-native applications are secure, resilient, manageable, and built to scale.
Future Proof Your Environment with Industry Leaders
With OutSystems and Microsoft you can be confident that your applications—and your business—will always benefit from the latest cloud infrastructure innovations.
You benefit from continuous updates to the technology stack with limitless scale. And, you're in good hands now and in the future, working with two recognized Leaders in the Gartner Magic Quadrant.
Operate Hybrid Seamlessly
Regardless of where your organization is at on their digital transformation journey, solutions from OutSystems and Microsoft will meet you where you are.
Whether on-premises, in the cloud or at the edge, our solutions deliver the flexibility to help you manage change and innovate rapidly to evolve at your speed.
Get OutSystems from the Microsoft Azure Marketplace
Easily—and quickly—create cutting edge software using the speed of visual development with OutSystems on Azure.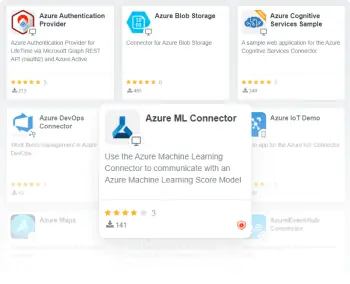 Go further, faster…
Ready to take your skillset and investment in the Microsoft platform to the next level? Check out the OutSystems Forge for connectors to advanced services, such as Azure Machine Learning and Azure Cognitive Services.
OutSystems is a modern application platform
As a full-stack development platform, OutSystems supports the entire application lifecycle and covers the broadest set of use cases.
Customer experience transformation
Companies must create a customer "multiexperience," interacting with them over a broad array of technology.
Workplace innovation
Organizations are under pressure to automate internal operations to save money and keep employees satisfied.
Process automation
Companies are held back by costly legacy systems for workflow management, compliance, and routine processes.
Get Started with OutSystems