Field Service Digital Transformation: How 6 Organizations Found Success

Learn how the OutSystems low-code platform helped several businesses transform their field service operations by downloading the " Field Service Digital Transformation: How 6 Organizations Found Success" eBook.

Intelligent Automation: Humanize AI and RPA for better process automation

Intelligent Automation is not about replacing people. It's about taking uniquely human strengths and combining them with intelligent tools like AI and RPA to deliver superior organizational outcomes.

Forrester: The Total Economic Impact™ (TEI) of OutSystems

Recent Forrester study reports 506% ROI with the OutSystems high-performance low-code platform. Find out why today.

Everest Group Low-Code PEAK Matrix® 2022

Download the Everest Group Low-Code PEAK Matrix 2022 to learn why OutSystems is ranked the highest-scoring Leader in both market impact and vision & capability.

An IT Leader's Guide to Application Modernization

Organizations in every industry are prioritizing digital transformation to enhance their business agility, profitability, and competitive posture.

Cloud Native Development Report

The Cloud Native Development Report provides an in-depth look at how businesses develop cloud-native applications and how low-code platforms, like OutSystems, can help.

Creating Frictionless Customer Self-Service Experiences

Digital customer self-service is a critical component of CX transformation. Learn how to innovate at speed and deliver frictionless customer experiences.

2022 Gartner Peer InsightsTM 'Voice of the Customer': Enterprise LCAP

Users Recognized OutSystems as a Customers' Choice for the 3rd Time in Enterprise Low-Code Platforms.

Digital Transformation Beyond RPA Whitepaper

To move away from a siloed RPA-only approach, download the whitepaper - Evolution of the Digital Enterprise Beyond RPA: GCCs Unlocking Value with Hyper Intelligent Automation.

Cloud vs Cloud-Native: Understanding the Paradigm Shift

The move to cloud-native is a paradigm shift that will change everything about the way organizations create, deploy, and leverage software assets at scale.

5 Steps to a Successful Notes and Domino Application Migration

Learn the 5 steps to successfully migrate your Notes and Domino applications into modern, web-based, cloud-ready apps your users will love.

Native Mobile vs. Progressive Web App: Developer Evaluation Guide

In this evaluation guide, we present the pros and cons of PWAs, alongside how the OutSystems app development platform can help. By the end of this guide, you'll be ready to decide which route to take for your next mobile project.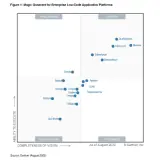 We're a Leader in the Gartner® Magic Quadrant™ for Low-Code Application Platforms, 2023