With OutSystems Sentry, you get all of the benefits of OutSystems but reinforced with additional security, risk management, and monitoring for a SOC2 Type II, PCI DSS and HIPAA compliant low-code cloud platform (a.k.a. certifiably really, really safe).
Now you can further safeguard your most sensitive data, the apps that use it, and the business that depends on it.
Comprehensive Security
OutSystems already has extensive security built-in (196 points and counting) to protect the entire app lifecycle. OutSystems Sentry sets a higher standard for low-code with additional security features specifically designed for the enterprise and those organizations working with sensitive, core, and customer data.
This puts the burden of security administration and monitoring on OutSystems and allows your team to concentrate on sharpening its ping-pong skills or delivering all of those great apps you need in 1/6th the time.
Secure Private Networks
Access denied! A VPN or AWS Direct Connect constructs an isolated network between Sentry and your on-premise or cloud-based networks. Add another layer of access control using IP filtering, allowing you to define precisely who in your network has access.
Integrity Monitoring
Expecting the unexpected! Sentry baselines your virtual environment and continually checks critical files, folders, processes, settings, and ports for any unauthorized changes. So, if anything unexpected happens, Sentry will know.
Integrity Defense-in-Depth
Playing defense! OutSystems Sentry implements multiple layers of security that defend one another and remove any single point of failure between your data and today's bad actors.
Integrity Additional Antivirus and Malware Protection
Going antiviral! Your systems get real-time updates to keep out malware, viruses, and ransomware. With Sentry, you get security updates the moment they are available with no business interruption or effort on your part.
"The combination of Sentry's cloud-friendly, proactive security and compliance software and the experienced OutSystems Security Incident Response Team ensures our customers' applications reside on the industry's fastest, most secure, and stable cloud environment."
José Casinha
OutSystems CISO
Proactive Monitoring and Support
This year, you are going to deliver so many new apps with OutSystems that you'll need to revisit your KPIs! But that also means you'll be creating a record amount of data, interfaces, and systems that need care and feeding. Multiply all of that by ever-evolving cybersecurity needs. Then, divide it by a scarcity of experienced security resources and what you have left is the potential for a record number of new worries. Don't panic! Sentry's got you covered.
Plus, you can always let our crack Computer Security Incident Response Team (CSIRT) worry about staying up-to-date on proliferating security risks, so your team can prototype new ideas with your business users or create innovative new cat memes.
Dedicated SecOps and 24x7 CSIRT
Investing in your success! To support OutSystems Sentry and your security compliance needs, OutSystems constructed a state-of-the-art Security Operations Center, staffed 24x7 by a dedicated CSIRT headed by our CISO.
Active Log and Network Monitoring
We've seen things you wouldn't believe! Real-time log and network monitoring detect and record anomalous activities as they happen to drive data-driven security decisions by Sentry and the CSIRT.
Intrusion Prevention
No trespassing! OutSystems Sentry uses advanced intrusion prevention technology to safeguard your apps and data against the full range of threats: the known, unknown, and undisclosed.
Global Threat Intelligence
OutSystems CSIRT is an active member of the global threat intelligence community, which means we share threat intelligence, helping us stay on the bleeding edge of cybersecurity and proactively block known bad actors.
Risk Management
The security of your apps and data is no laughing matter. That's why, all fun aside, we take a deliberate and transparent approach to the security, support, and risk management of your critical apps and sensitive data.
Safeguarding your applications and data from attacks is our top priority, but if a security breach or attack should happen, Sentry has the technology and the OutSystems team has the expertise necessary to identify and mitigate the incident as quickly as possible.
Change Request Procedures
Any change originating from OutSystems or designated members of your team follow the same formal approval process prior to execution.
Log Retention and Storage
To ensure painless audits and support any necessary forensic activities, OutSystems Sentry has a 1-year retention policy for all logs.
Built-in High Availability
To ensure a greater than 99.9x% uptime for your production environment, by default OutSystems Sentry provides load-balanced front-end servers and a standby database replica with automatic failover. This environment can continue to scale horizontally and vertically to meet demand.
Dedicated Environment
To reduce your risk further, OutSystems allocates dedicated infrastructure with an AWS Virtual Private Cloud (VPC) to each customer for servers, storage, network, operating systems, and databases.
Is OutSystems Sentry Right For You?
OutSystems Sentry is a premium offering specifically for companies who need extra layers of compliance, which isn't everyone. That said, if you would like Sentry to secure your MMORPG (massively multiplayer online role-playing game), we will be more than happy to get you set right up.
OutSystems Sentry shares all of the features and benefits of the OutSystems cloud offering but has additional security, risk management, and monitoring in place to meet specific organizations' SOC Type II and ISO compliance requirements.
Here are a few other indicators that Sentry could be right for you:
Your company and apps deal with sensitive data or personally identifiable information (PII)
Your IT organization has a cloud-first mandate
Your apps are going to be available outside your network (aka, out in the wild on the internet)
You are replacing systems that are core to your business
You are creating apps that are touchpoints for your customers
You have an InfoSec team looking over your shoulder right now (Hi!)
If you want more information about OutSystems Sentry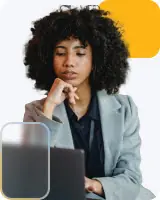 For more details on our compliance certifications and alliances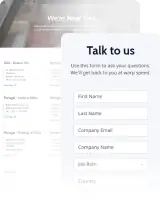 Talk with us on our
website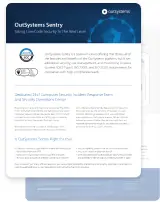 OutSystems Sentry
Datasheet
If this doesn't sound like what you need right now, don't worry.
There are easy upgrade paths to get OutSystems Sentry once your compliance requirements increase.