Two cities. Record-breaking crowds in packed rooms. Incredible customer stories and Innovation Awards. Flying Neos and developer paths. Deep conversations and networking parties. Unforgettable sessions, an app to keep everything connected. And dramatic product announcements. NextStep 2019 had all this and more. Let's take a look.
NextStep 2019 by the Numbers
More than 4,000 people converged on the Denver Marriott Tech Center and RAI Amsterdam Convention Centre to hear from OutSystems customers like Toyota, Vopak, Aetna, Burton, Humana, and Kent State. Developers came from far and wide to upskill and learn about the latest trends in development. These were the biggest OutSystems customer events in the U.S. and Europe ever.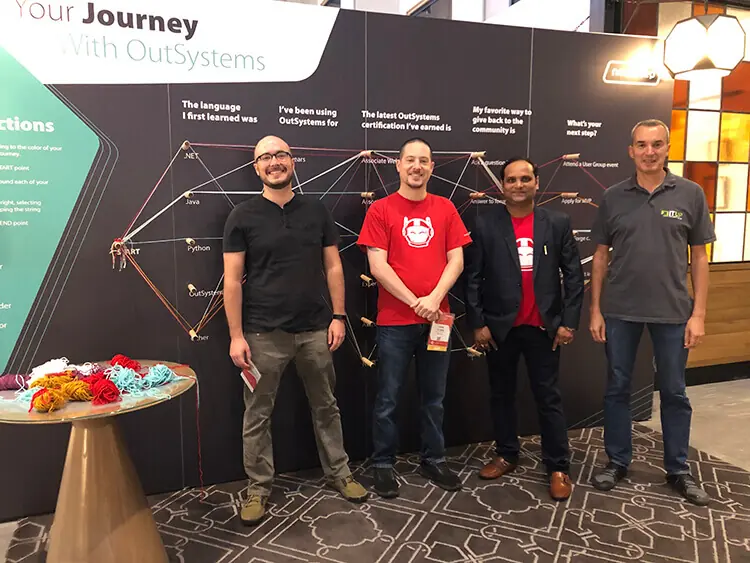 A multitude of business sessions featured OutSystems customer and partner guest stars. More than 70 tech sessions were led by OutSystems experts. We also had over 30 Innovation Award Winners. We heard from Mark Driver of Gartner in Denver and John Rymer from Forrester in Amsterdam.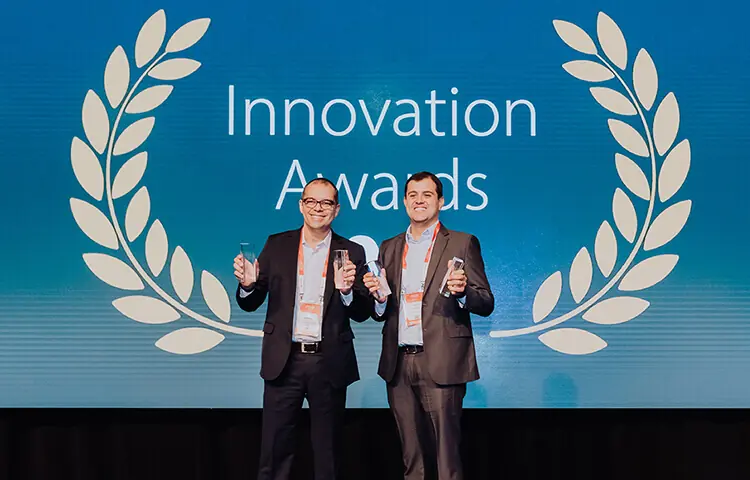 The keynote delivered at both events by Paulo Rosado, which is always special, was illuminating and uplifting, with some laughs, surprises, and demos of new and exciting things. Here are the highlights.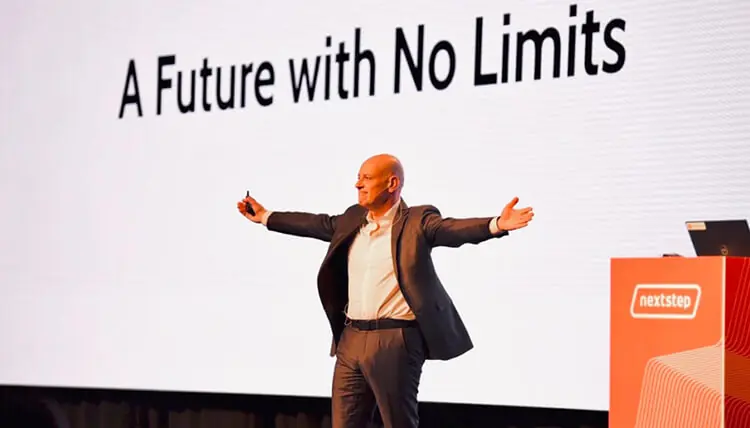 Customers Innovating With No Limits
Customers were the thread that bound the keynote together. In Denver, it started with a video of electric signs from Yesco, best known for the iconic Las Vegas sign. Yesco used OutSystems to build systems that include workflow management and CRM, cutting dev time in half. It was a fantastic example that set the tone for the keynote.
Customer Innovation in Core Systems
In Amsterdam, to illustrate how legacy systems can be rebuilt from the ground up, Paulo Rosado and Leo Brand, CIO of Vopak, told the story of the Dutch company. The 400-year-old tank storage organization, which operates in some of the biggest ports in the world and manages the logistics getting oil in and out of the ports, built its own terminal management system, which is now installed in 74 terminals they have around the world.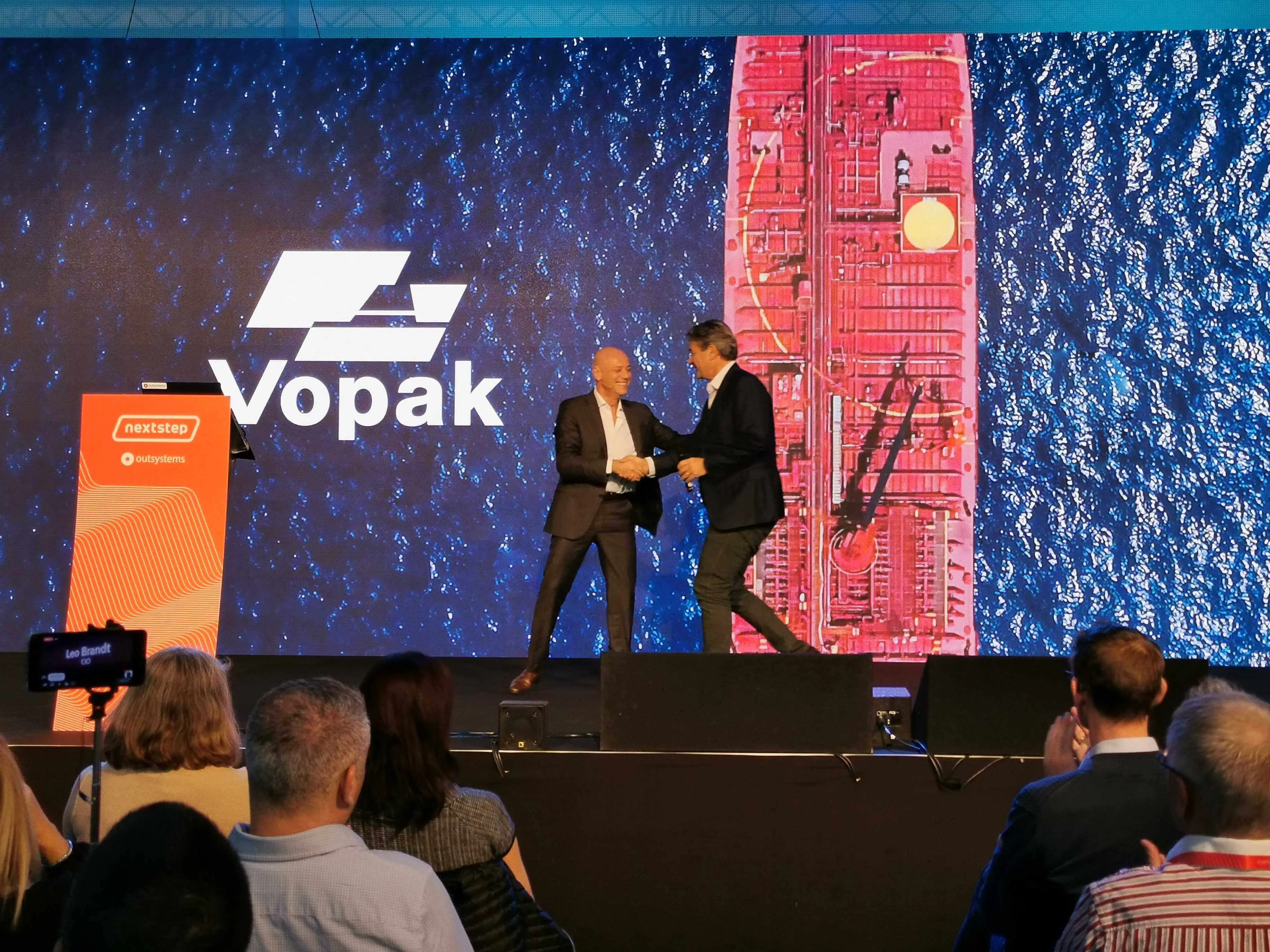 Customer Innovation in CX
To demonstrate customer innovation in CX, Bruce Buttles, Digital Channels Director of Humana, joined Paulo onstage in Denver. Bruce explained that Humana wanted to offer 40,000 Medicare plan agents an app that would let them know learn about new offerings 3 months before Medicare open enrollment. So, they built one in 8 weeks that agents are using now. (This OutSystems and Humana on-demand webinar has the whole story.)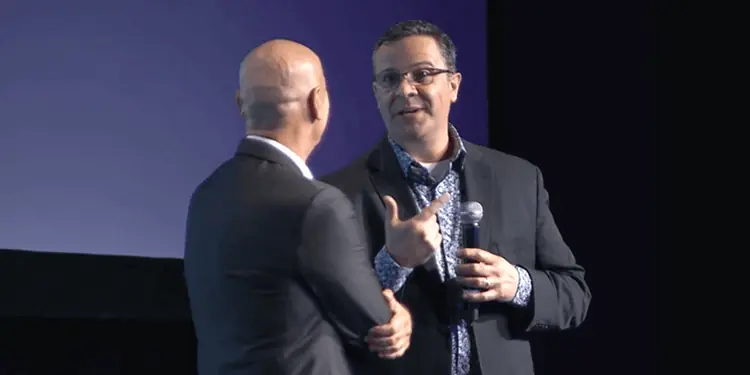 Operating like Cloud Technology Companies
These customer stories showed how OutSystems is helping companies achieve agility and responsiveness. Paulo told us that to leapfrog disruptors, enterprises need to operate like modern cloud technology companies. He then added that OutSystems has been building out the platform to make this even easier. It was time for the demonstration portion of the keynote, which started off, not with a bang, but with push ups.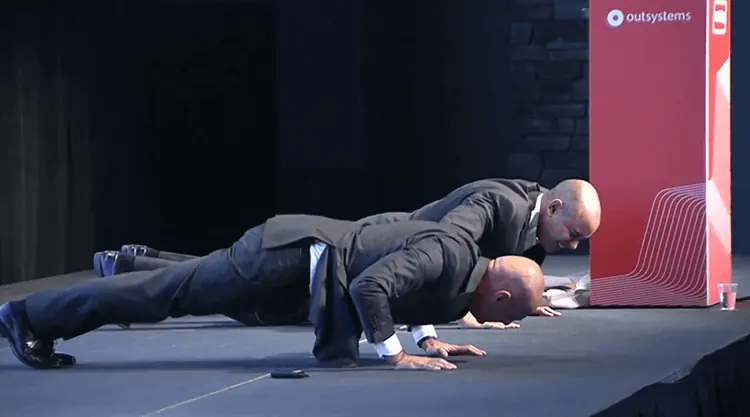 Experiences With No Limits
Customer (and all other user) experience is king. So, Paulo and Gonçalo Borrêga, energized from their brief workout, introduced capabilities to make designing for customer experience easier and faster—without any limits. (You can get all the details about these digital customer experience design and development capabilities in this excellent blog post by Mariana Henriques.) 
Experience Builder
Experience Builder enables teams to build the native experiences customers expect faster and without needing native mobile development skills. Its web interface is easy-to-use, and it includes fully customizable application flows and screen templates with embedded native behaviors.
Progressive Web Apps
Progressive web apps (PWAs) are web apps that behave like native mobile apps on a device. Paulo showed how PWAs look and work and announced that to build a PWA app with OutSystems will be just a matter of one toggle.
Chatbots, Language Analysis, Reactive Web, and AI
After a conversation with a bot built with the new chatbot capability that is now available, Paulo mentioned customers who were putting all the pieces together for rich experiences. Safeway runs a contact center and has a lightning fast UI. HR software provider bswift enables integration with their healthcare customer systems. Deloitte built a sentiment analysis app that can use emotions to discern the different meanings of "I'm fine."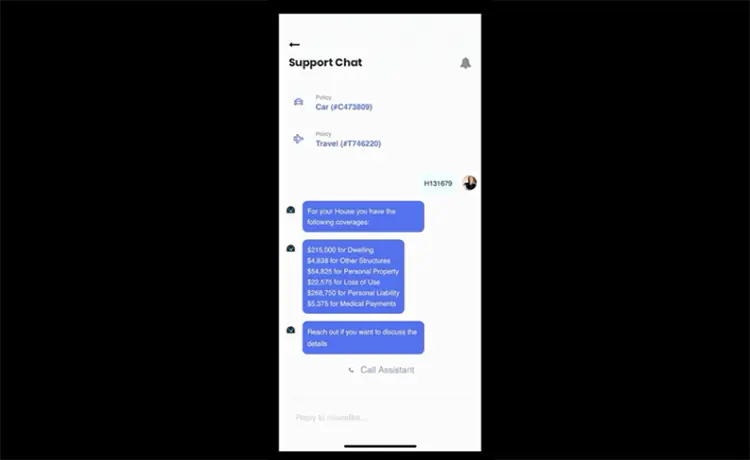 These stories led to a demo of our new language analysis feature (available now) that enables sentiment analysis right in a UI and our reactive web feature, which can build these rich web and desktop applications for contact centers, customer service and more.
Video, Voice, and Messaging Integration
People don't always want to talk to a bot. So your apps need instant messaging, voice interaction, and video. To address that need, OutSystems now has an alliance with Nexmo, the messaging and voice API provider. Paulo announced this alliance in the keynote, along with the information that a Nexmo component is coming to the OutSystems Forge.
Operations With No Limits
Snowboard company Burton built a logistics app that provides visibility of products across stores, the eCommerce site, and dealers. Paulo used them as a segue to new integrations and alliances designed to offer operations with no limits.
Identity Provider Integration
OutSystems is now offering simplified integration with Azure Active Directory and Okta so you can tightly integrate your applications with your enterprise IdP for business and end-user security. Setup is seamless and straightforward, no highly skilled teams necessary. .
SAP OData Connector and SAP API Business Hub
With a comprehensive suite of SAP connectors now available, you can build new channels to your legacy data, deliver new experiences, and create new revenue, and ensure your employees in the field have real-time access to SAP. You can also customize processes outside of SAP and tackle the issue of S/4HANA migrations.
Workato Connector
When energy provider Enbridge used OutSystems to build a pipeline of integrated apps that connected thousands of data silos, part of the project included Workato, an automated integration solution. Paulo welcomed Guatham Wiswanathan, the founder and CTO of Workato, to the stage to talk about his company's next-generation integration PaaS. The Workato connector is now available in the OutSystems Forge, and this blog post by Mike Hughes about Workato's intelligent automation platform has more details.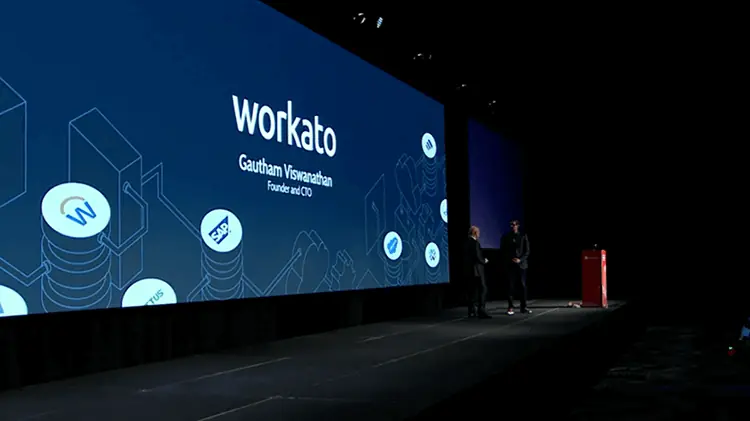 Workflow Builder and Case Management Framework: Coming in 2020
Workflow builder will enable you to model and build workflow apps with pre-set templates, making it easy to design workflows and automating parts of the process. Case Management Framework is an easy-to-use development tool that enables teams to design, build, monitor, and improve their case management processes.
Talent With No Limits
Paulo described a future where everyone in a business will work together to develop applications. Development will be a multi-persona affair with the business and IT teaming up to make apps happen. OutSystems customer Corteva is already on this path. It trained 60 scientists to use OutSystems. In Denver, to start his announcements related to talent with no limits, Paulo introduced the crowd to Brett Miner, who started as a biologist at Corteva and is now an OutSystems developer. In Amsterdam, he was joined on stage by Rosalie Schipper, a consultant from CoolProfs, who started her career in languages and translation.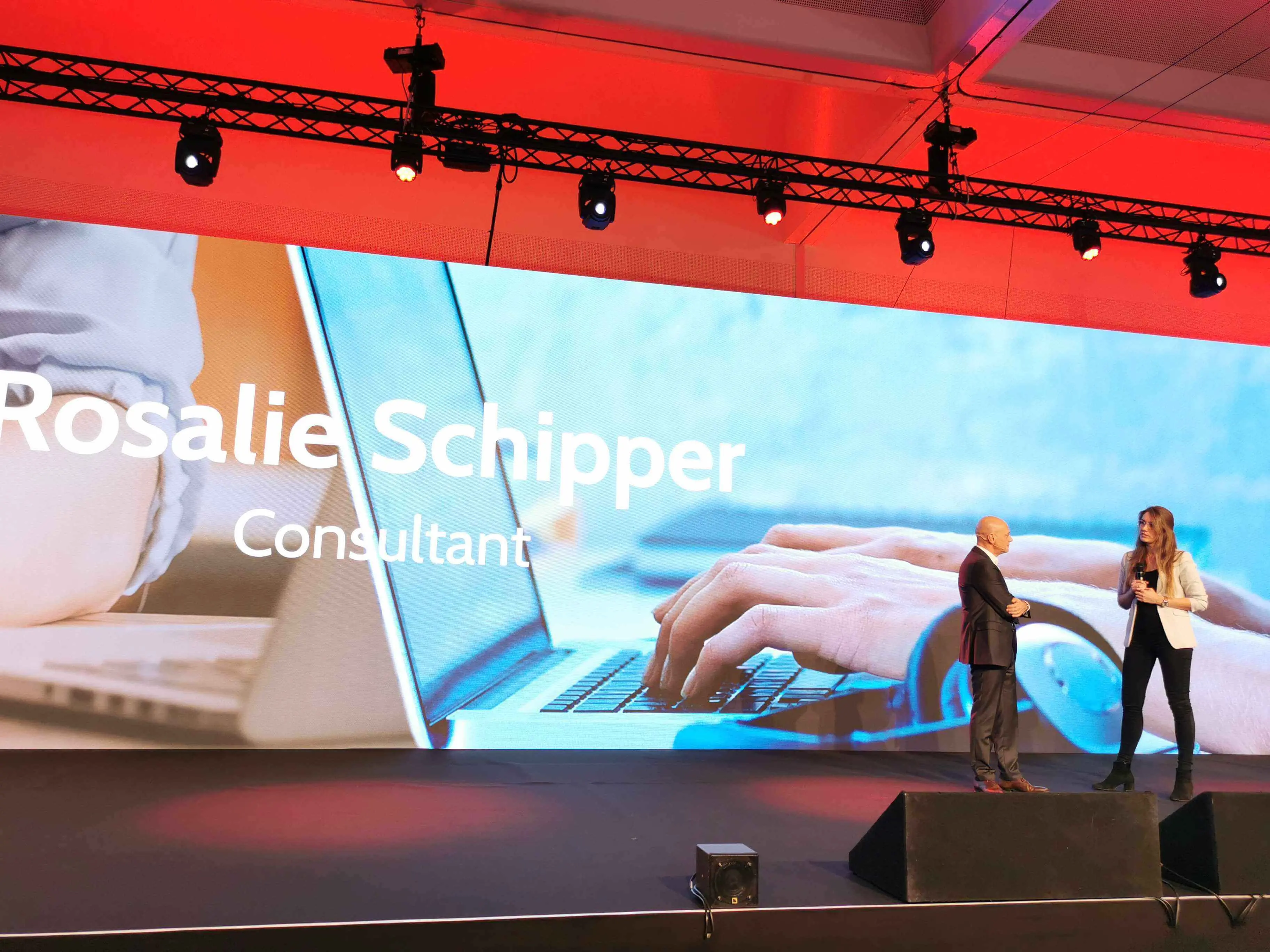 Talent Playbooks
Customers frequently come to us to ask how to build a team for an OutSystems project. What type of person can develop with OutSystems? What should a project team look like? How do they know if a developer is the right fit for OutSystems. So, we wrote two Talent Playbooks to help them out, and Paulo showcased them on the stage. The first explains how to staff and ramp up your first team, and the second explains how to build on your teams as projects grow. The Talent Playbooks can be accessed from the OutSystems Evaluation Guide.
Wrapping It Up: How OutSystems Is Making a Difference in Africa
To show the audience how customers make all our work worthwhile, Paulo ended by describing a system built with OutSystems that registers citizens in the Democratic Republic of Congo. Without an ID, people are targets for crime and corruption, and they are unable to get bank loans, or pay taxes. The system registers a person at birth, follows them as they open accounts and helps keep them safe from crime and corruption. All tax revenue makes it to the government, which helps the economy grow. The model is being closely watched by the World Bank and the EU as a result! He summed it up at the end by saying, "They're saving a country." It really doesn't get much better than that.
Take a look at the video below to see the keynote in Amsterdam for yourself.
For More Information
These news releases have more details about Paulo's product announcements: