CoorpID KYC Product Gets to Market Three Times Faster with OutSystems
3
months to produce commercial pilot
CoorpID was born in ING Labs with one mission: to make Know Your Customer (KYC) more efficient. Together with OutSystems partner Inforza, CoorpID was able to develop and launch its MVP in just 10 days to secure future funding from ING's innovation board. The commercial pilot was delivered in three months, and in the last year, multiple corporates have worked with CoorpID, saving hundreds of hours of repetitive KYC tasks.
Case Management

Operational Efficiency

Web Apps & Portals
Challenge
Build a Multi-bank MVP KYC Solution as Quickly as Possible
For large corporates and banks alike, Know Your Customer (KYC) compliance can be quite a headache. Whenever banks, credit providers, insurance companies, or legal firms onboard a new client, they need to collect detailed information to protect against corruption, bribery, or money laundering.
In addition to answering multiple questions, new clients need to provide numerous evidence documents. And typically, they've handled these documents many times before.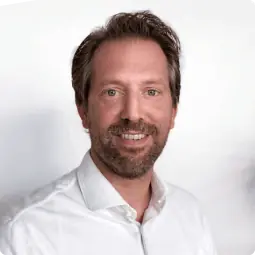 In large organizations, repetitively answering these questions wastes a lot of time, especially when corporate structures and personnel change.
"The entire KYC process is extremely frustrating for corporates," explains Dave Spruijt, Business Developer at CoorpID. "Each time a KYC-review is initiated, a corporate has to collect KYC related documents within the company and share the same type of files with every involved business partner. These files are usually stored in emails or shared drives. The duplication of files is enormous, which results in a lack of overview. It's hard to track and manage these sensitive documents over time safely. It's extremely challenging to keep track of information related to the ever-changing regulations of banks."
A small team of innovators got together at ING's innovation lab to explore how they could make the KYC process much more efficient. Following several design thinking workshops, they had an exciting concept—a centralized digital vault for corporates to easily store and share all the KYC documentation they need to provide to their business partners. Keeping everything up-to-date and in one place would eliminate the merry-go-round of document searches and emails that had plagued KYC submissions for years.
With intense competition from other innovation projects, the team urgently needed a way to move beyond PowerPoints and wireframes. "We had a solid idea, but it was no more than slideware," says Dave. "To secure development funding from ING, we needed to build an MVP in three weeks. That looked impossible."
Why CoorpID chose OutSystems:
Speed-up development and improve agility

Enterprise-grade scalability and security

Deliver customer-facing apps
Solution
The Moment of Truth
The CoorpID team decided to work closely with OutSystems partner Inforza to turn their ideas and wireframes into a prototype.
Ten days later, the CoorpID team had a working prototype and, in July 2018, they demonstrated the whole CoorpID concept to the ING innovation committee. "One of the most impressive things was that this was not a disposable MVP. This was something we could build on," explains Dave. "This transformed our prospects. In two weeks, we went from being the most likely project to cull to a product ING was excited to invest in. That's why we called that MVP the moment of truth."
With funding secured from ING, the CoorpID team was able to add a system architect, two designers, and two developers to the project team. Four people from ING rounded out the product team, including a product owner, a business developer, a sponsor, and an IT advisor.
Development started in September 2018. By the end of the year, the team was ready to launch a commercial pilot.
"During the development phase, we had around ten design iterations. OutSystems was a great fit with our innovation approach, enabling us to build, measure, learn, and iterate at speed," explains Dave.
According to CoorpID's estimate, development with OutSystems was three to four times faster than traditional coding. By using pre-built components from the OutSystems Forge, developers avoided "reinventing the wheel." Even unusual design features like the drag and drop entity modeler came from pre-built components that the developers could quickly customize.
<p>Inforza is an independent IT-service provider, specialized in designing, specifying, developing and implementing web- mobile business applications. Inforza's experienced IT-Professionals will...
Learn more about Inforza B.V.
Results
From MVP to Forty Companies in First Year
CoorpID has been on trial with multiple corporate organizations through 2019. Customer feedback and iterative enhancements have helped hone CoorpID into a full-featured first-of-its-kind KYC solution, which became available to more corporates at the end of 2019.
The new product is already winning international acclaim. ING "scooped the pool" in Global Finance magazine's Innovators 2020 awards, taking home four gongs, including the Most Innovative Bank in Western Europe. CoorpID contributed to that success by winning the Corporate Finance "homegrown innovation" award.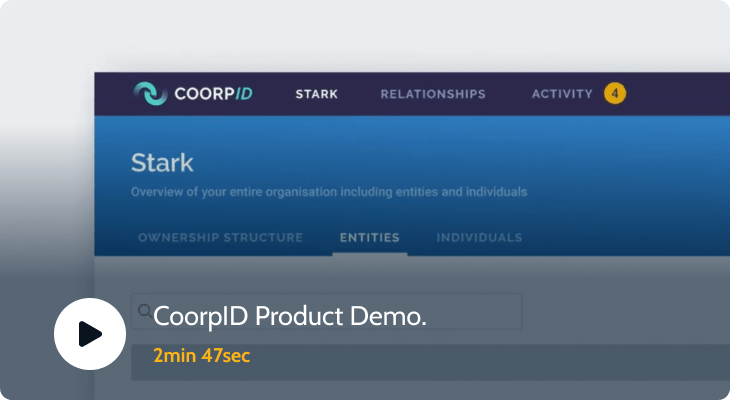 Now used by over 40 companies, CoorpID provides a secure digital vault for organizations to easily store, manage, share, and synchronize their KYC documents with multiple business partners.
CoorpID's features include:
Visual modeling of corporate entities, from parent company to subsidiaries and divisions.
Management of key contacts against entity structure.
Task cards that guide users through the steps needed to add required KYC data and required documents.
Manage relationships with multiple banks, with a visual overview of what data needs attention.
Share KYC documents instantly and securely with banks. Control which documents are shared, track each document's status, and receive a notification once all documents are verified.
CoorpID users always stay in charge of their KYC tasks via their personal dashboard.
The benefits for organizations using CoorpID are considerable, as Dave explains.
"CoorpID eliminates repetitive document collection and manual emails. It enables the collaborative assembly and management of information and supports collaboration between employees at banks and corporates to complete KYC checks more quickly."
Feedback from users has been extremely enthusiastic:
"I only have to update information one time. Instead of answering the same question 30 times. That makes me very happy."
Business controller
"We spend 15% of our time on KYC, and CoorpID cuts that in half."
Treasury operations manager
"It gives me more insight into what data is sent where."
Treasury manager
"I like the audit trail; I can see who has made what updates."
KYC Bank analyst
CoorpID is now gearing-up to serve many more clients and financial institutions. One of the exciting things about CoorpID is its flywheel potential, Dave explains.