What Is Omnichannel? How to Transform Your CX Strategy
Omnichannel refers to the concept of providing customers and prospects seamless, integrated experiences across multiple channels. In other words, it's about connecting the different channels used by your business to support a continuous customer journey. As a result, an omnichannel experience continues if you leave one channel and go to another, whether online or offline.
This can be viewed from a different perspective. When you check your Instagram feed, you see an advertisement for a really cool smartphone. You have been contemplating purchasing a new smartphone, so you click on the ad, which directs you to the official website of that company. Then you review the specifications, the price, and decide to order the phone to be picked up in person. Now, let's fast forward to the following week. Once again, you are checking your Instagram account, and the same advertisement for the same smartphone you had just purchased appears.
With an omnichannel strategy, all of the channels you have used throughout your buyer journey - social media, website, and brick-and-mortar store - are linked and take into account what is happening on the other channels. In this case, the transition from Instagram to the website and store was omnichannel, but it was lost in the transition from the website and store back to social media.
The reality is that most companies face this problem. Few companies have fully implemented omnichannel in their customer experiences. Multichannel experiences are being delivered rather than a unified omnichannel experience.
Omnichannel vs. Multichannel
Multichannel and omnichannel differ in their degree of integration. Both approaches involve multiple physical and digital channels, but the level of awareness between channels is what distinguishes them. Here is a closer look.
A multichannel strategy is about having different channels to connect and engage with customers, like a website, Facebook, Instagram, and a physical store, for example. But each channel is independent of the other. They're very siloed, and there's little or no interaction between them.
On the other hand, an omnichannel strategy brings these channels together, delivering a holistic view to customers. So, while multichannel delivers a fragmented experience, omnichannel delivers an integrated one.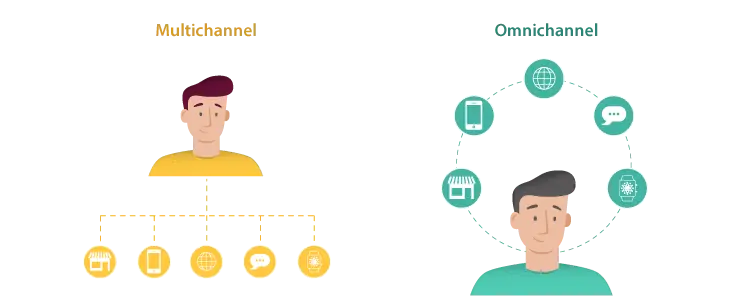 Omnichannel vs Multichannel
However, if the customer experience is a key competitive differentiator and customers expect high-quality, consistent interactions across multiple digital channels, why have so few companies embraced omnichannel? There are two primary reasons for this:
It is increasingly challenging to hire channel-specific developers with skills to master an ever-expanding set of technology and create and manage multiple codebases.
It requires significant investments because it is likely to involve the replacement or modernization of legacy systems.
Now, the question is: how can companies compete with CX-leading enterprises, like Uber or Amazon, without blowing their budgets?
Delivering a Unified Omnichannel Strategy
Gartner recently released the Magic Quadrant for Multiexperience Development Platforms (MXDP) to help companies address the lack of skilled development resources and the pressure to deliver more apps on an ever-growing number of devices.
If you are unfamiliar with this term, you're not alone. MXDPs are technology solutions for building multiple types of apps for a variety of devices and interaction modes. They are an evolution of mobile development platforms. In addition to creating mobile apps, they enable the development of progressive web apps (PWAs), conversational apps (voice assistants, chatbots), immersive apps, and wearable apps.
Most multi-experience platforms in this Magic Quadrant support low-code development, i.e., using visual tools instead of traditional coding. Taking a low-code approach means you don't have to spend your entire budget on hiring developers who specialize in every device. By combining the power of multi-experience platforms and low-code technologies, your existing team can create mobile apps that meet customer needs whenever they want.
Remember: MXDPs aren't omnichannel solutions. An MXDP's main strength is the ability to build applications across different devices to address the digital user journey. MXDPs can, however, support the creation of omnichannel strategies.
With OutSystems, for instance, any company can deliver brilliant omnichannel customer experiences without having to hire massive, highly-specialized, and expensive development teams. These features include:
Experience Builder for native-feel mobile applications: This feature abstracts away the complexities of creating an engaging, pixel-perfect mobile experience so developers can focus on what matters most: providing great user experiences. Your team can deliver experiences faster while meeting the quality standards your customers demand by using an easy-to-use web interface and development accelerators, such as fully customizable application flows and screen templates.
Reactive web technology: Reactive web apps enable your team to deliver engaging experiences that are consistent across mobile and web, with rich, interactive interfaces and a modern technology stack. With this technology, interfaces are easily assembled using state-of-the-art UI building blocks that can be reused across channels, reflect CX best practices, and result in improved delivery speed and experience quality. Since developers work with a single language and codebase, they are more productive, and your business can meet customer needs more quickly and more cost-effectively.
Progressive Web Application (PWA): PWAs will help you engage customers and employees through a new channel - easily discoverable applications that don't need to be deployed and downloaded through the app stores, reducing obstacles to adoption. As a result, these apps are automatically packaged by the OutSystems platform, delivering high-performance, native-like experiences that can be used offline, and integrate with devices. You simply need to tell OutSystems you want your work packaged as a PWA, and OutSystems will do it without compromising on experience quality.
Conversational experiences: OutSystems provides development teams with building blocks and a framework to create the most common chatbot and voice interaction patterns, removing the complexity and uncertainty of building these kinds of interfaces. Businesses can easily adopt, experiment, and scale first-line support automation, internal support bots, and other conversational use cases faster and without having to hire specialized AI developers.
In the long run, companies that excel at providing omnichannel experiences and understanding all customers will succeed. Gartner's Magic Quadrant for Multiexperience Development Platforms is a great place to start planning your omnichannel strategy. Visit this page to learn how each leading platform compares to one another and what one supports your omnichannel goals best. Visit our CX page to learn more about how OutSystems can help you transform your digital customer experience.