What Is Total Experience (TX)?
Creating a cohesive total experience (TX) strategy is crucial for the success of any business. The concept of TX refers to an organization's ability to break silos and to treat all experiences as interconnected and interdependent.
Gartner predicts that, by 2024, organizations adept at delivering a TX strategy will outperform competitors by 25% in satisfaction metrics. But superior TX can be extraordinarily difficult to achieve. It requires diverse groups and teams — which may have worked in silos before — to operate in a highly coordinated way.
What Is a Total Experience Strategy?
Total experience is about delivering an all-around exceptional experience to any customer or employee. The fundamental idea behind a TX strategy is people-centricity: a holistic approach to create an improved experience for anyone who is in any way involved or engaged with the business — including customers, employees, users, and partners.
TX is crucial because all touchpoints are ultimately connected. For example, if an employee is unable to promptly retrieve relevant data about a customer, it negatively impacts the experience that a customer has with the organization. If a customer struggles to navigate a web page or app to obtain information about a product or service, the frustration that generates could lead to churn.
What Are the Elements of a Total Experience?
Key elements of an effective TX framework include:
Customer experience (CX). Understanding several dimensions of customers and prospects — including their wants, needs, expectations, beliefs, feelings, and past experiences. CX is about giving customers control over how to perform the tasks they need to.
Employee experience (EX). Understanding employee satisfaction, retention, skill level, and productivity. EX is about empowering employees to perform their job more effectively.
User experience (UX). Understanding users' needs, their friction points, their user journey, and the effort it takes them to get to what they need. UX is about the adoption of digital apps.
Multiexperience (MX). Understanding the right channels and the right types of interactions for each persona. MX is about creating the connective tissue for digital touchpoints.
Creating a TX strategy means orchestrating these four elements. It also requires the right technology to enable them as well as implementing key performance indicators across the four dimensions to track their contribution to the desired business outcomes.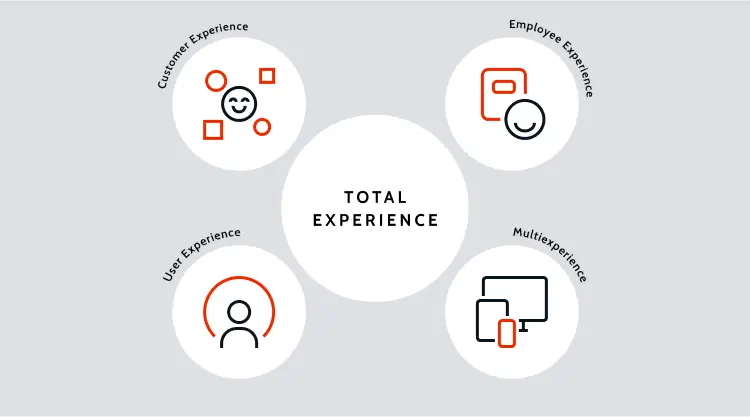 Critical factors of a successful TX strategy include:
A focus on excellence: removing friction and making it easy for your customer, employees, partners, and users to engage with your business — which is key to growing revenues and brand loyalty.
Consistency across touchpoints: consistent UX across mobile apps, web, augmented reality/virtual reality (AR/VR), and wearables. When processes and interfaces are cohesive, customer and employee satisfaction improve.
Promoting trust and transparency: thinking about the end-to-end journey for a persona to fulfill a task and creating visibility around each step. This prevents customers or employees from misunderstanding something or frustrating their expectations — including when an order will be fulfilled, when a customer support agent will address a problem, and when a product will be repaired. Creating trust is the most important aspect driving customer loyalty in the long-term.
What Does Total Experience Look Like?
For example, a customer might begin exploring a trip to France on a travel provider's website, view videos on a streaming app on their smart television, switch to their smartphone, but then have a question.
A customer representative can step in and answer important questions. The rep might also assist with a complex booking or point out that the customer has reward points or a promotional code that will provide an additional discount. This rep might complete the booking or let the customer complete the transaction while staying on the line for support.
Along this entire journey, regardless of what channel, technology, or device a customer uses — or whether an employee assists the customer along the way — their travel preferences, existing reservations, and progress are visible. This means that everyone is working with the same information, and there's no need to start from scratch after a handoff. In the end, planning and booking the vacation — flights, hotels, tours, and more — comes together in a seamless experience.
It doesn't matter whether a customer is buying insurance, ordering a pizza, or looking to repair a computer. Customers and employees all expect to accomplish their task in an easy and convenient way, on any touchpoint. And when that happens, everybody wins.
Making Total Experience Happen
As technologies and processes become more complex and the number of touchpoints grows, organizations must find ways to make experiences simple and easy for everyone engaging with their business: customers, prospects, employees, and partners.
TX plays a critical role as organizations venture further into their digital transformation journeys. Gartner ranked total experience as one of the 12 Top Strategic Technology Trends for 2022 — noting that, by 2026, 60% of large enterprises will rely on TX to transform business models and to achieve "world-class" results.
Start creating the building blocks of your TX strategy with a high-performance, low-code platform that allows you to build simple and intuitive apps for customers and employees with pixel-perfect UX across all touchpoints.