Designing digital customer journeys used to entail a relatively simple decision: you'd go web, you'd go mobile, or you'd go both. But as technology has evolved, so have customer expectations forcing businesses to shift from omnichannel-focused customer journeys to multiexperiences ones.
But what does this mean exactly?
What Is Multiexperience?
Multiexperience is about moving from a traditional inside-out, channel-focused mentality towards one that delivers an optimal customer experience.
As customer-obsessed digital disruptors are entering every industry, they are pressuring companies to fundamentally change how they do business and interact with users. Thanks to these new players and the technology they leverage, customers expect frictionless and seamless experiences that they can complete with as few steps as possible and access through the channel, device, and touchpoint that is more convenient to them at that given moment.
That's the premise of a multiexperience journey.
This concept was put forward by Gartner in 2018 (see Multiexperience Development Has Arrived by Jason Wong) and addresses this fundamental shift in how companies should design their digital strategies to engage with customers.
When developing digital products, services, and experiences, multiexperience essentially means two things:
Interacting across multiple touchpoints: Mobile and web are no longer enough. Application leaders need to develop experiences for an increasing number of touchpoints to serve their customers (and employees) effectively, including chatbots, voice and personal assistants, wearables, and augmented and virtual reality. However, being truly multiexperience is more than just having a presence on those touchpoints — you can't get away with just duplicating functionality from one to the other. The end result should feel and behave "native" and natural to that touchpoint.
Ensuring a seamless experience across touchpoints: Customers want to get things done with as little effort and friction as possible, using whichever device, touchpoint, or interaction modality (or combination of them) is most convenient to them. A multiexperience approach ensures that all touchpoints of interaction with your business are consistent and that customers can transition seamlessly between them without having to relearn or duplicate steps.
From Multichannel to Omnichannel to Multiexperience: Going Beyond Channel-Thinking
The concepts of omnichannel and multiexperience may appear similar. But just like omnichannel is the next evolution of multichannel, multiexperience is the next evolution of omnichannel.
Multichannel was all about giving companies the ability to connect with customers on various channels, like a website, Facebook, Instagram, and a physical store, for example. But each channel was often independent of the other, managed in isolation and reflecting its own corporate silo, which often resulted in a poor customer experience.
Omnichannel, as the next evolution of multichannel, seeked to address this by ensuring that not only could the customer reach the company via a multitude of channels but that these were also connected. When the customer switched channels or devices, the information progressed to the next channel or device, somehow unifying the sales and marketing experience.
But while omnichannel has been seen as the holy grail of digital customer journeys, it has not lived up to the promise. Why? Because it still reflects an inside-out mentality that focuses on channels and in which the company establishes where and how the customer engages with the business. The thing is, customers don't care about which channel they are in, they just want to get the job done in the most convenient and effortless way. So instead of chasing channels, businesses should focus on optimizing the experience itself.
Multiexperience has moved the focus from technology and channels to thinking about how people use applications and interact with a company. It seeks to provide optimal experiences that are tailored to the individual customer or user, their context, and the touchpoints and interaction modalities they choose to accomplish any given task.
Example of a Multiexperience Journey
A good example of a successful multiexperience strategy is Domino's Pizza.
Customers can order pizza in 15 different ways from their favorite devices, using whatever interaction modality is most convenient — voice on Google home, messenger, text, smart TV, you name it.
Domino's did a 180º company overhaul, turning critics into fervent brand advocates and achieving a 90x increase in stock value. Key to this success was an obsession for making it more convenient for customers to order from them and leveraging technology to make it happen.
Consistency Across Digital Customer Journeys
Now, while you should ensure your company gives customers experiences for multiple devices, touchpoints, and interaction modalities and that they feel natural and tailored to them, there is an additional element that is critical for a successful multiexperience journey and to ensure your customers' experience is truly outstanding: consistency.
But that entails more than just using the same branding guidelines and tone of voice. Consistency means that how I order a pizza or get a quote for my new insurance should be more or less the same, no matter the touchpoint or device I use. If, for some reason, I need to change devices in the middle of the task, the switch between touchpoints must happen naturally. Take a look at Spotify, for example:
When you switch from listening on your phone to your car's speakers, not only there's no break — your car picks up the song or podcast in the exact minute you were when you made the switch — but the screen on your phone also adjusts and simplifies the experience so that you don't get distracted while driving.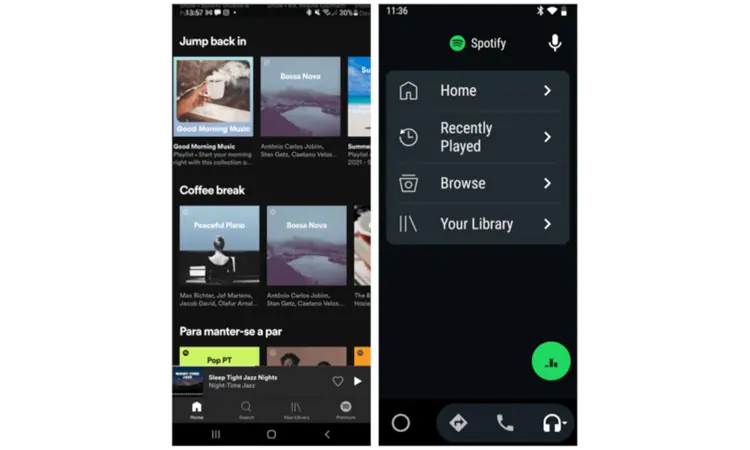 Consistency of the digital experiences allows people to move seamlessly from one device and experience modality to another while preserving context and progress. There is no need to relearn, and everything feels familiar.
So, how do you make your multiexperience strategy a reality? That's where multiexperience development platforms come in.
Multiexperience Development Platforms
Multiexperience development platforms (MXDPs) give you the tools that allow you to create multiple applications across various touchpoints and interaction modalities.
The advantage of MXDPs over pre-packaged, off-the-shelf, or SaaS software is that they give you the ability to continuously create without limits and deliver truly unique experiences. They also save you the hidden costs and extra integration effort that usually comes with pre-packaged solutions.
Gartner defined multiexperience development platforms 2021 as tools that include to develop:
Progressive web apps (PWA): Demonstrate PWA service worker support within the MXDP.
Chatbot: Demonstrate built-in chatbot framework or tight integration within the MXDP to external bot frameworks (such as Amazon Alexa/Lex, IBM Watson, Google DialogFlow, or Microsoft Azure Bot Framework).
Voice: Demonstrate built-in NLP and speech-to-text or tight integration within MXDP-to-voice platforms (such as Amazon Alexa, Google Assistant, Baidu, or Tencent).
Wearables and IoT: Demonstrate wearable and/or IoT support within a development tool (such as Apple Watch, Wear OS, Tizen, Harmony OS, or HoloLens).
Augmented and mixed reality: Demonstrate immersive UI support within MXDP (such as iOS ARKit, Android ARCore, WebXR, or Wikitude).
By default, MXDPs are not "build once, run everywhere" solutions. However, most vendors offer low-code capabilities to help improve developer productivity and help engineers create these apps that support a multiexperience journey.
The OutSystems modern app development platform took it one step further and gives dev teams the ability to build experience components once and reuse them across different solutions. These components comprise all the layers that make up a digital experience — not just design and UX but also business logic, data, and integrations. This way, the expansion to new channels and touchpoints becomes easier, and companies become intentional in ensuring consistency across all of them. If you'd like to learn more, I encourage you to read our blog post on Experience Systems.
In addition to that, OutSystems also delivers a wide range of use cases, allowing customers to take advantage of this modern platform to address other digital priorities like process automation and legacy modernization. And thanks to its modern architecture, customers can scale their solutions while ensuring security and observability is addressed.
Choosing the Right Multiexperience Development Platform
If you're considering multiexperience development platforms for your business needs and customer demands, Gartner's Multiexperience Development Platforms Reviews and Ratings is the perfect place to learn more. You can also read my article about how to choose the right MXDP.