Thanks to companies like Netflix, Amazon, Uber, and Apple, customer expectations are higher than ever. These big brands put their customer's experience at the center of everything they do. Your customers now expect the same experience from you—they expect effortless experiences.
But what is an effortless experience?
In short, it means making it easy for your customers to do business with you, by being available when and where they need you. And in a world that has an increasing number of digital touchpoints, it means becoming truly multiexperience. Gartner defined MXDP back in 2018, (see Multiexperience Development Has Arrived), as a response to the increasing number of devices and interaction modalities that have entered our daily lives.
What Is Multiexperience?
Multiexperience is about transcending the traditional mentality of focusing on channels (as an inside-out mentality to broadcast), such as mobile or web, into a outside-in mentality that seeks to provide an optimal end-to-end customer experience. It means taking a customer-focused approach when creating your digital products, services and experiences. Customers don't care about which or how many channels they use, they just want to buy their products or services, have their questions answered and their problems solved as quickly and conveniently as possible. And that can mean using a desktop, mobile phone, tablet, wearable device, voice assistant or chatbot, or a combination of these.
But engaging with customers in a lot of different channels alone doesn't cut it. We're talking about multiexperience, not multichannel or even omnichannel. In a multiexperience world, the end-result should:
Feel native to the device and interaction modality:


it's not about a simple porting of functionality from one channel to the other. It's about adapting the experience to cater to each device and touchpoint in a way that feels natural and native to it.

Enable seamless switching between touchpoints:


The average person owns 3.2 different devices and expects to switch between touchpoints without missing a beat. For example, you're watching the Pirates of the Caribbean using Netflix on your smart TV. At minute 132 you stop because you have a doctor's appointment. You pick up where you left off on your smartphone in the waiting room.

Be consistent, no matter the touchpoint:


In order to be truly multiexperience, the way of interacting with the brand's digital touchpoints should feel and behave consistent, no matter the device or interaction method so that people don't have to relearn everything when they make a switch. In fact, a study by McKinsey reports that consistency on the most common customer journeys is a key predictor of overall customer experience and loyalty.
Roadblocks to Effortless Experiences
It's already difficult to deliver "5 star" applications for both iOS and Android. And now you're supposed to add even more touchpoints, while ensuring the quality and consistency of those experiences.
I've been working in UX for the past 10 years, and I've seen that the main problem is not that companies don't understand what their products, services and digital experiences should look like or the devices and touchpoints where their customers prefer to interact with them .
The problem usually lies in their ability to make these ideas a reality.
1. Developing for so many touchpoints is hard and takes a long time
If you are using traditional development, you will need to master dozens of different technologies, hire and set up teams of specialized developers and ensure you keep retraining them (or hiring new people) as new technologies and touchpoints emerge. However, with the global shortage of developers and the fierce competition for top development talent, unless you are a leading big brand and have a big budget, you will very likely not be able to get all the developers you need.
And the catch is that, even if you can, bringing new digital products, services and experiences to market takes months or even years. Remember the last time you tried to push out a mobile app?
This is when using pre-packaged software and outsourcing some parts of development are considered as alternatives. However, many companies are finding that using out-of-the-box software doesn't really allow them to customize enough to deliver truly unique experiences and comes with a host of hidden costs and extra integration effort. And resorting to outsourced teams means that you lose control of your customer experience and that making changes as simple as a login button can take months and cost thousands of dollars.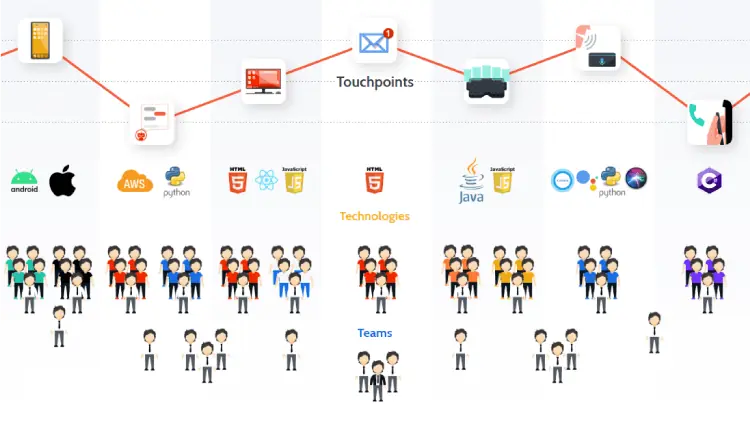 2. Making experiences consistent is even harder
Now suppose that you do manage to have all of your multiple digital teams up and running and you are effectively creating experiences for all these touchpoints. How do you ensure the consistency and quality of the different applications across the different channels?
Traditionally, when mobile and web were all there was, we had tackled the consistency challenge in a relatively successful way with the use of Design Systems.

Design systems, by standardizing a set of design standards, documentation, principles, and toolkits, have helped companies ensure that branding guidelines and visual interactions are consistent across all their applications.
But today there's a plethora of touchpoints that don't boast a visual UI. I'm talking about Alexa and Echo Dots, for example, that make design systems pretty much useless. However you still need to make sure interactions are consistent - that your customers are presented with the same information in all of them, that your brand's voice is the same, and the way they engage with you is similar.
But is there a way to deliver effortless experiences that feel great across touchpoints, without having to spend millions of dollars and waiting years to get to market?
Beyond Design Systems: Introducing Experience Systems

To tackle all these new interaction modalities, you need to add new dimensions to these systems. You need to go deeper in order to go broader - beyond design systems, and beyond thinking only in terms of visual interfaces or channels. You need to start creating Experience Systems.
What is an Experience System?
An experience system provides a set of living experience components - much like their design system counterparts - which can be reused across different touchpoints in different interaction modalities.
An Experience System may include a mesh of, not only UI and visual elements, but also behavior, logic, data and integrations (with third party services, APIs or existing core systems, for example). In short, they can encompass all the different layers that make up a digital experience.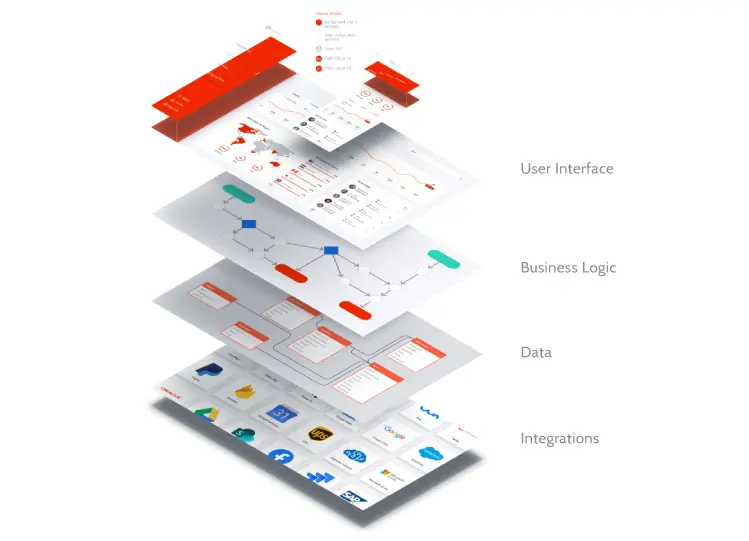 You can think of them as touchpoint-agnostic LEGO pieces that can be reused and combined to make up a multiexperience customer journey. Each piece, or set of pieces, represents a "micro-job" (following Clayton's "Jobs to be Done" Theory of Innovation) - something that your customer or user wants to get done within any given digital touchpoint, and that is part of a larger job. A "micro-job" could be paying with their credit card, knowing when their order will arrive, or updating their home address. These "micro-jobs" can then be a part of multiple larger jobs. That larger job could be ordering dinner for you and your friends to watch the football game tonight or using that same credit card (and your friends') to split that bill equally between the party.

The advantage of standardizing your digital experiences into experience components is that, not only do you ensure that the way your customers perform these "micro-jobs" is consistent no matter where they are performing them, but also that you don't need to rebuild them everytime you create an application for a new digital touchpoint. And because a change in a given component is replicated across all the touchpoints in which it's used, it means you can make changes only once, and these are instantly reflected across all your applications. Things like pushing out a new product range, price promotions on a set of products, or new branding guidelines can be done much faster.
At the end of the day, an Experience System greatly reduces your development efforts and the time it takes you to bring new applications and digital services to market (as well as to iterate on them). It also helps you ensure that experience best-practices are replicated across your entire digital portfolio. And - as one of our customers put it - the consistency and quality of your digital presence becomes intentional and not something that comes almost as a miracle out of trying to tackle the complexity of managing dozens of siloed teams working in different channels and technologies.
Bringing Experience Systems to Life: Multiexperience Development Platforms
This is where a multiexperience development platforms (MXDPs) shine. These platforms employ visual development and a single platform approach to developing digital experiences for all touchpoints, allowing you to quickly bring an experience system to life.
Because a MXDP is a single platform and technology approach to development for multiple touchpoints, you no longer need multiple highly specialized development teams working on different technologies. You can train your existing IT team in weeks to become fully productive and enable them to create digital experiences for any touchpoint, to serve your customers and differentiate from the competition.
This means not only creating the digital experience components that standardize those 80% of functionality that are common between touchpoints, but also quickly developing that last mile of the experience that is truly differentiating and unique, and makes it feel native.
And because modern MXDPs support low-code methods, it is much faster than using traditional development, all of this is done in weeks instead of years - and that last mile is decreased to just a "final inch".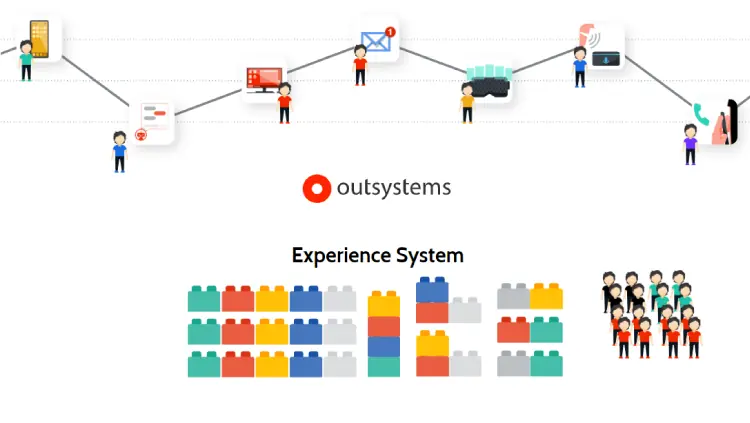 In the case of the OutSystems platform, this doesn't mean compromising on experience quality or being limited in any way in what you can create - if you can dream it, you can build it. That's why we're leaders in Gartner's MXDP Magic Quadrant - you can check it out here.
Conclusion
Customer expectations on what a frictionless experience means keep rising, and to meet them companies need to create applications for an increasing number of touchpoints.
But to get there, we need to adapt. Traditional development approaches and design systems served us well, but in a multiexperience world they are no longer enough. Creating an experience system with a multiexperience development platform gives you the agility to deliver digital experiences faster and consistently. By using a reusable component-based architecture that allows you to standardize and scale experience best-practices, it enables you to take back control of your digital customer experience. This means you launch new digital products and services that meet your customers needs when and where they need you - and importantly, before your competitors do.
If you're looking for the best multiexperience platform to build effortless experiences with an Experience System approach, take a look at Gartner's Magic Quadrant for Multiexperience Development Platforms. Or if you want to try a leading MXDP, you can use OutSystems Personal Environment free forever.