Low-Code Development Guide
Low-code is not just about accelerated app development. It's about creating and managing innovative, business-critical software more efficiently.
How to Evaluate Low-Code Platforms
With the pressure to deliver new and innovative solutions and evolve existing ones to cope with market changes, organizations are looking to low-code platforms to support their digital transformation initiatives. But with 400+vendors out there, how do you know which one is the best for your business?
4-Step Guide to Evaluate Low-Code Development Platforms
Evaluating any software development platform can be a complex process. If you're not sure where to start, here's our 4-step guide to help you navigate through the sea of low-code vendors.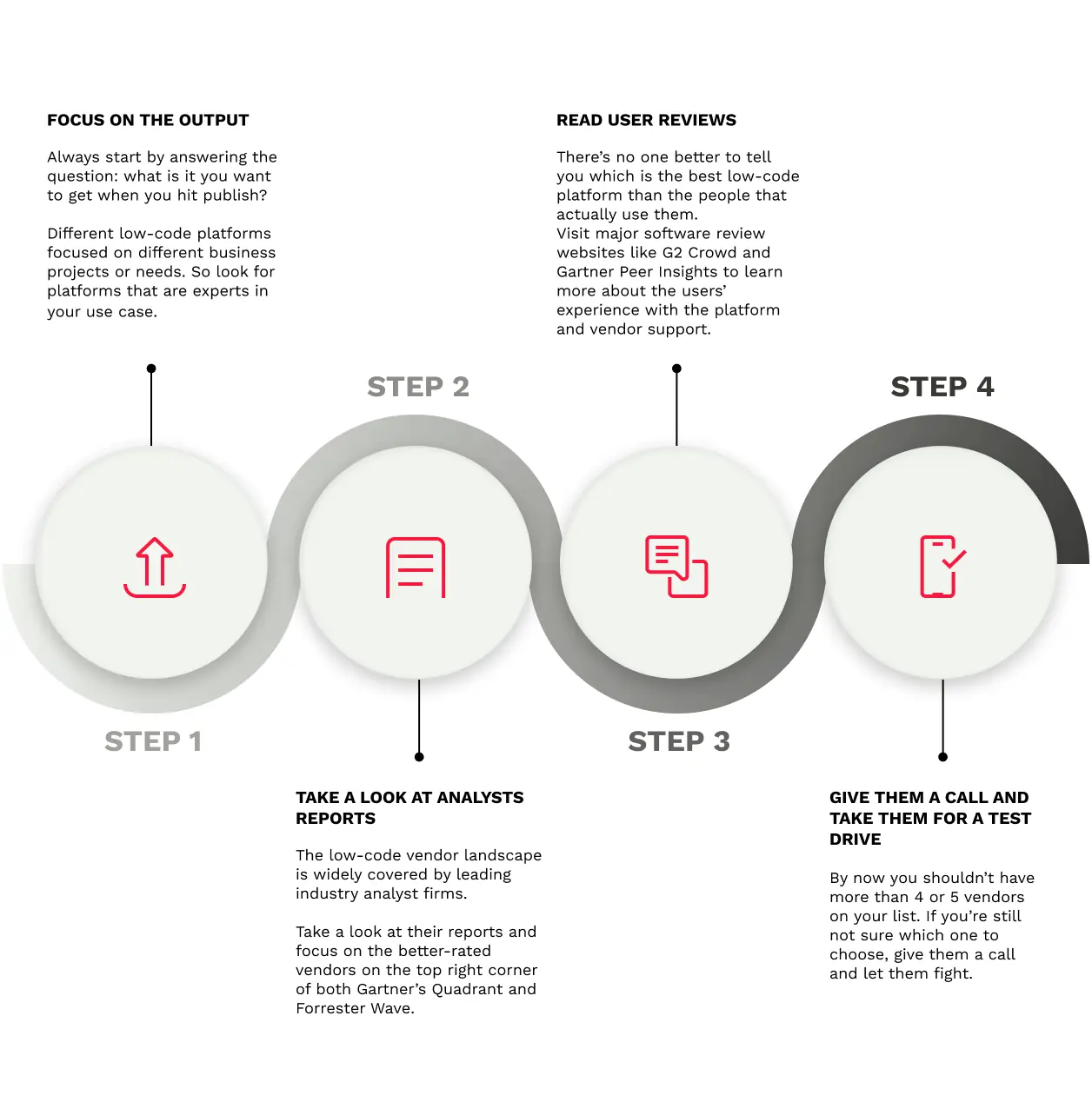 Concerns When Choosing a Low-Code Platform
When searching for a low-code platform, there are a few concerns IT leaders need to be aware of to ensure they're choosing the right one for their business. Remember: no two low-code platforms are the same.
To help you with that, here are a few questions you should ask low-code vendors in your evaluation process:
Talent
Company
Infrastructure / Best Practices
Use Cases
Pricing

What skills are needed to create applications with your product?
How long does it take to be up to speed and build applications with your product?
What training services exist?
Is there a community of people who use your product that my developers could join?
Do you have relationships with any technology delivery partners (such Accenture, KPMG, Pivotal, etc)?

How long has your company been in business?
Who owns your company?
What else, besides low-code application development, does your company do?
Am I locked into your platform? What happens if I decide to leave or if your company goes under?

How do you ensure that all components of an application are deployed correctly and together?
How do the applications scale with additional load?
Where is the data stored? Can it be stored in an external database?
How do you manage upgrades?
Are your components reusable?
How does the platform ensure that the code written is bug free and scalable?
How can I extend with custom code if needed?
Can I integrate with my existing systems?

Can you create responsive web applications?
Can you create mobile applications?
Can you create progressive web applications?
Can you create microservices?
Can I create highly customized UX/UI for my apps?

How does pricing work?
Why Should You Choose OutSystems High Performance Low-Code?
OutSystems is the only high-performance low-code platform in the market. But, what do we mean by that?
High-performance low-code development is an approach to creating software with radical productivity and exceptional app experiences for a continuously evolving world.
While low-code is a growing software development approach for creating apps, high-performance low-code blends power and speed with security and scale. It allows IT leaders and developers to build, deploy, and manage applications that can transform their businesses.
Low-Code vs High-Performance Low-Code
| Area | Low-code | High-Performance Low-Code |
| --- | --- | --- |
| App type | Simple apps | Strategic apps |
| Business and IT relationship | Ungoverned citizen dev | Collaboration with business and IT |
| Use cases scope | Limited to specific use cases | Build whatever the business needs |
| App life-span | Short life-span | Future-proof and iterative |
| Scalability | Workgroup scale | Internet-scale and global distribution |
| Security & compliance | Limited compliance | Enterprise-grade security and compliance |
| Architecture | Limited architecture | Architectural integrity and reusability |
| AI-assisted development | AI replacing casual developers | AI augmenting pro-developers |
Our single, integrated low-code platform is the most powerful on the planet, built from the ground up to execute big, impactful ideas at scale in high-stakes environments. It is also the only platform that lets you choose how you use low-code–with options for adding custom code, custom integrations, and preferred DevOps and project management tools when needed.
Serious applications
Confidently build enterprise-class applications that can scale to reach hundreds of millions while delivering the best user and consumer experiences.
Serious productivity
Get ahead and make the most of your resources - no matter the size of your IT department - with AI, automation, and advanced tools to speed up delivery.
Serious scalability
Build secure apps that scale to millions, with infinite updates and a continuous and perpetual cycle of innovation, while evolving your app dev capabilities.