OutSystems Platform
on Microsoft Azure
OutSystems works where you work.
We make OutSystems flexible to fit the changing needs of your business. Microsoft Azure Cloud is a great example of this flexibility.
With OutSystems on Azure, you can maintain the standards, security and reliability you have come to know and trust from Microsoft while developing fast and beautiful applications in OutSystems.
Take a free test drive to see how much fun creating real apps can be.
Benefits of OutSystems on Azure
Unleash the power of Azure services with beautiful, fast and functional mobile and web user experiences. Adoption accelerates when an application solves a need with a great experience.

Cortana analytics integration
Take advantage of the advanced analytics or perceptual intelligence of Cortana by easily integrating with OutSystems. Quickly get up to speed with machine learning capabilities through the application of pre-built industry-specific solutions from Cortana built in OutSystems.

Business process and workflow
Align your software to the workflow, not the other way around. OutSystems on Azure allows you to build applications the way your business operates most efficiently.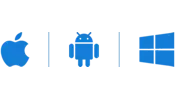 Access to any function in any phone (Windows, IoS, Android)
Cross channel and cross platform development is accomplished automatically by creating an application just once. So, regardless of whether your users are on Windows, IoS or Android, your applications will work right the first time and every time.

Easier configuration management in the cloud
Author and manage PowerShell Desired State Configurations (DSC), import DSC resources, and generate DSC node configurations, all in the cloud. With Azure Automation DSC, you can easily and reliably monitor and automatically update machine configuration across physical and virtual machines, Windows or Linux, in the cloud or on-premises.
Take a free test drive to see how much fun creating real apps can be.
Need help evaluating OutSystems on Azure?
Contact Us!
Thank you for contacting OutSystems. Your request will be followed up by an OutSystems representative as soon as possible. Please make sure your spam filter is set to accept messages from outsystems.com