OutSystems recognized for excellence in mobile application development
OutSystems, provider of the number one platform for low-code development, announced today that it has won a 2017 SIIA CODiE Award for Best Mobile Development Solution for the second year in a row. The SIIA CODiE Awards are the premier awards for the software and information industries and have been recognizing innovative products for more than 30 years.
After an in-depth review by industry experts and voting by SIIA members, OutSystems was awarded Best Mobile Development Solution. The category recognizes the best tool or resource for designing, creating or testing mobile applications.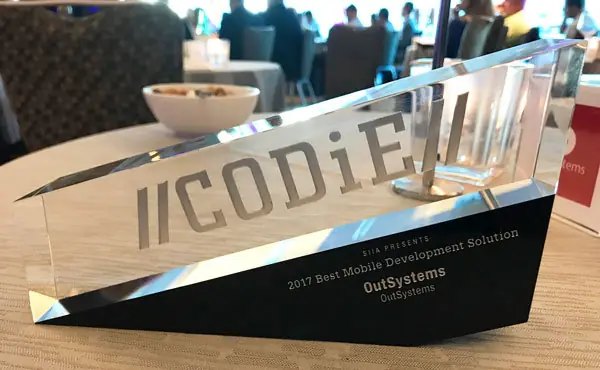 "We are honored to win a CODiE award for Best Mobile Development Solution two years running," said Paulo Rosado, CEO of OutSystems. "This prestigious award is another great example of how low-code development solutions are disrupting and displacing traditional application development products."
The CODiE Award comes on the heels of OutSystems recognition by Gartner as a leader in the 2019 Magic Quadrant for Multiexperience Development Platforms. The company was also recognized as a leader in The Forrester Wave™: Low-Code Development Platforms.
"SIIA's 2017 Business Technology CODiE Awards recognize the companies that are at the forefront of business innovation. These companies are shaping the future of how we conduct business, and it is truly an honor to recognize these products through the CODiE Awards," said Ken Wasch, President, SIIA.
Thousands of leading enterprises worldwide use OutSystems to fast track their move to digital business by delivering engaging customer experiences that can differentiate them in the market. OutSystems is the fastest and most comprehensive platform to create, deploy, change, and manage custom mobile and web applications – delivered seamlessly across all devices.
OutSystems previously received the CODiE Award for Best Cloud Platform as a Service in 2015 and Best Software Development Solution in 2009. In addition, the company holds strong leadership positions in several Gartner and Forrester reports. OutSystems was named a leader in Gartner's 2019 Magic Quadrant for Low-Code Application Platforms, as well as in Gartner's 2019 Magic Quadrant for Multiexperience Development Platforms. The company was also recognized as a leader in The Forrester Wave™: Low-Code Development Platforms.
Details about the winning products can be found at http://www.siia.net/codie/2017-Winners.
About the SIIA CODiE™ Awards
The SIIA CODiE Awards is the only peer-reviewed program to showcase business and education technology's finest products and services. Since 1986, thousands of products, services and solutions have been recognized for achieving excellence. For more information, visit http://www.siia.net.
About SIIA
SIIA is the leading association representing the software and digital content industries. SIIA represents approximately 800 member companies worldwide that develop software and digital information content. SIIA provides global services in government relations, business development, corporate education and intellectual property protection to the leading companies that are setting the pace for the digital age. For more information, visit www.siia.net. The Software & Services Division of SIIA (SSD) represents companies that develop the applications, services, infrastructure and tools driving the success of today's high-tech industry. For more information, visit www.siia.net/SSD.
About OutSystems
Thousands of customers worldwide trust OutSystems, the number one low-code platform for rapid application development. Engineers with an obsessive attention to detail crafted every aspect of the OutSystems platform to help organizations build enterprise-grade apps and transform their business faster. OutSystems is the only solution that combines the power of low-code development with advanced mobile capabilities, enabling visual development of entire application portfolios that easily integrate with existing systems. Visit us at www.outsystems.com, or follow us on Twitter @OutSystems or LinkedIn.
Content you can't miss
Application Modernization Strategy by Gartner
Find out how to adopt a business-focused, multiplatform modernization strategy that maximizes value.
Gartner 2021 MQ for Enterprise Low-Code Application Platforms
The Gartner Magic Quadrant for LCAP evaluates top vendors for low-code application development. Learn why OutSystems is a Leader again.
How to Build a Business Case for Application Modernization
Gartner explores recommendations for applications and software engineering leaders struggling to build a business case for application modernization.
Journalists and analysts can contact us directly at pr@outsystems.com