With the ability to visually debug code running on mobile platforms, developers now get the benefits of low-code throughout the entire development lifecycle
OutSystems, provider of the number one platform for low-code development, today announced that it has released the first-ever low-code visual debugger, providing a seamless experience for troubleshooting code—whether it is running server-side or on a mobile device.
Low-code development platforms help organizations innovate and drive digital transformation by enabling teams to deliver solutions 10 times faster than traditional coding. A critical part of an organization's digital portfolio is creating new mobile experiences that take advantage of the very latest device capabilities, along with complex business logic and support for offline data synchronization patterns. However, the current state of the art for debugging these sophisticated mobile apps is anything but low-code.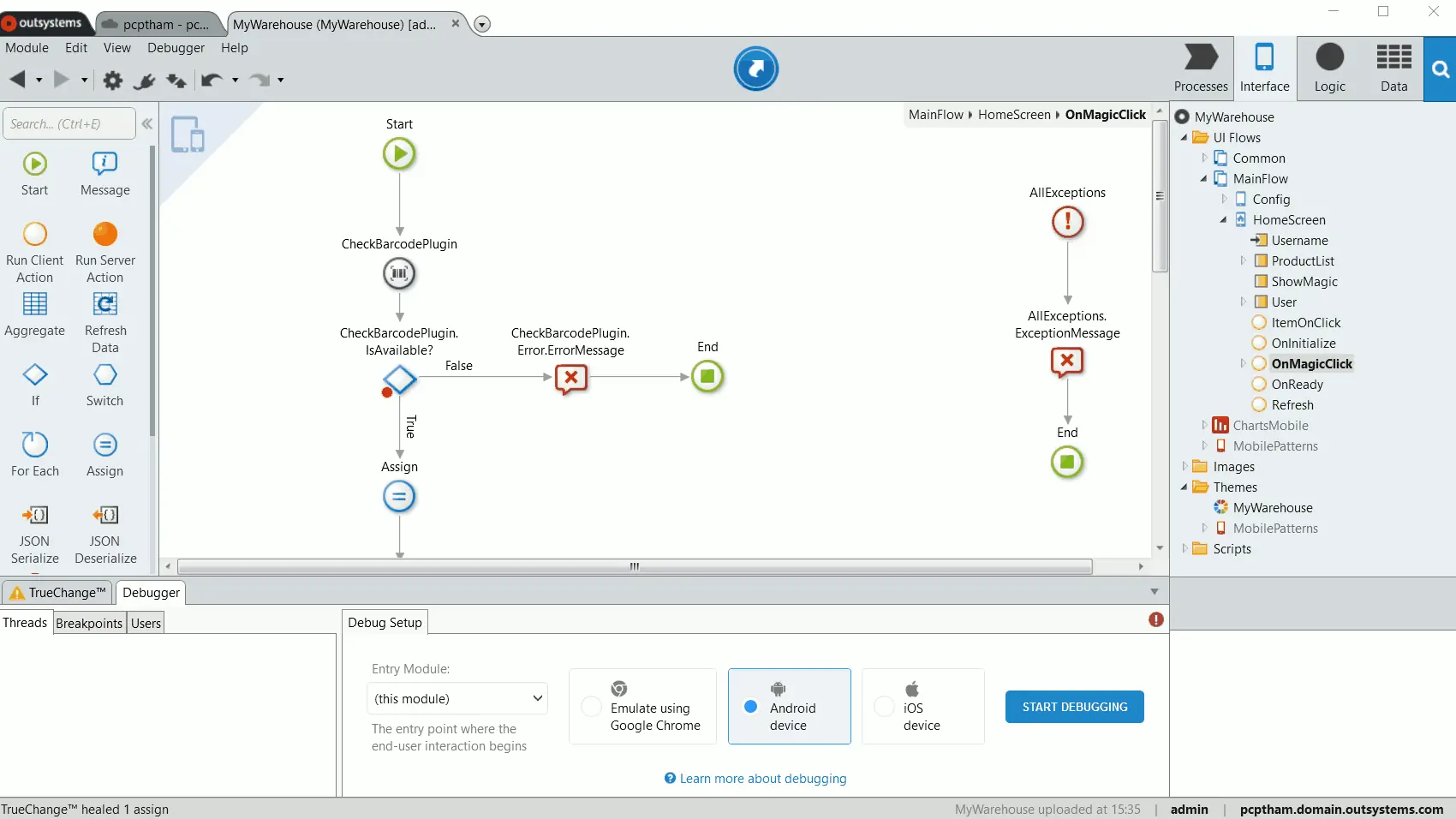 Current best practices for debugging mobile apps, even those built with a low-code platform, involve a complicated series of plug-in installations, configuration settings, and scripts. If these are executed correctly, the developer is then expected to debug the app running on the device by stepping through code with complex developer tools. This process is often beyond the capability of the average developer.
"Today, we set a new bar for developers struggling to debug code running on mobile devices. To provide organizations with a low-code approach for building rich mobile experiences, but then expect them to resort to complex developer tools when it is time to debug them, completely defeats the purpose of a low-code platform," said Gonçalo Borrêga, Head of Product at OutSystems. "We see developers modeling complex interactions and logic that runs on the device, taking advantage of native capabilities. By providing a seamless and visual debugging experience, whether the code is running on an iPhone, Android, or server-side, we ensure teams get the benefits of low-code throughout the entire development lifecycle."
Global analyst firm Gartner predicts "the growth of the MADP market to pick up at a rate of about 18% in 2017, and show a compound annual growth rate (CAGR) of between 15% and 17% between 2018 and 2021," as noted in Gartner's Magic Quadrant for Mobile App Development Platforms, June 2017.* Gartner further states that "increasingly, MADPs are adding support for wearables, chatbots, virtual personal assistants (VPAs) and conversational UI endpoints through the same services and APIs they create and orchestrate for mobile apps and web."
These capabilities enrich the experience for the user, but create further complexity for the developer. By providing a consistent low-code experience whether you are debugging server-side code or a complex mobile app with offline data synchronization patterns and native device integration, OutSystems solves two major challenges. First, the same low-code skillset can be used to create and troubleshoot any type of application, providing teams with more resourcing options for projects. Second, with low-code, the knowledge transfer times are significantly decreased, reducing the risk of critical mobile initiatives.
*Gartner, "Magic Quadrant for Mobile App Development Platforms," Jason Wong, Van L. Baker, Adrian Leow, Marty Resnick, 12 June 2017
About OutSystems
Thousands of customers worldwide trust OutSystems, the number one low-code platform for rapid application development. Engineers with an obsessive attention to detail crafted every aspect of the OutSystems platform to help organizations build enterprise-grade apps and transform their business faster. OutSystems is the only solution that combines the power of low-code development with advanced mobile capabilities, enabling visual development of entire application portfolios that easily integrate with existing systems. Visit us at www.outsystems.com, or follow us on Twitter @OutSystems or LinkedIn. Explore careers at OutSystems.
Content you can't miss
Consider Intelligent Automation from OutSystems and AWS
Get more from your business process automation efforts.
Forum & Community Discussions | OutSystems
Find solutions, share knowledge, and get answers from OutSystems MVPs, experts, and the developer community. Ask your question & get a response quickly!
BaseLinked | OutSystems
A new digital HR experience for a new way of working. With over 25 years of HR technology and systems integration experience, we've been where you are now. One of the biggest failure points we've seen in digital HR transformations is the disconnect between HR and IT. In a market saturated with HR technology solutions, our approach is simple. We combine cutting-edge technologies with extensive HR industry experience to provide agile HR solutions that support a connected and empowered workforce now and into the future.
Journalists and analysts can contact us directly at pr@outsystems.com