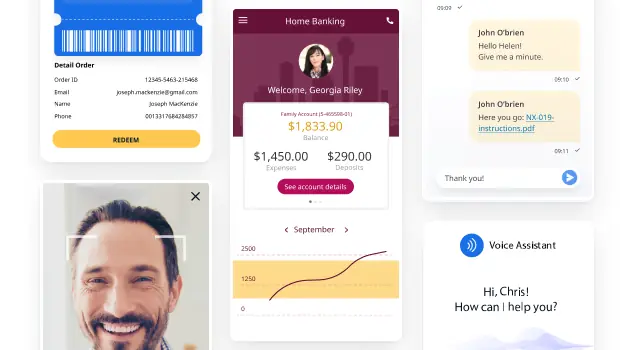 Engage and retain customers with high-quality mobile apps
Your customers want to manage their products and subscriptions from anywhere, 24x7. That requires organizations to create mobile apps that enable customers to fulfill their requests quickly and seamlessly.
With OutSystems, you can create high-quality native mobile apps for Android and iOS up to 10 times faster than with traditional development, using a single codebase, and without compromising on security, quality, or scalability.
At your customers' fingertips, anytime, anywhere
Create engaging mobile user experiences fast
Create high-quality mobile experiences quickly with a wide range of fully extensible pre-built user flows, screen templates and UX/UI components.
Build your apps once and deploy to any app store. Engage customers with device-native capabilities like FaceID, push notifications or camera and provide an optimal experience even when offline or in poor network conditions.
Easily customize the UX/UI of your apps to meet branding guidelines.
Streamline and automate processes for better mobile performance
Build robust and secure back-ends that streamline and automate customer processes or integrate your own.
Provide secure user authentication with pre-built connectors for identity management providers like Okta, Azure AD or Google SSO.
Notification frameworks, visual process modelling and out-of-the-box connectors to internal systems like CRM and ERP ensure your back-end supports the needs of your app's frontend.
Keep pace with customer expectations
Integrate with user analytics platforms and services to continuously collect user data and locate points of friction.
Respond to customer feedback, changing preferences and regulatory requirements by deploying changes instantly and safely with full lifecycle support and built-in dependency analysis.
Leverage emerging technologies like AI, ML and IoT and cloud capabilities to create innovative services and functionality with a platform that continually adds new capabilities and integrations to leading providers.

Learn how Western Union delivered a full-service digital banking experience that extends its relationship with customers.
Read the Western Union Story
Learn how CZ Health is serving 3,5 million policyholders with their mobile claims submission app.
Read the CZ Health Story