Over the last few years, the number of UI designers pursuing UX roles has increased to the point that it's become a trend. And, it's a smart move for several reasons. With today's hyperfocus on digital transformation, UX is the key to providing the right digital experience.
With this influx of UI designers applying for UX roles, I started picking up an immediate telltale sign that identifies those that still haven't transitioned to UX. When faced with a challenging exercise, these candidates tend to jump to the solution, without taking the time to further understand the problem. A UXer will start by asking me a bunch of questions, to drill down on different angles of the problem. A UI designer will typically begin sketching a solution right away and fail the interview.
Adding UX skills to your UI skills repertoire brings depth, understanding, and impact to the work you deliver. There's no easy way to make the transition, though. It takes a major shift in the way you think and a lot of work. But, if you're willing to embark on this journey, there are a few things I can recommend to make it smoother and rewarding.
Starting From a UI Design Background
In my experience, most UI designers have a visual arts degree. This sort of degree trains people to be artists. Artists want to create unique pieces that impress, that "feel right," and are appreciated by the general public, or, more ambitiously (and subjectively), by curators and critics. Artists learn the elusive art of connecting with the beholder in a more profound sense. This connection is key in creating great user experiences, but it's not the only thing.
Good UX design is about crafting useful, usable, and desirable experiences for specific users. Over the last few decades, a common practice for UX design has been established, and it encompasses key activities and knowledge areas.
An essential step for good UX is to start with the problem space before anything else. The problem space (a cool cognitive science term) is where you acquire a full understanding of the user context and business goals. Only then should you migrate to the solution space (another cool cognitive science term), which is where you iterate and evaluate the solution until it meets the users' needs and business objectives.
A UI designer tends to work mostly on the end-result, the solution. Practicing UX requires a mindset that enables you to balance the focus between the problem and the solution. No great solution will appear without a good understanding of the problem being solved.
Now, that doesn't mean there aren't several useful skills proficient UI designers already bring to the UX table. Even so, they still need to be further developed to transition to a UX design process:
Exploration and iteration: As a UI designer, you most probably have the resilience to go through a concept multiple times to round it up until you make it "just right." However, in UX design, exploration and iteration cannot be done in isolation. To create solid experiences, you need to collaborate with others to go deep on the rich context of the problem you all want to solve.
Visual problem-solving: You're used to exploring and figuring out new takes and new approaches. In UI design, it is not uncommon for interface decisions to be made and evaluated subjectively. On the other hand, good UX work is objective and grounded in solid cognitive science, user understanding, and domain knowledge.
Pitching a concept: You know how to present your UI design work and the rationale behind your decisions. But, in UX design, the visual iteration and rationale necessary to find better solutions will have more constraints both in the visual patterns that can be used and in the context of the problem to be solved.
Producing good aesthetics: Producing beautiful visuals is just one of your many talents. Even though good aesthetics are vital for a great experience, the solution needs to be mostly familiar to users. Therefore, in the UX practice, the solution needs to support the underlying experience concept. It cannot be freeform; you need to be able to balance uniqueness and familiarity.
As you travel along your UX journey, one thing will become obvious. Crafting great experiences is more than ever a team sport. You'll need to seek and promote close collaboration between all parties. You'll learn to value and take advantage of different perspectives and constant feedback, working together in quick iteration.
UXers are often a bridge between stakeholders and project members, between users and the business, between developers and designers. If you're successful, you'll become a diplomat, and potentially the key to a working project or organization—see design thinking.
The Five Core UX Skills and How to Acquire Them
With that down, there are five things you can do to acquire the essential skills needed to be a successful UX designer.
1. Understand Usability
There are several components, heuristics, guidelines, and even laws for how to create good usability. They are rooted in cognitive science, human nature, and everyday conventions, and this knowledge is indispensable. Do study them.
2. Develop Empathy for Users
Develop the ability to instantiate someone else's perspective. Such empathy is learned from direct contact with users, whereby expected decisions intersect with the actual (often surprising) user behavior. Formulate behavior hypotheses and test them out. Learn to represent user insights.
3. Practice User Research and Testing
Learn how to conduct user research and practice the skill until you become proficient. Use that research to support your design decisions and also to effectively test your solutions, gathering leads for practical improvements.
4. Evolve Your Analytical and Critical Thinking
Users don't act in a vacuum. There are reasons for the things they do. So, you have to think about the variables in their environments that could affect an outcome. It's time for some critical thinking. Look for the overarching system that connects all parts. From users and their mental models to their tasks, underlying processes, and business goals. Skillfully analyze information to figure underlying context and constraints. Get comfortable with complexity and find ways to simplify it.
5. Gather Domain Knowledge
You should immerse yourself in your business, its goals, its target customers, its tools, and media. If there's one specific medium you need to work in, learn it. For example, learn about web patterns if you're building a website. Or, if your app's industry is insurance, learn the lingo.
The Books That Will Help You Develop Your UX Skills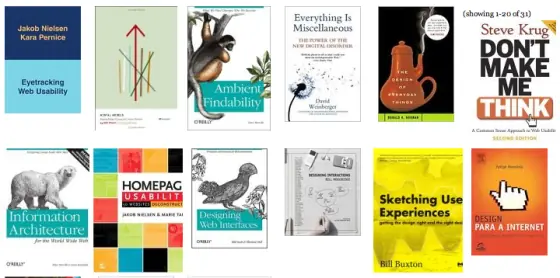 There is much to learn (and practice) on the journey to become a UXer, but it is worth it. Cognitive science research has proven that to learn and better retain information, we need an in-depth understanding of the key concepts and also a broad understanding of their applicability. In other words, theory and practice go hand-in-hand when you're learning.
Hundreds of random articles cannot take the place of a well-researched and structured book that has an underlying rationale, pitfalls, practices, examples, and multiple approaches. There are many books that are must-reads because they cover the concepts for UX practice in depth and set up the required structure for the road ahead.
Building on previously acquired knowledge is crucial to accelerating the learning process. Reading these books, ordered by completeness and complexity, will facilitate your journey.

The books in this list were the books that have served me (and others around me) well. I recall fondly the times when, while I was becoming a UXer, I dove into them at a nearby cafe before stepping into a new customer project. 
Although my advice is to start learning from this list of books, there are also some noteworthy online references in the field to complement this journey, such as IDF Literature, NN/g Articles.
From Theory to Practice: How to Start Applying Your Knowledge and Skills
As you gradually go through the books, start applying your new skills and knowledge. You may currently work in a company where this can be done, but you probably won't be able to get the full experience that you need to mature your practice. So here's a challenge for you.
Pick something that is worth being redesigned. For inspiration, look at this case-study for the New York Times app. Run the process, do the activities, test and iterate with potential users and finally, share your solution with the UX community, and eventually, the company behind it. Offering your skills to a non-government non-profit is another great place to start. Who knows? You might even be their next UXer!
When you're fairly certain this is the job for you, consider investing some of your hard-earned cash and get some formal training, such as Cooper, NN/g or IDF. These are the ones I can recommend from my personal experience or that of my teams.
Ultimately, you need a real chance to implement the UX practice, evolve those skills and keep learning. The best way to do that is to join a company that gets UX. Even there, not everything will go as planned. Your work can still be minimized or disregarded. Don't give up.
And, don't forget to stay up-to-date by following these simple tips:
Continue learning: Dig deeper into the various knowledge areas. Learn about the business, the product, and how it is used. Spend more time with users, be more structured in your process, and further your understanding of why some activities are key.
Get to know other UXers: Get closer to other practitioners; online and offline. For example, go to Meetups and learn from the community.
Take on a challenge: Find a project that people believe wasn't satisfactory. Research it thoroughly, enlist the help of interested parties, and apply what you've learned about research, ideation, and problem-solving. The objective is to demonstrate how they can be satisfactory.
Your success will pave the way for better opportunities to continue your path, evolve your career, and improve the product along the way. In the end, you're creating a better world by designing software that empowers its users. We, the UXers, salute you!