Tough challenges can make you stronger. Adolfo Nunes, Release Engineering Manager at OutSystems and amateur cyclist, shares his Pyrenees' adventure and tips on work-life balance.
---
This summer was not a normal summer: it was the summer I decided to take on the Haute Route Pyrenees. From July 7th to 10th, I had the most amazing and challenging five days of cycling. I'm proud to say I'm a 2021 Pyrenees finisher.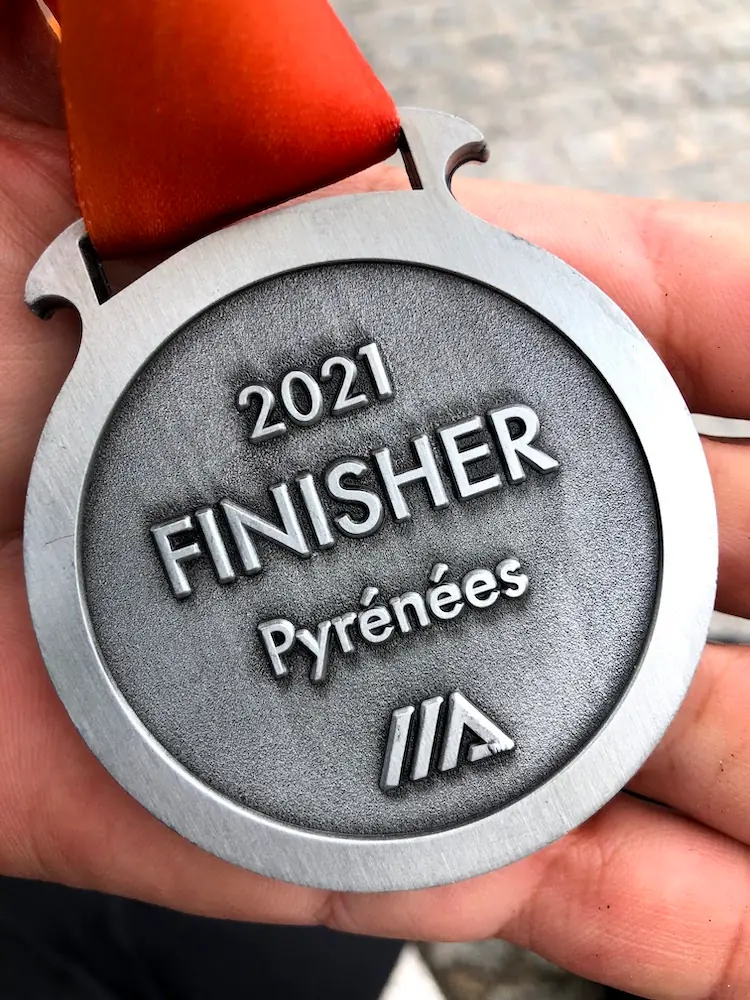 The Haute Route Pyrenees is a five day event crossing the Pyrenees from Girona to Pau, climbing some of the most famous Tour de France places like Tourmalet, Col d'Aubisque, Col Peyresoude ou col do Portet d'Aspet.
Awesome views, nice people from many countries (Australia, US, Mexico), and the great feeling of doing all those mythic climbs made it an unforgettable experience.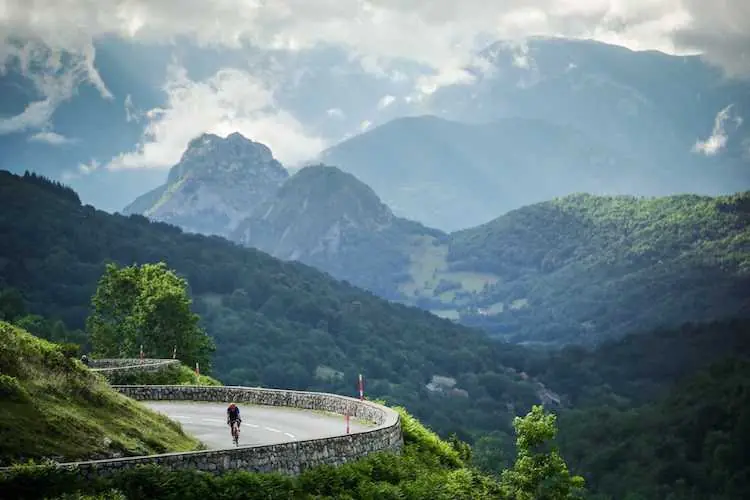 A Little On Me
Since I was little, I used to spend my time watching cycling races on TV, "Tour of Portugal" and "Tour de France."
I'm 42 years old and I was born and raised in Torres Vedras, 40km north of Lisbon, graduated in mathematics but turned into a programmer.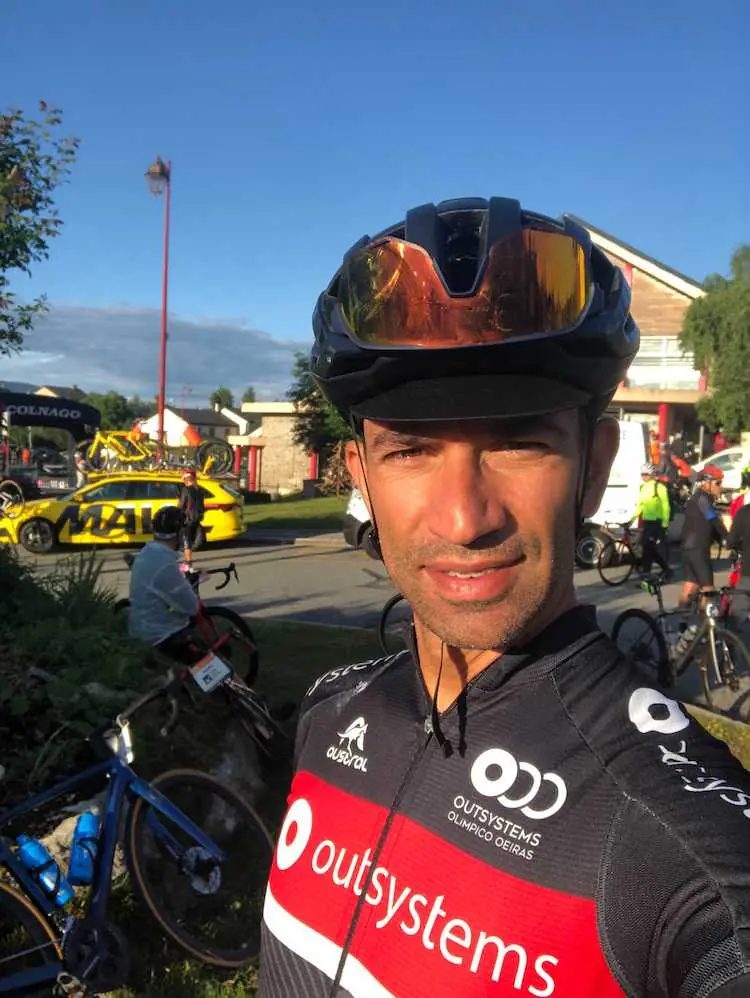 I started at OutSystems six years ago as a team leader in the extinct maintenance team, which dealt with software bugs and new releases. Then, I created the release team, which became the release engineering group (three teams in the DevOps space).
Cycling is more than a hobby, it's an addiction. It's very simple: family, work, and when these two allow me, cycling.
The Road to the Pyrenees
I was doing mountain bike trails but seven years ago turned to road cycling. I was only training once a week, on Sundays, because my work commute was very time-consuming. Although, at lunchtime I'd go to the gym whenever possible.
I was always a bit crazy setting up for things with no preparation. Four years ago was Serpa 160, a mountain bike race 160km long in Serpa. I started at 8:00 AM, finished at 7:00 PM, with horrible leg and foot pain. I wasn't prepared, I trained once a week! I really challenged myself on that path and also by trying the longest Granfondo to suffer more — 150km in one day.
Then "The Haute Route" happened. The event simulates a real "Tour de France". I even have a picture with the same neutral support cars, which for many years were from Mavic, a France-based bicycle parts manufacturer. They have three, five, and seven days races. Two years ago I did the three-day race in Alpe d'Huez, in France, with mythical cycling climbs. Two hundred kilometers with the same preparation: gym during the week and one cycling day on weekends. That was a bit challenging; I went with Bruno Loureiro, a friend from OutSystems.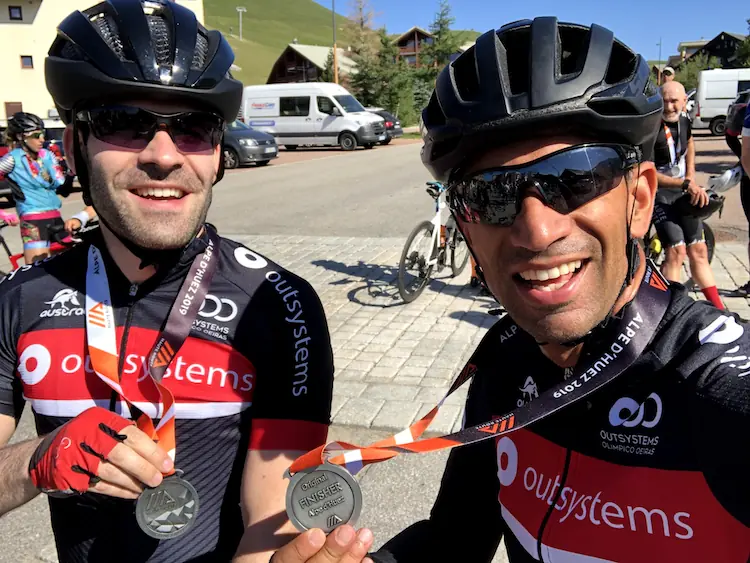 During the lockdown, I couldn't imagine being without cycling so I bought bicycle rollers and started pedalling several times per week. With daily workouts, I boosted my performance and promised I'd go to the Pyrenees.
Two funny points were the frequency and the learning because there's some science behind riding a bike. Amateur cyclists normally check their hearts and that's it, but elite athletes train with power, which means measuring pedal stroke to produce maximum power on every ride. All their trainings are scheduled and measured based on power.
With the bike rollers and special pedals, I got access to data, evolved, and didn't go back. It wasn't for nothing that I went to school for mathematics; I'm crazy for data and analysis.
I went alone to the Pyrennees. That was not a problem at all as I immediately met four Portuguese who stayed with me until the last day. You meet so many people from all over the place, UK, Spain, Mexico, they greet you by your name, say encouraging words and that's the coolest part.
"These types of challenges make me more resilient, supportive, and that affects my outcome in every aspect of life."
It's fantastic that OutSystems know how relevant sports are for our well-being, "Practicing sports contributes to a healthier lifestyle and can be a way for you to create great moments of engagement with your teammates." The People Team launched globally, on May 31st, the OutSystems Sports Club and I was able to get sponsorship for the ride.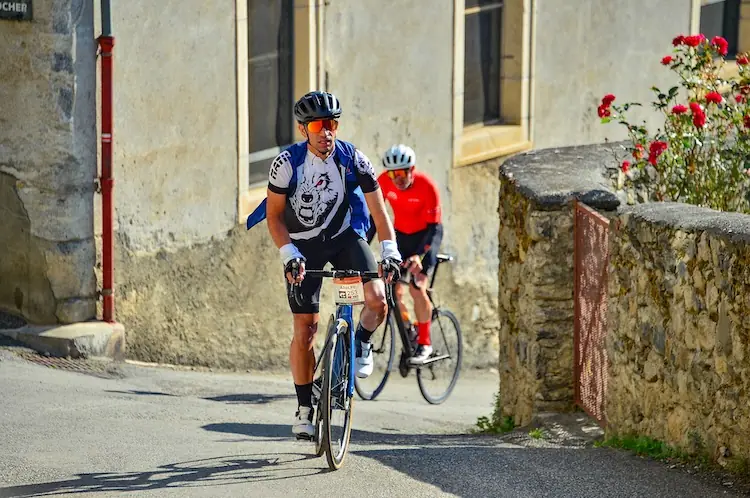 How do you prepare for a race like this?
I started in January, riding my bike four to five times per week. No personal trainer. (I'm thinking of having one now.) I used the "TrainerRoad" app.
The pandemic cancelled most of the cycling races that I thought were good springboards for my final goal. Eventually, fifteen days before going to the Pyrenees I went one weekend to Serra da Estrela to train in altitude. I climbed to the top twice in two days — 260km in total.
All of a sudden, I was packing my bags and shipping my bike. I was ready to go.
My "Haute Route" Journal
I and my Scott bike were cycling more than 100km a day (one day we reached 160km) with over 3000m cumulative elevation gain, a vertical distance of 3km, it's like one and a half Serra da Estrela.
The stages started at 7:00 AM and I had to set my alarm to 5:00 AM. At breakfast, carbohydrates, such as bread and pasta, were mandatory to gain energy and face seven hours of daily pedalling. We'd finished at 1:00 PM or 3:00 PM and we'd have a nutritious meal followed by a 20-minute leg massage. A massage to both recover and to die for. Can you imagine the level of goodness? Then a bath, dinner, and sleep. Repeat the next day.
The best: I had no difficulties whatsoever. The weather was good, and I got a finisher medal, ranking at 140th which was a fair position, compared to other training plans and habits I know about.
The worst: I was shaking with cold on the last day when we climbed the final peak. As we were above the clouds, on the descent it started raining. I didn't have a raincoat with me as it wasn't supposed to rain. Thankfully, the race organizers gave me an improvised plastic bag to cover me and I managed to keep my body a bit warmer.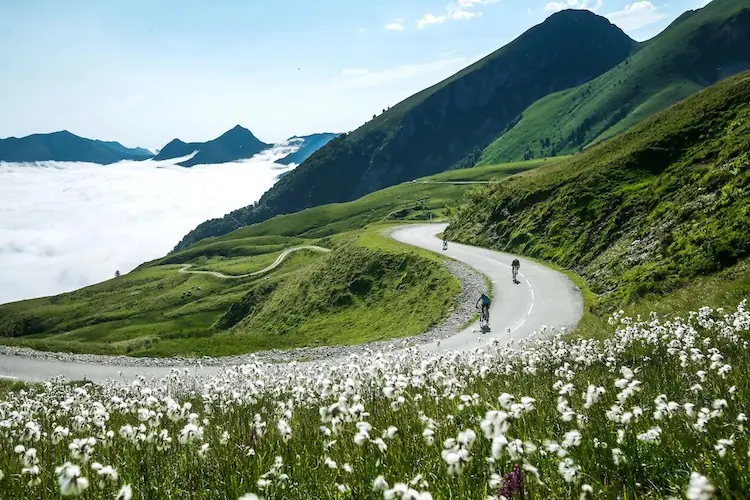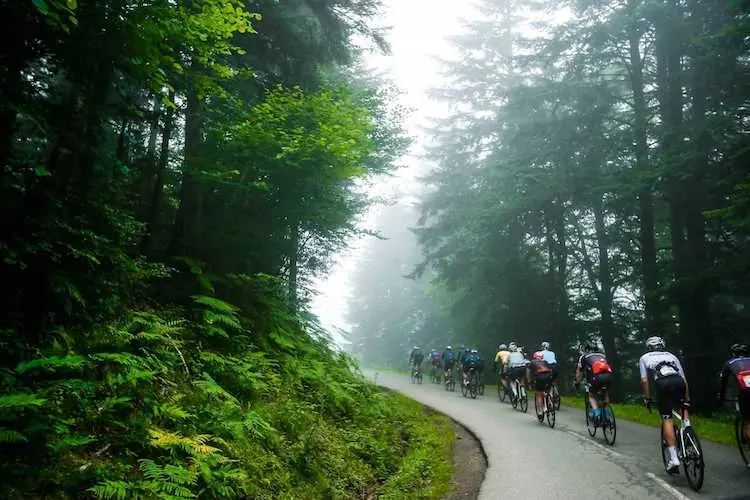 The thing that I disliked the most about the Haute Route: The things that were very different from my Portuguese routine, waking up at 5:00 AM didn't let me rest properly. (Four in the morning in Portugal, not much jet lag for sure but it was one hour less to sleep.) And the pasta meals at 5:30 AM were just too much after the second day!
The thing that I liked the most about the Haute Route: The sense of accomplishment when I was crossing that off my bucket list of things I want to do. I can only imagine living like this. Seeing the Tour of France roads with my own eyes was a wonderful sensation for a child that was glued to the TV watching cycling races. Also, meeting new people who are also addicted to this sport, and all the conversations we can have in one week.
Afterthoughts and Types of Cyclists
When I came back in July I was so psychologically and physically tired that I stopped for 15 days. These challenges make me more resilient, supportive, and that affects my outcome in all aspects of my life. It helps me to establish goals and do everything that's possible to reach them within the timeframe. It improves my focus skills and I've become more eager and driven for better results.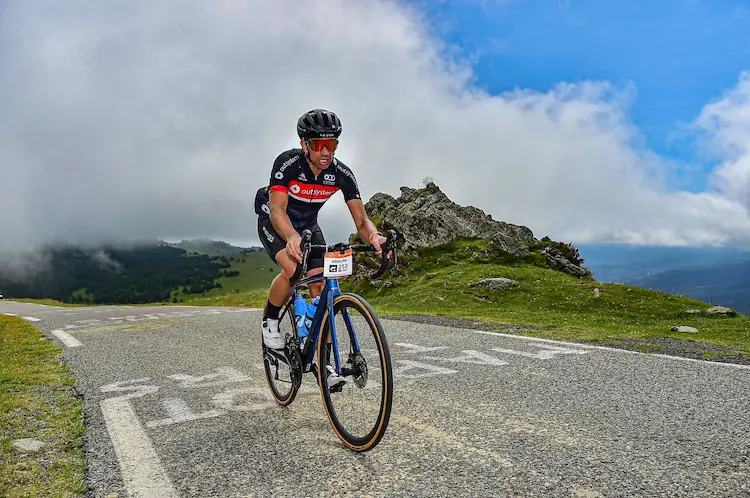 I always say to amateurs like me, that mentality is the most important thing. Some people train a lot but give up before they start, saying things like, "You're crazy, that's a lot of suffering." Of course, you also need to know if your body is in good shape or not, whether it withstands heat or cold better, and be strict about your mealtimes.
When I read "The Power Meter Handbook," I learned about two types of cyclists: the "scientist-athletes" who race based on numbers and the "artist-athletes" who race by feelings. I'm more scientific but when I'm out there competing I make mistakes, like forgetting to eat, that have a huge impact on my performance.
I like to have goals when I train. At the moment, I have long-term goals and the workouts are softer. I have to tell you, though, remote work was the best thing that happened to me. I have everything together, family, work, and cycling, and I don't leave home. I work in my living room, my bicycle is on my right side, and my son is behind me.
My daily routine is: leave the kids at school, be home at 9:00 AM, and start working. At 12:00 PM I put on my cycling gear and go for a one-hour bike ride. I take a two hours lunch break, arrive home at 1.30 PM maximum, shower quickly, and drink a shake or eat something snackable to be back at work at 2:00 PM. With our worldwide team, especially with the US-based, I work until 7:00 PM or 8:00 PM, it depends. We have a very flexible schedule.
The pandemic helped me to have more time for my cycling training. I don't want to go back to the office full-time and this is not a decision based purely on my cycling passion, it's about family as well. It's 4:30 PM and my son has just arrived home. He's in 7th grade and today he only had classes in the morning. There's no more stress on where to leave him or even ask my parents to pick him up. Everything is more natural, I get to spend more time with my kids and at the end of the day, I think I'm more productive.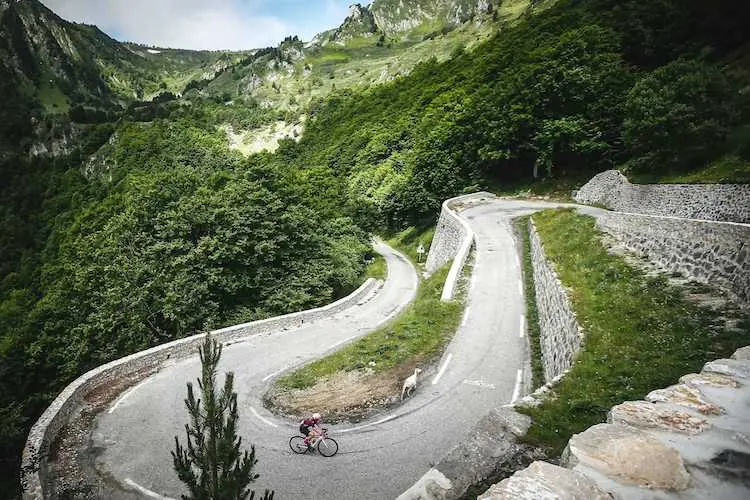 What I'd really love to do is the Haute Route Alps, a seven-day crossing journey from Megève, a village in the Mont Blanc massif, to Nice, in the South of France. Some people describe the amateur cycling race as "leg-shredding and life-changing in equal measure." But it's hard to arrange seven days off plus travelling days with my family, so five-day races are ideal for my kind of life.
Next on my list is Dolomites 2022, August 30 - September 3, "From the wild Pyrenees to the dramatic Italian Dolomites, the 5-day format is the perfect way to enjoy the ride and experience the beauty of these regions at the same time."
"Whatever works for you works for us." This was the way OutSystems showed its employees trust and care during the lockdown. Results are not only achieved by hard work; we need stability with our family and to remove all unnecessary stress.
What I can have with OutSystems today, it's great. I can organize my life around the things I love. I have 24 people on my team and I always tell them to do some kind of sports activity during the day, it's important for their well-being. My goal as a leader is not to be needed when I'm out. I like to be a people's manager and to know that my team is working well and happily.
If you want to join me on my next challenge or share your adventure I'd be happy to connect. This is my Strava profile. Enjoy your rides and "When your legs scream stop and your lungs are bursting, that's when it starts."
This story was sponsored by OutSystems Sports Club — practicing sports contributes to a healthier lifestyle and can be a way for you to create great moments of engagement with your teammates.