This article was originally published by Bashar Lulu on LinkedIn, on June 28, 2017 
First, a knock, knock joke…

We did something great at ATC. Something innovative. Something, almost unheard of. We took the bull by the horns, and we beat it to the ground. We fought our way through hell... and back. And we did it, I must add, impressively well. We created Sapphire, possibly the world's first, dare I say, and only, cloud-ready hospital management system.
In an industry littered with legacy, stale, rigid and excruciatingly expensive systems, we've created one that's modern, fresh, versatile and most importantly, affordable. In other words, we've created a Hospital Management System that befits the 21st century.
Don't get me wrong, we're still a long way from being done. What software is ever done? But we're getting there, real fast.
How It Started
It all started approximately 5 years ago when we were faced with a dilemma. A serious one I should add. Kuwait was going through its phase of upgrading its healthcare provisioning. The country was intent on adding thousands of beds to its overcrowded capacity and was building new 1000 bed hospitals a handful at a time, complementing and sometimes replacing old ones.
The plans were agreed upon, the buildings were being raised and being the leading healthcare service provider, ATC was tasked with putting the equipment in place. Of course, equipment in a hospital doesn't run on its own. And we needed some sort of a system to bring everything together, to manage the whole show, a Hospital Management System.
Naturally, we went on a search internationally. We had the connections and the knowledge. We searched knowing that, whatever system we decided upon was going to be implemented countrywide and we needed an established, intelligent system that lived up to the new standards being set.
We found one that seemed to check all the boxes, and we attempted to implement it in one of the first hospitals to be completed. We went at it for a couple of years, but it just didn't pan out. There were too many permutations. Customizations that needed to be put in place, local requirements to adhere to. We failed. Miserably.
To cut our losses, and to save ourselves the embarrassment of having to go through it all again, and again, we decided to look elsewhere. To cut a long story short, we couldn't find one. Of course, there were the Cerners and Epics, but they were simply too damn expensive (not to mention too complex). So we kept on looking.
My boss, a genius in my eyes, and a visionary had his own idea. He thought why don't we build one? An idea that, at the time, was utterly ludicrous. Who, in their right mind, would even consider such an option? We'd need years and years of research, dozens of developers and a whole lot of luck. Not to mention millions in investment.
So he decided to tackle one challenge at a time. Our team of clinical technicians, doctors, and IT professionals, to name a few, had the know-how; we've been implementing systems of all kinds for years. Plus, we've been working with healthcare institutions for decades, so we knew their pain points. We also knew the shortcomings of what the international systems had to offer; see above.
We had the financial resources; successful, established businesses tend to have that. The only problem was, we did not have the agility to execute such an endeavor. So he went on a hunt for the right tools to help us do that.
Enter OutSystems. A low-code platform that promised to cut years of development time into months, if not weeks. I'll spare you the details, but what OutSystems enabled us to do is outsource all our development efforts. Their Gartner and Forrester recognized technology enabled rapid style development targeting both mobile and desktop. We tried them out on a couple of internal line of business projects and they delivered. On the money. Every time.
And so, Sapphire was born
When designing Sapphire we took into consideration every single issue we ever faced in any of our previous implementations. The successful ones as well as those that failed. No detail was left to chance. No stone unturned. No standard unchecked. Even aesthetics and user experience had their own team.
What we did was to take a page from Google's success with Google Docs. They were competing with Microsoft Office and decided the best way to do that was to deliver what the users wanted. The most commonly used features, delivered in a manner that is contemporary, easy to use, flexible, modular and affordable.
Although we aimed high, really high, we didn't go over the top. We kept it simple. We thought, what do the doctors, nurses, admission staff and hospital administrators want? How can we save their time and effort? And how can we make Sapphire as subtle as possible?
We gave them CPOE, CDSS, drug-to-drug interaction, BI analytics and even a mobile app, to name a few features. We also made sure it was multilingual, including Arabic. Whatever we couldn't build, for now at least, we partnered with companies that could and integrated their work into ours.
Oh yeah, we needed to interface with all of the systems in the hospitals, ancillary or otherwise, the pharmacies, LISs, RISs, and PACS, so we built a full-fledged integration engine at the core of it all.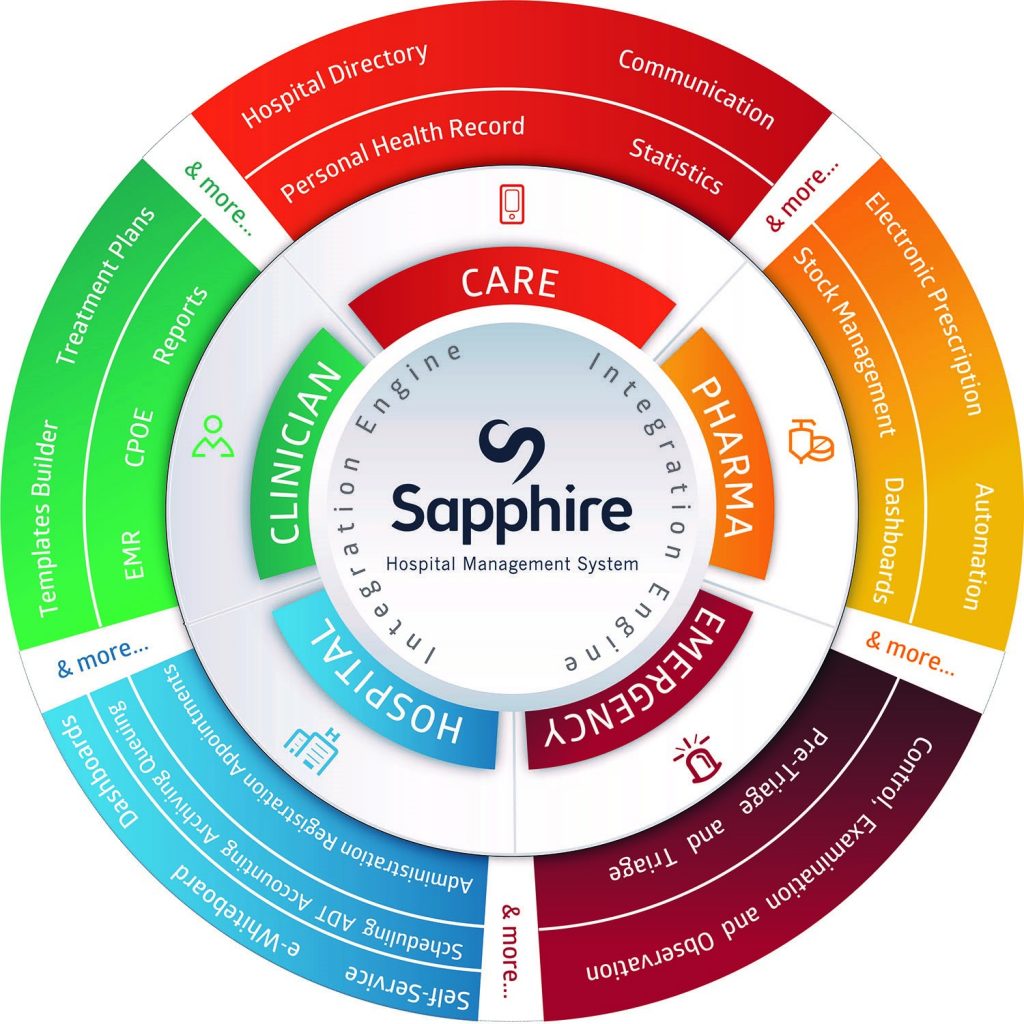 Within six months we had our first implementation. Yes, six months. That's how long it takes to implement Sapphire out-of-the-box. Not years, nor decades. Our first hospital is one of the biggest hospitals in the country, with over 1000 beds that had a nightmare of any issue. They had thousands, literally thousands, of cases come into the ER every day. All their files were on paper and the system they had in place was transactional, at best.
Needless to say, it was a success. A huge one at that
Fast forward three years, Sapphire now runs in five hospitals in Kuwait with two in the pipeline. In fact, one of our hospitals managed to achieve HIMSS Level 5 certification using Sapphire and are already working on Level 6. That might not sound like much, but it is a very good start. Remember, Sapphire is now only three years old. Our competition are way more established than we are, but we're getting there.
Now, we're not classified, per say, nor certified for that matter, but what software is at the beginning? We currently churn out a new release, including new features, enhancements, and bugfixes, once a month. And, we release patches within a day when needed.
The end result means Sapphire is a cloud-ready, multi-tenant, adaptable (read configurable) HMS for the 21st century. It is extremely easy to use, training now takes minutes. Yes, you read that right. Minutes. Not hours, nor days (kudos to the UX team). And to top it all off, we're this close to announcing our global service center.
Early adopters program
To move to the next stage, we are now looking for opportunities outside the geopolitical boundaries of Kuwait. And to achieve that we are launching our early adopter program. If you run a hospital with 50 beds, or more, anywhere in the world, willing to try Sapphire on for size, we have a very appealing offer for you.
We will give you Sapphire, at a discounted price, almost one fifth of that of any of our competitors, for the first year. Yes, Sapphire comes as a subscription. That's how software is provisioned in the 21st century. Subsequent years will also come at a hefty discount as a thank you for your trust and your business.
Now, we need to cover our costs, so, you pay only implementation man-days, T&E and customization fees. Even those services will be provided on a cost-plus basis. We understand that it is important for any offering to be mutually beneficial. A win-win so to say.
We also understand that all costs are ultimately borne by the beneficiary, the patient, and we will never, ever, place unnecessary burden there. We want to help you achieve the goal we all aspire to... saving lives. And of course, making money, although needless to say, that takes second place.
So, if you fit the bill, and are willing to venture with us down unchartered territory, to boldly go where no Health-IT has gone before, please contact us. We promise to make it worth your while.
We didn't wait for an opportunity to knock twice. We took our chance. Isn't it time you take yours?