Filipa Almeida, 28, thought she would be doing pastry for a very long time: comforting people's hearts through desserts, seeing them smile, and feeling really embarrassed whenever she got a compliment as she is mostly a giver, not a receiver. Her career was doing great, working at movie sets, Marylebone Cricket Stadium, charming hotels and catering companies. But about one year ago a question came to her mind: why not turn into the technology business?
Born in Amadora, Lisbon's outskirts, Filipa has a seven-year background in Pastry, a degree in Cookery and Food Production from Estoril Higher Institute for Tourism and Hospitality, and a Pastry diploma from Le Cordon Bleu — one of the largest network of culinary and hospitality schools in the world — a course she attended in 2017 in London to uplevel her culinary skills. Gordon Ramsay, one of her favourite chefs, was born there. The other favourites are: Dominique Ansel, and her personal hero Raymond Blanc, who have set up businesses in England.

Graduation day at Cordon Bleu.

Some serious cake creations.
Throughout all the places, different people and recipes, she gathered a bunch of neat moments and others not so great, but she was able to keep a positive attitude. "These experiences gave me experience in many things, especially soft skills like dealing with customers and deadlines, being organized, a team player, eager to learn and not afraid to ask for help. This is really the most similar thing between pastry and IT; the technical part I'm still learning every day."
So what made Filipa change her career? In February 2020, when she was about to leave the front lines of baking cakes and start a new job as a human resources consultant in the same industry, something unexpected happened.
"Hospitality workforce is not an easy world, unpredictable work hours and the pressure of solving a problem on the spot — my body was not taking it lightly. By the age of 26 I already had experienced three burnouts. I was at a hotel doing the breakfast shift. Started my day at 4:30 AM and never got out before 4:00 PM. I had midweek days off, which meant I never got to have a social life outside my job. It started to affect my mental health in ways I can't even put into words, and it manifested through some physical signs that made me stop working for a few days, so I decided it was time to think about my health first." That was when Covid-19 hit, Food and Beverage businesses crashed, and it was almost impossible to get any related job. She became desperate about what she was going to do with her life and studies. "I had invested so much to just move along to some other career! Those first months of unemployment were really difficult."
Recalling how she overcame that period, she said: "Everything has a reason. I'm a gamer and have a lot of family and friends working in IT. That made me think about it and see a big world of possibilities in the industry."
Before, she never thought about programming languages and writing code itself, "It kind of bothered me, but the thought of being able to do it while using 'low-code' and logic brought me hope."
She started taking small steps to understand the basics: a Microsoft SQL Server certification and a small diploma for Algorithms in C.
But how could she do it coming from such a different background? I wondered if she was good at math in school or if her head exploded while learning how to code. "Math wasn't bad, but not my strongest suit for sure. The point was learning algorithms — the whole foundation of coding— the available course was in C. But yes, I struggled a lot. Thankfully a shiny light appeared: an opportunity to enroll in the Upskill Training Program to learn OutSystems. Low code made it possible for me!"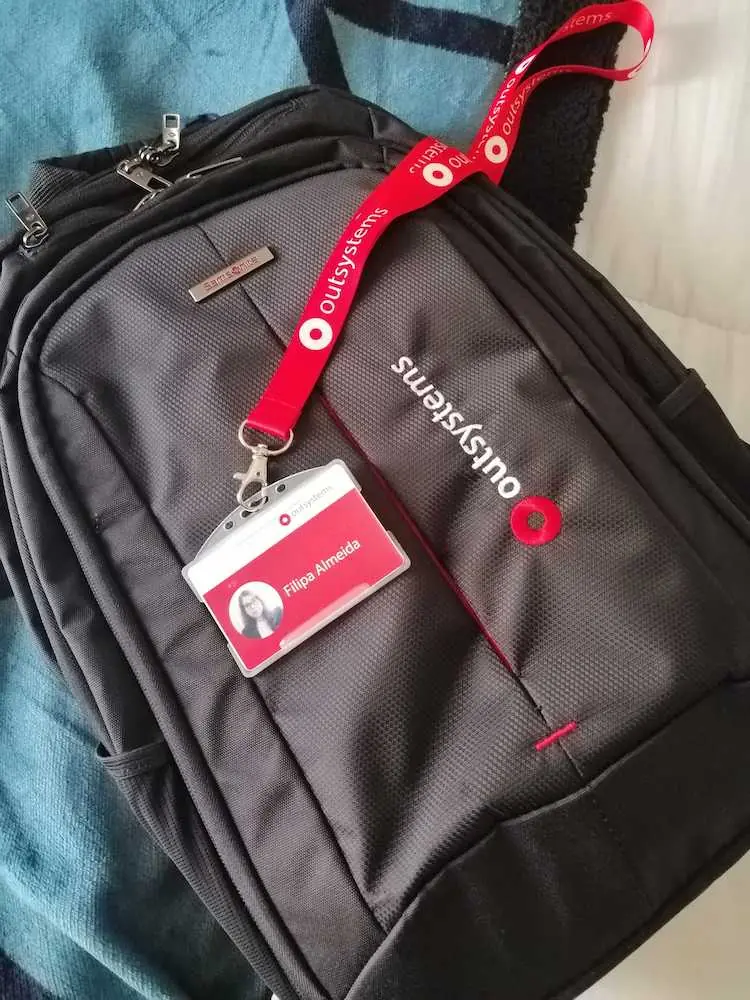 First swag as a proud software developer intern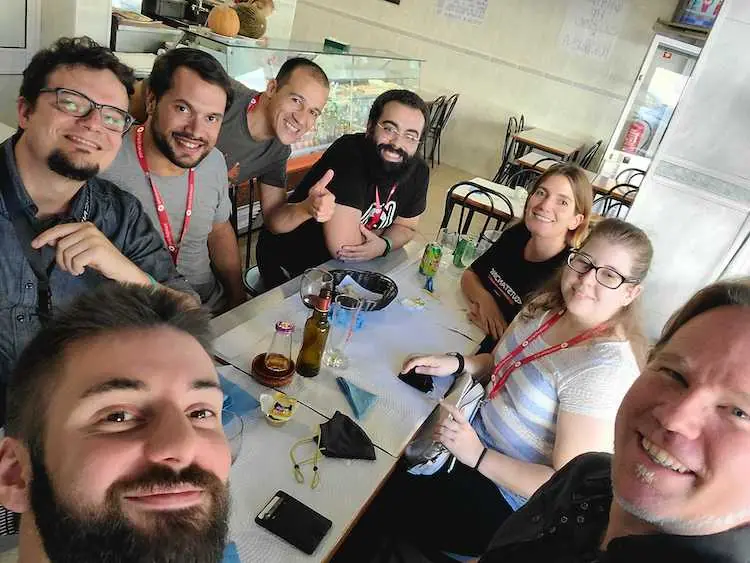 Filipa in a team gathering, with her colleagues. Five of them are also coming from the Upskill program, all with different backgrounds. "It has been fun growing alongside them."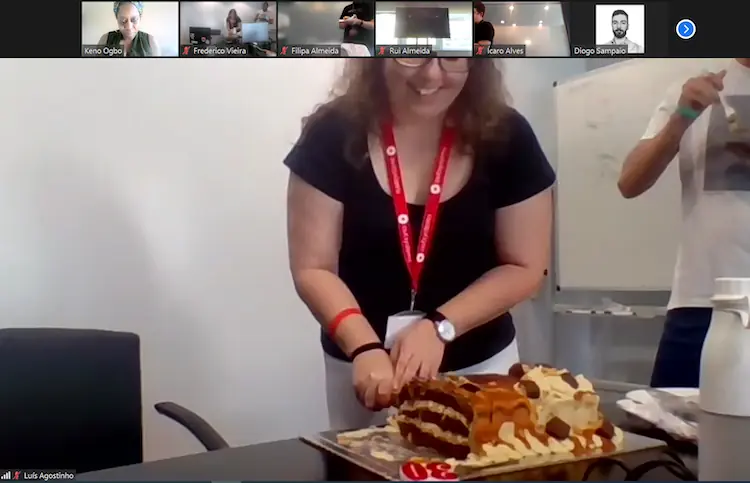 Celebrating a senior developer's birthday in October.
In December 2020 she enrolled in the Upskill program — the Portuguese government's new measure to reskill people with non-IT backgrounds. After six months she was an intern at OutSystems. In 12 months, she became a full-time happy employee, working as an Associate Software Developer with Internal Apps. (This team maintains and develops applications for internal use, enhancing quality and user experience.)
"The community is amazing, the learning process, the challenges and I have everyone to thank for it. I can't wait to keep growing with this environment." To any person feeling desperate and stuck in any area her advice is: "You're not alone, some opportunity is just waiting for you to embrace it. There isn't any shame in not knowing or making choices that put your health as priority. And mostly, dreams can still have a place in your hearts, or become different ones."
Filipa's next career moves are: get some OutSystems certifications and strive to understand it better, learn about quality assurance and testing, some Python to broaden horizons and keep her SQL in check. Meanwhile, she keeps making cakes as a hobby and her team is very grateful for it!