Imagine you were hired to help prepare a banquet for hundreds of highly demanding foodies that includes starters, main course, dessert, a cake—and you have to take care of the drinks, too! You're an expert and have done this for years, but this time it's different. You will do it in someone else's kitchen and you don't know whether you'll face a Gordon Ramsey or a Nigella Lawson type of jury. Scary, right?

A dozen questions come up into your mind: "Where shall I start? What do they want exactly? In that time frame, really? And it has to be lactose-free, gluten-free, low carb, and bio?".
If you are a renowned chef, you might know exactly what I'm talking about. If you are a business analyst, an architect or a UX/UI designer and the "banquet" is a Business Vision Workshop for an enterprise-grade digital transformation, this overwhelming feeling is pretty much the same! 
This article unveils how OutSystems approaches such demanding challenges. Take a deep breath, grab your apron and join me on this adventure.
The Kitchen Tour
You have a banquet to prepare, so start by asking a few questions: why are you doing it? How many people will you be cooking for? Are there any constraints (allergens, room temperature, time)? What are the processes in this kitchen?

This brings us back to the Business Vision Workshop; if you have an enterprise-grade digital transformation in front of you, start with some questions to make people think and talk before you get your hands dirty.
Back when I started in IT more than 12 years ago, a project was likely to start with a list of requirements that one person came up with and some mockups someone drew. No one would question a thing: just get on with it. Usually, we would end up with a product that was hard to use. Or, the users would propose significant changes that were hard or even impossible to implement at that point. Instead of solving their problems, we were just replacing them with new ones. OutSystems Business Vision Workshops are the complete opposite of this.
Getting to Know You
For these workshops, you go to a customer's facilities, meet people in the early sessions and learn their names. Here's a great way to do that. Use the room layout as a reference and propose a round table introduction. Type the names and roles, as well as you can, while the "introduction train" moves along. If you don't get the name, you're not sure how to write it, or you got lost in that fancy "head of executive software engagement development management title, just write something that sounds similar. Another useful tip is to write a public figure or character name if you think they remind you of someone famous. It helps to remember the face.  Later, think of the faces in front of you, and see if you can match them with names and roles.
Usually, the outcome is just something like this.

As the days go by, and e-mails start to flow, you'll get the rest.
The Ball's in Their Court
So, back to the tour. You should let them know you are there to help them build better and faster systems, explain what you need from them and what you will deliver, and then… You toss the ball back to the customer and challenge them to tell you what they do, what their current processes are and what they need.
You will know the hows, and the whys. You will know the likes and dislikes, identify any constraints upfront,  be prepared for the risks. You will have a plan, test possible solutions (and sometimes fail!). The point is: you do it way before it's too late!
The flow comes almost naturally: information leads to questions, questions lead to thinking, which in turn leads to answers and follow-up questions. Sometimes we also get to decisions, agreements, assumptions or wonderful discoveries. This is what the Business Vision Workshop is all about: discovery! I would say it is 80% discovery and 20% delivery.
Delivery Comes from Discovery
For a Business Vision Workshop, OutSystems delivers:
Activity diagrams for the primary processes and that define personas with all the users' needs and business goals to address.
A solution architecture design that gets the technical requirements and represents how the several systems will interact.
Low-fidelity mockups, which we test with end-users and iterate.
High-fidelity mockups for a glimpse of how the solution will look in real life, following all the customer's branding guidelines: this really gets everyone excited, and it's the part of the banquet planning where everyone starts drooling before the possible outcome!
A high-level timeline to implement the whole thing.

None of these deliverables is possible without that 80% discovery. Now that I look at the list of all the things we do, and considering it is just 20%... that's a lot! And we do it in only two weeks!
And yes, before seeing it with my own eyes, I was as skeptical as some of our customers: "Two weeks to understand what to do? Can't someone just write an email with that? It's just a few screens on a portal, it's not rocket science!" Let me tell you—two weeks is not short, and it's never just a few screens on a portal.
Focusing on the Big Picture
If you need to plan a IT banquet, it is vital to go through a discovery process, especially like a Business Vision workshop. It is all about focus, discipline, and prioritization: we need to set limits somewhere and make some choices because most of the people won't be able to taste everything at the banquet!
Normally, by the time they get to the second main course, they will be full! "Everything is delicious, but my stomach can't take this all in. I need a break!"
You might not cover everything or, if you do, just scratch the surface. The important thing is to focus on the core use cases. Don't get carried away and don't dive too deep on all topics. Remember, the main goal of the Business Vision workshop is to get a big picture of the Customer's ecosystem, strategies, culture, positioning, and the needs their users have. If you don't get it, you won't be able to provide a flexible and extensible solution.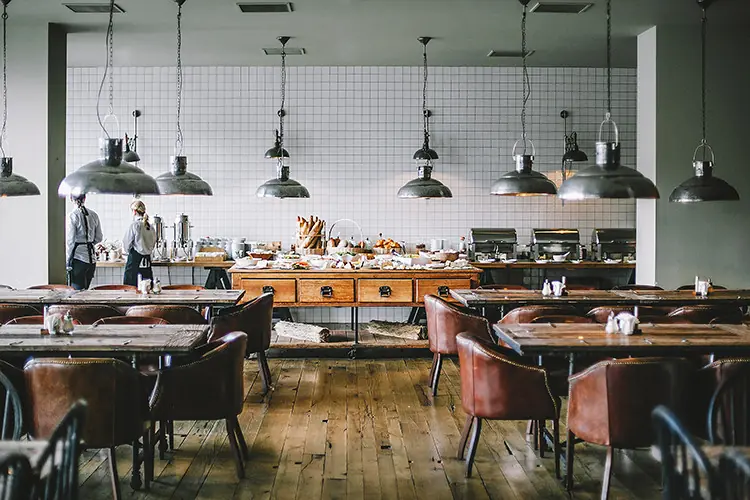 It's All About the Banquet Attendees: User is King
Besides asking questions to the business, it's paramount to get to the end users (those starving foodies). Get out of those meeting rooms for a while and spend some time with the people out there in the battlefield.
See where they work, know their environmental conditions, and check what tools they use and how they interact with them. Talk to them and interview them informally. Tell them that you are just trying to understand what they do and how and that you want to help them do a better job. Oh, and make sure you stress out that you are not there to assess them!
You need to see them going about their tasks. This is how you out yourself in their shoes and understand their pains. They will tell you about the rules, show you the systems, guide you through the processes, and whine about those little pesky and repetitive tasks that make their lives miserable.
From your point of view, they are the bosses. The user is king! Sometimes the business sponsors don't have a clear picture of what's going on in the field. The users will tell you how things work behind the curtain.

Also, once you have low-fi mockups, sit with some users and show them what you've got. Let them play around, let them ask questions and challenge some decisions. Try to understand their point of view and try not to influence them.
At the end of the day, these are the people who will eat the food you cooked and tell if you hit the nail on the head or not. So, you need to have them by your side during this whole process and listen to them carefully.
Finding the Happy Medium
Everyone knows by now that starting a project or a digital transformation initiative should not be done without any planning, right? So, how much time must we spend on this phase?
Depending on who you ask, you can get plannings for up to 20 weeks. This is not our case.
We usually deliver a OutSystems Business Vision workshop for one app in 2 weeks. Is it too short? Well, it's definitely intense! Maybe we should take longer, but like everything in life, we search for a happy medium, and this is what we believe is suitable for most cases. Nevertheless, each case is a different case, and we can easily adapt as needed.

Creating a Mouth-Watering Menu
It's common to think that "planning" is just some pointless paperwork and loads of documentation no one will care to read afterward. However, that's a one-dimensional, slightly unfair view. Planning includes field work and the outcome is graphical artifacts.
I've seen UX designers nailing it, over and over again, with great low-fi mockups and surprising patterns and information layouts. That's already something that gets the customer's attention very early in the process, allowing them to envision, in under a week, what the system(s) can look like.
It's just a first draft, sure, but we strive to deliver it to the customers in the first week. After some fine-tuning and validation with users, we get to a more robust set of low-fi mockups in the second week.
Now, if you have the chance to involve a UI designer like we usually do, that's the cherry on top! These guys take it to a whole new level: it's like turning a still-life painting of a meal into real-life food! It doesn't take much: two or three high fidelity mockups are enough to leave everyone's mouth-watering and committed to making the vision come true.

A Triumphant Banquet!
In the end, someone needs actually to deliver the vision. Well, not always, but at least now the customer has a much clearer idea of what to do before they actually jump into delivering one or more projects. They can use the outcome to start right away, to plan a roadmap, to get the needed budget or to know their organization a little better.
OutSystems has delivered this kind of service in more than ten different countries all over the world, for many different businesses (banking, insurance, energy, telcos, satellites, government, and so on).
The best part? The amazing impact we have in our customers:
"The team took the time to understand what we needed and delivered a UX experience that has received very positive feedback from our end users."
"The team was very collaborative, and it was a pleasure to work with them."
"Loved the interaction with your team, the knowledge shown by them at all times, and the solution that was delivered to our company."
"Everything was discussed and answered, a lot of clarity in the responses."
The result is outstanding, whether because they discover something about themselves, or they get important sponsors onboard, or only because they realize something that no one ever cared about until they see our designs.
For example, on the last day of my latest Business Vision Workshop, a big presentation to an audience of over 20 people, including sponsors, architects, project owners, program managers, and the key users. Loads of them! All from different teams and business units. I finished presenting my slide deck and asked if anyone had any questions or remarks. They started talking about how excited they were with what they saw, especially the mockups, and one of the key users says "this is actually the first time we will use an application with our corporate logo and color scheme!"
Then it hit me: by the time we were interviewing the end users, they used many different systems to get data, and all of those were third-party applications, each one with a different look and feel, but not a single one had the corporate guidelines. So simple, yet so valuable to foster the employees' sense of belonging to a company!
Cooking is an art, and we are more than happy to cook with our customers and help them deliver the banquet. We are there to deliver the ingredients, the needed kitchenware, the recipes, the wine pairing and we even cook one or two things just for tasting.
Go ahead and conquer your users through their stomachs!